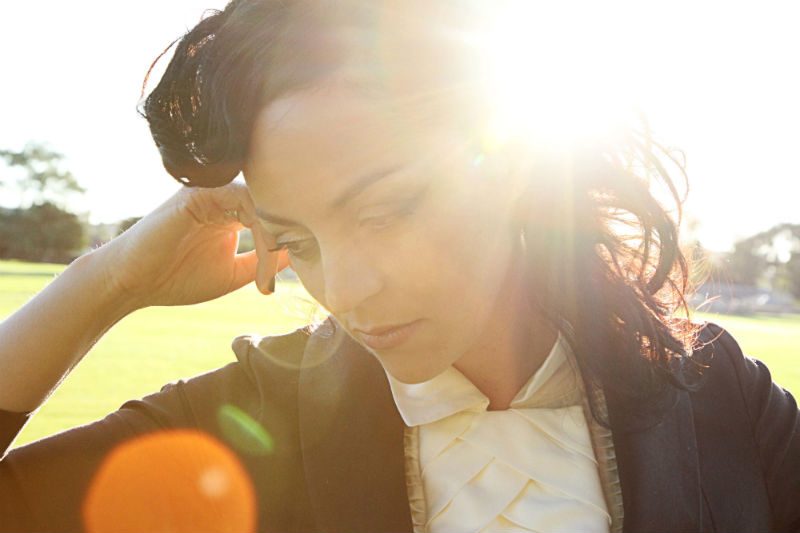 Australian singer/songwriter, Monique Brumby, has just released her fifth studio album, the self-titled Monique Brumby.
Monique wrote her first song, 'The Sun Is Shining' when she was twelve. Seven years later she wrote a song titled 'The Change In Me' which was nominated for Song of the year at the 1998 ARIA Awards.  She married Sophie Turner, a graphic designer, in 2011.
Tell us about your new album and single.  Do you write your own songs?
Yes, I write my own songs – music and lyrics. I have co-produced and mixed the album with my colleague and guitarist in my band, Nick Larkins. The album took three years to make, and I'm most proud of it of all my releases. The single 'Silent War' is a love song that happens to be about the union between two women. It reflects my views on the status of marriage equality in Australia, and I would really like to see same-sex couples recognised under the marriage act.
What were the inspirations for the songs on this album?
The songs reflect my feelings around being an outsider, wanting to build a sense of community in a world that can be isolating for so many. Songs about the human condition, the folly of youth and overcoming adversity.
I love "Quicksilver"!  Do you have a favourite?
Thank you! My favourite track is track four 'In This Game', an electro track about lost highways and trying to stay awake at the wheel of your own life.
You've been part of the Australian music scene for 20 years.  What's changed for you over the years?
My hairstyle! I mean honestly, my 90's haircut had so much product in it you could have snapped it off my head like Lego hair! Analogue to digital is the short answer to the changes in the industry – artists recording themselves, promoting themselves, selling their music online. Vinyl is back though, which is a great thing.
How difficult is it to be an "out Lesbian in the Australian music world?
I'm very comfortable about being open regarding my sexuality. I find that most people don't really care. Things have changed a lot in 20
years.. I choose not to live my life hiding as I did for many years during my twenties. These days I figure if someone doesn't like my music or doesn't want to support me based on my sexuality then I'm much better off not worrying about them at all.
You got married to Sophie Turner in 2011.  Same-sex marriage isn't legal in Australia.  Why did you decide to have a ceremony anyway?
We called our union a wedding and we will renew our vows when same-sex marriage is recognised in Australia. Our family and friends came, ages 5– 87, all accepting of our marriage. Our family and friends do because the government doesn't recognise us. It was a beautiful day filled with love and sincerity.
What else would you like us to know about you?
I am the Creative Director of Aardvark Worldwide, a not-for-profit music program for people between the ages of 14-24 who have chronic illnesses.