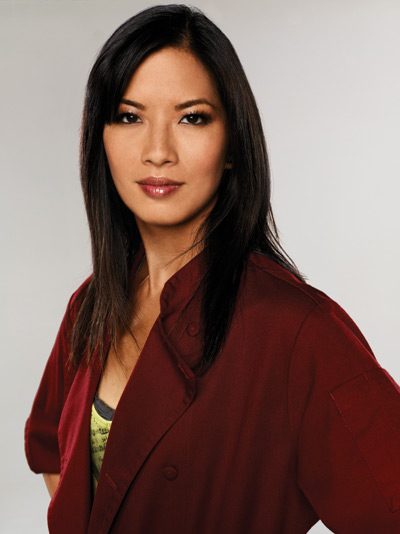 This lesbian chef's Vietnamese heritage comes in handy in the kitchen.
With reality food shows popping up everywhere on TV, Bravo is stirring the pot these days with Around the World in 80 Plates, which meshes together with the components of several cooking, strategy and travel shows. The cooking competition spans the globe and tests the culinary skills of 12 chefs, who also try to learn about the country and the culture they find themselves in. The show is a pressure cooker and the judges expect perfection, so even the smallest mishap can send a contestant home. Best of all, it features two queer women, host Cat Cora and cheftestant Nicole Lou.
Lou, a San Francisco–based chef, leapt at the chance to test her talents on this globe-trotting series. She was able to travel, explore, and cook—all the things she loves.
The show has since wrapped and Lou is back home in San Francisco, where she has settled back into actual reality. "Life was still moving when I returned from the show, so all I had to do was roll back into it, except now people want my autograph. It's weird," she says.
Although Lou was always passionate about cooking, she wasn't always set on a culinary career, having previously spent time working for Gap Inc. "I was bored and at an age where I felt it was reasonable to take the leap. It was very much a do-or-die situation," says Lou about making the decision to quit the corporate world and attend the California Culinary Academy.

Photo By: Virginia Sherwood
After an apprenticeship at the award-winning Japanese restaurant Nobu, in New York City, Lou returned to San Francisco to work for Robbie Lewis at Bacar. While there, she was a line chef and later moved up to sous chef.
"My first experience in a New York City restaurant felt like a fantasy. I had big dreams. Man, was I on cloud nine. It wasn't until I worked at Bacar in S.F. that my eyes opened for the first time. The harsh reality of what happens behind the scenes is not like anything you've ever experienced. Every cook knows what I'm talking about," says Lou.
Her fascination with pork and charcuterie took her to Perbacco in San Francisco, where she helped chef Staffan Terje win the 2010 Cochon 555, a pork-centric farm-to-table cooking competition held at the Fairmont Hotel. You can now sample her fare at Bushi-Tei in San Francisco's Japantown.

Photo By: Virginia Sherwood
Lou is already confident in Mediterranean, Japanese, and Chinese cuisines, but now she's focusing more on her Vietnamese heritage. Indeed, her early memories of her grandmother and Vietnamese food could be one reason she became a chef in the first place. "I am in the stages of figuring out what I like and what I'm really good at. Southeast Asian cooking is next on the list, but focusing on Vietnamese cuisine, as I have found, is better suited in more intimate kitchens," says Lou, who plans to travel through Southeast Asia to perfect her techniques. "I have a better understanding of what it means to fuse two very different flavour profiles and cooking techniques into my dishes. I tend to err on the more traditional side. The flavours are more profound, have depth," says Lou.
Lou has gained a lot of attention from the LGBT community since her appearance on the show  (she's the out lesbian who never considered hiding her sexuality from the TV audience). But she hasn't let the limelight derail her plans. First and foremost, Lou is a dedicated chef and one who wants her talent with food to speak for her. (nicolelou.com)