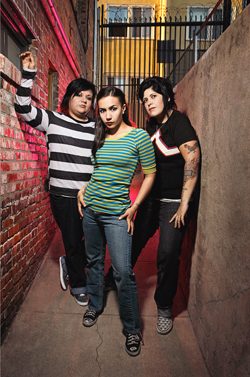 The out lesbian bassist talks about life on the road.
Girl in a Coma won critical acclaim in 2007 with their debut album Both Before I'm Gone, winning attention from major labels and guitar legend Dave Navarro, who said the all-female indie band was his favourite. Sisters Nina (vocals) and Phanie Diaz (drums) along with their out lesbian friend Jenn Alva (bass) have come a long way since opening for queer-fave Morrissey—they played at this year's South by Southwest festival and at the Michigan Womyn's Festival and will be at the queer arts festival, Homo a Go-Go in San Francisco next week. With their sophomore album, Trio B.C., the girls widen their repertoire without compromising their art. Alva tells us about life on the road.
What was it like opening for Tegan and Sara? And touring with the True Colors tour?
Tegan and Sara, oh man, it's fantastic. You know when we were on tour with Morrissey he is a different kind of guy and we pretty much stayed out of his way. Not because we were told to but because, it is kinda like, you just know and we just really wanted to do a good job and we were so glad he liked it. So that was like boot camp for us. Be in our dressing room, do a good job. And it was still fun.
We'd go out and watch him play at the end of the night. With Tegan and Sara, when we jumped on, and right away Sarah came up to us when we were unloading merch and gear and stuff and she welcomed us and she was just really, really sweet and then we started talking to Tegan a lot and she's just so cool and down to earth—they both are really.
They are really smart and they pretty much said, "Do whatever you want. Run around. You can hang out with us whenever you feel like it." And we were like, "Great. That is wonderful. That is nice to know." Because after the experience on the Morrissey tour and this one.
I think we were a couple of weeks with them and it was a great time. We made great friends. So that was a great experience. And True Colors, we did two shows on the tour, it was wonderful to meet Cyndi Lauper and she was great with us. We just wanted to do a great job. I am sure the B-52s—the girls are nice. [Laughs] That is all I will say about that. It is still an honour to play on stage with those amazing acts. Rosie O'Donnell, Margaret Cho…It is just a fun tour to be on.
Was there a lot of stuff going on backstage?
Oh yea, especially with us. We are running around everywhere. We are excited and Carson, I forget his last name, Kriesley? I think I could be wrong…
The guy from Queer eye for the straight guy?
Yea. He was such a doll to us. At the time I was smoking cigarettes and I was like "Hey, do you think I can steal a cigarette?" And he was like, "Absolutely—here's like four." Not that that is nice, helping people with ugly habits, but he was so nice. We didn't even have a dressing room and he was like, "You girls are welcome to hang out in our dressing room if you'd like." He just did a little extra and he didn't really have to. We just had a lot of fun on that tour.
Was that really different from being on Warp Tour?
Warp tour was so cool when I was starting out. It was kind of like Coachella [an annual Music and Arts Festival in Indio, Calif.]. Not so much anymore. There are some great acts on it. I just feel like they pretty much get these kids, these young bands and say, "Here, you won. You are going to be on Warp Tour. But basically, these young bands are working their butts off with their own money, you know, they paid for it, driving from town to town.
They did have some interesting acts going on a year. I think Katie Perry was there and that seemed odd to me because when I went to Warp Tour there was Alkaline Trio and Social Distortion and a lot more punk and now it seems like a lot of pop acts.
Yea, pop is in man. People, you know, whatever phase is going on, people will put their claws into it, and that's cool. Whatever. I think Warp Tour will always be around. They will have changes and whatever the kids want that is what they will do. The great thing about Warp Tour is my fellow labelmate, Kelly from the Dollyrot Plain, she said, "Think about it this way Jen, a lot of these kiddos, like young kids, their parents don't let them go out to shows and this is their chance to see some bands from like everywhere. That is true, totally, so it is not all bad. [Laughs] I am getting older. I am getting bitter.
You guys are heavily influenced by Tejano music but your new album also has some grunge and rock influences, which I loved.
That is a great compliment. That is wonderful. You know, you never know how anyone is going to take it. And actually, you are the first person we are talking to interview-wise that has gotten to listen to the album. We mix up a little rockabilly influence and a lot of rock and a lot of grunge '90s, Sonic Youth and, of course, Tejano. We love San Antonio and that is what it is about.
Is that was you guys grew up listening to?
We did. I mean. It is everywhere. And still, it is. The girls would wake up to it in the morning because their mom was cooking breakfast. Their grandfather, whose album is kind of dedicated to him, played Tejano music everywhere; we can't knock it. We kinda grew to love it.
So what was your biggest "I've made it, I am a rock star" moment?
Umm. I don't' know. I mean I guess it is the blend of meeting all these cool people. Dave Navarro is a big fan and we did a little interview with him and I don't know, I don't think we've actually got that. I am not going to say that we don't want it I am not really thinking about that.
You are too busy being cool and indie.
We are so indie. [Laughs] Oh man, it is not like that. It is just that we are busy. We have become focused so much on what we're doing that we don't think much about anything else. Like the new stress is practice. That is what we are here for. We have to practice some songs on the album that are super new. We stress out. New songs—we want them to be really good. It's like that "Always happy. Never satisfied." Rock star, I don't know. Then you see us later with pictures of later with champagne and groupies.
Speaking of groupies. Do you have any?
No. I guess I could see how some of them could be. But I am a married woman so.
How do you handle being married on the road?
It is hard. There are ups and downs it's fighting and basically you need to become the master of having a relationship over the phone. It's lame. It sucks. You become lonely and you are working. Yeah, it is fun, but you are still working.
It is just you have a fun job.
We do. We appreciate it. It is just like any other job. Sometimes it gets really under your skin and you're like, oh God. Driving, and sometimes we stay and fan's houses and we have to save money. We are just trying to save money all the time, you know, it is good and bad.
What is the biggest change you've seen in the band from your last album to this album?
We know that before "I'm Gone" there were a lot of songs that we had at the beginning, with Blackheart [Records] it was our first opportunity to put finally on a CD, they are done, it is over. It is done. That was just a different time—different times in our lives—when Nina [Diaz] was writing different things. It was luck that it flowed. With this one there is a lot of new songs and it is just about us getting a little bit better and a little bit more comfortable and knowing when to say yes and no. When you first have something like this happen to you just say, "Yes, sure, whatever you want. Do it. Yeah. Yeah. Yeah."
But with this album, we became very opinionated and very strong about the way we wanted it. Luckily we work with great producers like Dave Gonzales, again, and we also work with Greg Collins, who is awesome and he kinda opened our brains up a little bit. This album is just us getting a little bit better.