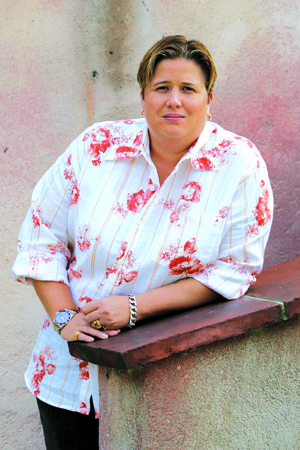 The famed activist, musician and author become the first celebrity lesbian to come out as trans.
Chastity Bono, activist, musician and only child of iconic entertainers Cher and Sony Bono has publicly come out as trans. According to a statement made by GLAAD president Neil G. Giuliano, "Chaz Bono's decision to live his life authentically represents an important step forward, both for him personally and for all who are committed to advancing discussions about fairness and equality for transgender people."
This was confirmed by Bono's publicist Howard Bragman who gave a statement to TMZ, which reported that Bono is in the early stages of his transition. "Yes, it's true—Chaz, after many years of consideration, has made the courageous decision to honour his true identity," Bragman said. "He is proud of his decision and grateful for the support and respect that has already been shown by his loved ones. It is Chaz's hope that his choice to transition will open the hearts and minds of the public regarding this issue, just as his 'coming out' did nearly 20 years ago."
Bono, a well-known activist, musician and journalist is the first formally identified celebrity lesbian to come out about his transition, and his decision to do so is a huge boon to the trans community as his open acknowledgement puts a recognizable and respected face to the trans community.
Here at LOTL, we have always been fans of Chaz since his courageous coming out as a lesbian in 1995—before Ellen was on the Cover of Time and before The L Word made lesbians cool. His decision to step out of another closet is a brave one and we heartily applaud him for it. To celebrate, we're taking this opportunity to look back at the last time we spoke with Chaz in the following classic Curve interview.
Since she came out—or was outed by the tabloids—as a lesbian, actress, author and pop culture fixture, Chastity Bono has been one of those ever-visible lesbians in Hollywood. With two books under her belt, a career in music behind her and a tumultuous but successful turn as entertainment director at GLAAD in the history books (thanks to that infamous Yep, I'm Gay TV show), Bono tackled her chemical addiction, found new love and then signed up for the third instalment of VH1's rock 'n' roll weight-loss reality show Celebrity Fit Club.
We caught up with her just as the season was coming to a close.
Did you have any concerns about doing a weight-loss show?
Not really. I had more concerns about doing what is a reality TV show.
You seem like the last person I'd imagine doing a reality show.
Yeah, so that was really where my concerns lay. … What was the spirit of the show? Was it sensational for the sake of sensationalism, or were the intentions more of good nature? Once I kind of found that it was a pretty good show with an overall positive message … then I decided to go ahead and do it.
You've been in recovery —
Almost two years.
Is that hard to maintain in Hollywood?
That's a good question. You have to change your lifestyle, because somebody who's a big party person, you can't put yourself in those types of situations. That was never really me; I was always kind of the, you know, pathetic in-my-home closet user, you know? So, my social life actually picked up quite a bit since I've gotten sober.
I'm wondering, how does it feel for you, you know when you see somebody like Jeff Conaway struggling with his addictions?
It was tough to work with Jeff, really tough I think for everybody, you know. Maybe a little tougher for me and Ant because we've been there and … it's weird when you are trying to separate yourself from that, and you are living a clean and sober lifestyle, and you're surrounding yourself with others who are doing the same, to then kind of be smack in the face of active addiction is kind of a trip. I think it made all of us uncomfortable because everybody who did the show was very professional. … Then you've got this kind of train wreck who just is making all of our lives more difficult than it had to have been. You know, it kind of started it out on a bad note for us, because it seemed like the past two seasons there were people who had those types of issues, but nobody's ever gotten kicked off the show because of it before.
In addition to you being the show's first lesbian, this is the queerest season with you and Bruce Villanch and Ant. How do you think viewers sort of perceiving the show's gay cast?
I'm sure gay viewers are probably thrilled just to see representation, as we all are. There's still —although it's gotten so much better—there's still far fewer of us being represented in the media than straight people, so that's a cool thing.
Especially gay, fat people.
I went to Tower Video last night with my girlfriend, and there was some event going on. They were having some kind of thing for some kind of off-the-wall movie, and there were, like, a lot of punk people there, and I was shocked how many young kids—kind of punk kids, rock 'n' roll, punk kids—coming up to me, and [saying], "Lesbians are great. …  We're watching the show!" And I don't think these were gay kids. I think that, for the most part, it's a nice thing for viewers. I mean, Bruce is just so funny, and you can't help but laugh at him. He's one of the funniest, smartest, quickest people I've ever met in my life. It was nice to be part of something that wasn't gay … that wasn't the central issue, but I still am who I am.
One of the things I really liked about the show is the week where you worked out five days in a row with all the different people that your girlfriend helped set up. How does your girlfriend feel about the show?
She was totally into it. You know, we met about a month before I started filming it, and so she went through the entire process with me and would come on the weekends that we would shoot, and she got close to everybody that was on the show, and so it was just kind of this thing that we did every other week.
I know that, among lesbians, there's still a lot of debate about whether fat is a feminist issue. Have you had that kind of dialogue at all?
I don't know. I've never heard of this "fat is feminist" issue. Enlighten me.
[Laughs] Well, fat doesn't always have to be unhealthy, and it can mean that a woman is sort o —for lack of better phrasing—throwing off the shackles of the traditional, patriarchal beauty standards.
I see. Yeah, we don't have that in L.A. It's just fat.
One of the things you said is that when you are overweight in L.A., you kind of feel separate and apart. 
Yeah, definitely.
Do you feel like that? Is that something that's changing for you—or will change?
A little bit. I'm not thin by any stretch of the imagination, but I lost some nice chunk of weight on the show, and it definitely made me feel better. I would like to lose more; it's definitely harder without the pressure of the show to do that but, you know, I'd like to keep whittling away at it. I think going into it, [it's] more of a health thing but it does, it's definitely a self-esteem issue. I mean, this whole debate that you talk about, I think it's kind of bullshit, I have to say, kind of a justification. I don't think there are that many people that are overweight that feel that good about it. You know, that's why the diet industry in this country is so huge, but I don't think you have to be … rail thin either, and I certainly would never be comfortable with that either. I think it's about finding a place where you feel good about yourself and where you feel healthy.
Well, do you think that the diet industry sort of exploits this issue?
You know, it's hard. There are so many varying degrees of it, you know what I'm saying? Like if we are talking about people who are a little bit overweight, yeah, I think it's definitely exploitative and I think that Hollywood has kind of exploited that or changed it.
It's interesting, you see trends throughout history. You know, my grandmother was an actress and a model, and she was up for the Marilyn Monroe part in All About Eve and ended up not getting it because she was too thin, and she had a lot of trouble kind of working because her natural frame was too thin for that time. Back then they were into the whole voluptuous, curvaceous female body, and now we're faced with the kind of being into this anorexic look that everybody's striving for, and that's certainly not a good thing either.
On the other hand, in America, we've got a serious obesity problem, and we eat really crappy food and portions that are gigantic — so I don't think it's a black-or-white issue; I think it's various shades of grey.
Tell me about your new project here! TV.
I don't want to go into too much detail … but it's a screenplay that I co-wrote with a friend of mine from high school, actually. We're close to signing that and getting the script in development over there, and assuming we're all happy with it, it's something that, you know, that I'll be co-producing with my writing partner as well.
Great, and then can you tell me anything about your girlfriend?
Why, what do you want to know?
Is she in the industry?
Yeah, she's a struggling actress and writer. And she's 30, and we've been together for six months today.
Is it too soon to ask about wedding bells?
No, I don't think so; I think it's a definite possibility at some point.