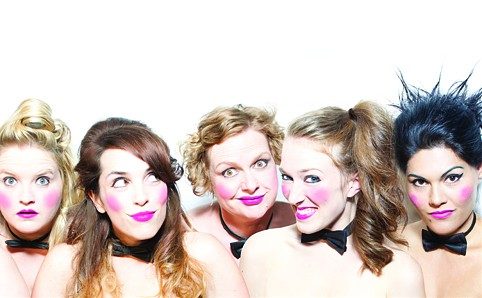 The gals from blackcat lounge turn up the heat with a slew of great performances including Lady Sings It Better, Maxine Kauter Band And Brendan Maclean
blackcat lounge regularly offers evenings of great LGBT performance and cabaret and this mardi gras season is no exception.
After relocating to The Factory Floor (an intimate venue nestled inside the Factory Theatre) blackcat lounge will present a series of great performances from hot local artists. Expect a fresh season of playful, concept-driven, gutsy live music, performed by some of Sydney's best queer musicians and their collaborators.
Coming up over February are performances from Lady Sings it Better, Maxine Kauter Band and Brendan Maclean.
Named ArtsHub's Best Emerging Company 2012, Lady Sings it Better offers high-femme reinventions of songs by the world's most famous male musicians, poking fun at pop culture in a hilarious cabaret romp, all big hair, rosy cheeks and ridiculous dancing. With regular sold-out shows across Sydney, audiences can expect The Factory Floor to be packed in Lady Sings it Better's first gigs since they took Edinburgh Fringe by storm in 2012! (Catch them on Feb 14, 23, 24)
Sydney's premier queer alt-pop rockers, Maxine Kauter Band, have been loving up audiences for years now. Likened to The Cowboy Junkies, Neko Case and Mazzy Star, Maxine Kauter Band have established a reputation for delivering a devastatingly great live show. For Mardi Gras, MKB is offering two great sets,  one featuring a host of new songs from a new album planned for 2013, and a set of covers of famous  LGBTI musicians, in the style of HOMAGE, a sell-out event during blackcat lounge's  2012 season. See MKB on (Feb 16)
Just weeks before Brendan Maclean takes to the silver screen in Baz Luhrmann's The Great Gatsby he and his acclaimed band will launch his new single, Stupid (Produced by Paul Mac), alongside a star-studded line up of guests.  A sell-out hit at blackcat lounge 2012, Brendan Maclean just keeps getting better. An independent songwriter, Brendan brings with him the energy and spirit of a new generation of artists. Brendan's flamboyant yet authentic live performance has been compared to Rufus Wainwright, Patrick Wolf and Panic at The Disco.