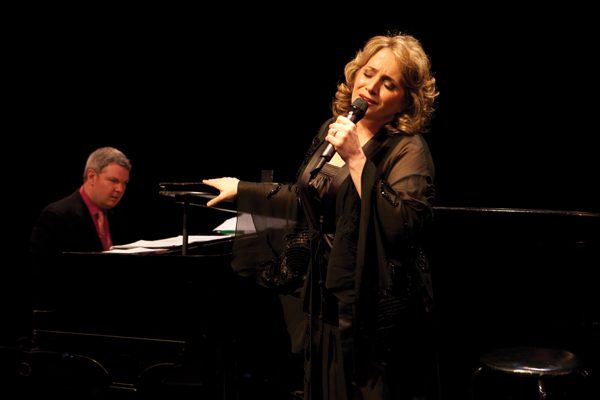 The acclaimed soprano Patricia Racette is out, proud and hitting all the high notes.
Patricia Racette is so committed to authenticity that for her signature role, Cio-Cio San in Madama Butterfly, in which the final scene requires her to commit suicide, she travelled to Japan and studied the ritual of seppuku with Samurai. Could Method Acting have found a home at the opera?
"My acting skills have come experientially," Racette tells me, admitting that she has never actually taken an acting class. "I need to lose myself in that character. If it's not a character that I can really sink my teeth into, I'm really uncomfortable."
Following in the footsteps of her role model, opera great Renata Scotto, who played Madame Butterfly to great acclaim ("She is absolutely one of my very favourite stage animals"), Racette has become one of America's greats herself, and shortly after she presented Scotto with an Opera News Award, Scotto returned the favour.
If you've stopped reading because opera isn't your thing, too highbrow, you're in good company. Racette, who grew up in working-class Bedford, N.H., is thoroughly down-to-earth about her profession, laughing uproariously when I mention that I, too, might have passed this musical genre over had it not been for the "gateway drug," Puccini's accessible and romantic La Bohème.
"I consider myself a Puccini singer," says Racette. "I've done well over a hundred performances of Mimi and Musetta. I understand the concept of the gateway drug and I can't quite get beyond it…I love performing Musetta, she's so much fun to portray.
Mimi can get a bit droopy," she concedes. (Then again, she is dying of consumption.) But Racette has also tackled the pinnacle of Puccini, performing all three roles in the demanding Il Trittico.
But let's put arias aside for a moment. Racette always wanted to be a singer, but what she was originally trained to sing was jazz. In a recent performance at 54 Below, an elegant subterranean nightclub in New York City, Racette launched her CD Diva on Detour.
The soundtrack is from the American songbook—with a short detour to France—and when Racette wrote the show she not only chose a familiar setlist, she made sure to include stories that invoked her childhood, her mom, and a nod to her marriage to mezzo-soprano Beth Clayton. On the night that I saw Racette, she radiated warmth.
"That is really me," she says. "I am that way in my operatic profession, too. Sometimes you can almost sense the lofty, aloof, larger-than-life personalities, and in that regard, opera has been very ill-fitting for me. I'm not that way.
I'm practical, I'm down-to-earth, I have a lot of temperament but I need the humour to get through life. I'm very user-friendly, but that in no way, in my opinion, takes anything away from the potency of what I'm doing on stage."
The title of the album, conceived by Racette and Clayton (who, by the way, makes a foxy lead in Carmen, all six foot of her), suggests that the virtuoso is stepping down from her pedestal to get into the groove. Songs include a medley of "I Got Rhythm" and "Get Happy," "The Man That Got Away," (in the intro Racette quips, "Boy, did he ever!"), and a formidable foray into the catalogue of Édith Piaf, with "Padam Padam" and "La Vie En Rose." These are showstoppers that may just transcend all other tributes to Piaf.
Displaying zero per cent haughtiness, the diva is up close and personal in this detour, but Racette doesn't entirely disavow the term. "Being able to stand on stage in front of 4,000 people and captivate them, and use those little flaps of skin in your throat called your vocal cords to do so, and then infuse it with your energy and your heart and soul, that is a divine experience and I think that's the wonder of it."
Racette has heart and soul to spare, but a good deal of this comes from the happiness and security she has found with her wife, Clayton. Racette, who came out officially in Opera News in 2002, has sympathy for those who are afraid to leave the confines of the closet but says she had only one choice.
"It's not worth living a life feeling ashamed of something that I feel more proud of than anything else. It's something I celebrate. I don't want to behave as if there is something wrong with it, because there isn't…I think some people are really surprised when I sing, 'I got my gal, who can ask for anything else…' But I think that's fun."
Baffled by Jodie Foster's not-quite-coming-out speech, which left Racette and Clayton open-mouthed, dare we say speechless, she nevertheless reserves judgment. "Coming out is different when you have a public profession," she explains and agrees that the demographic of opera lovers consists mostly of liberal-minded folk, many of whom are gay themselves.
"Look, I'm not in Alabama teaching kindergarten. There's a big difference. My first girlfriend ended up being a first-grade teacher, we were in college together, and she was very scared and closeted…so I believe that people should do things that feel right to them.
I don't believe people should be pushed into this. But I have personally experienced someone who admired me, who liked me, but who didn't know I was a lesbian, and when they found that out, I could just watch the process going on in their head: Wait a minute. I don't approve of that. Well, maybe it's okay…It changes people's minds. 'One of those' becomes personalized, and I think that's how we make a difference."
Both, Racette and Clayton, who shared their coming-out story with the It Gets Better Project, are at the top of their careers, but upon glancing at their resumes it seems that the rise really began once they became an item. Is there power, even in the stuffy world of opera, to be gained by finding love, and coming out about it loud and proud?
"That's the reverse of the question I am most frequently asked, which is: 'When you came out, did it affect your career in a negative way?' I don't know if, when I'm passed over for a role, one of those reasons happens to be, 'Oh, she's a lesbian, I don't want her to portray this character.' We're not privy to that kind of information. I would hope that if I'm passed over for a role, it's for sound artistic reasons.
"But to answer your question, I would say, being authentic and true to who you are and how you're living informs your entire being, and that inevitably permeates every aspect of your life, particularly when your profession is to bare your heart and soul.
It takes a certain amount of emotional inventory to be a performer, so if you've hidden and turned away a major part of who you are, that creates an impediment to what you're trying to say as an artist and how you're able to say it."
Racette is up-front about discussing her life with Beth Clayton. In the end, she says, her personal life is all about relationships, and when it comes down to how they make theirs work, Racette uses the term "wifing."
I'm not going to lie. When we first got together, there was a certain amount of tension around having two performers in a household and dealing with all that it entails—not just the practical logistics, but the emotional pressures, the ego, it's rather intricate.
But I'll never forget the time early on in our relationship, we were sitting there talking and Beth actually said, 'We're a team. We have to approach this like we're a team.' And we do. So, 'wifing.' There's nothing specific. It entails picking up all the slack so that the other person can prepare and do their very best in rehearsals and during the performances.
We take turns. But I don't think I've folded a towel in 15 years now because they just get refolded," she laughs.
This picture of domestic harmony would not be complete without including their dog, Sappho. In the beginning, Racette says she told Clayton, " 'I want us to have something that we can love together. We have this wonderful relationship…I want us to be able to bestow that love on another creature.'
I really wanted to have a dog, perhaps more than Beth did, and for the dog, Beth is absolutely primary. But if I were a dog, I'd choose Beth too," she laughs.
As for two-legged children, Racette and Clayton discussed it thoroughly for over five years and "got very close…But the performing arts, and music, in particular, it's ruthless. It insists on being number one and it never stops asking for more, and so I think it's a no-brainer.
When you have a child, the child takes priority. There's no way something is not going to suffer in that process."
Including the relationship.
"We're pretty blissful with each other. Why would you mess with that?" she says.
And I'm pretty blissful with Racette and thankful that she's making herself available to us, whether it's in the world's great opera houses or at a cabaret near you.