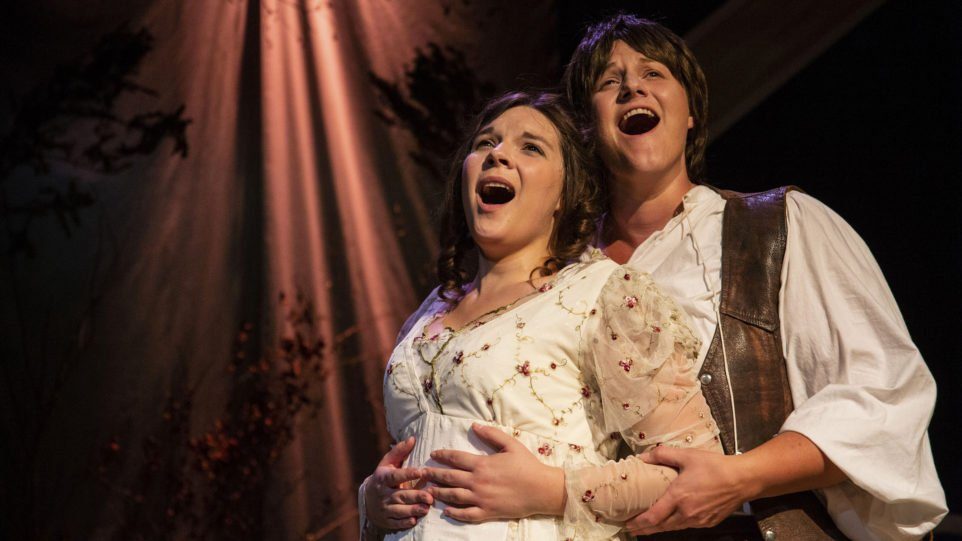 I was trying to convert people. I was trying to convert lesbians to love opera!"
A new, "chamber opera" version of the lesbian classic Patience & Sarah depicts the first-ever happy ending for lesbians in opera.
As many Long-Lived Lesbians know, the novel Patience & Sarah by Isabel Miller tells the story of two rural, 19th-Century women who rebelled against the social norms in pursuit of love, independence, and shared life.
The 1969 novel was the first recipient of the Stonewall Award for literature, and it has been a staple of college "queer lit" courses for decades.
Now, it's an opera too. Patience & Sarah is coming to New York, for Pride week (June 23 & 24, Players Theatre) and features a new seven-piece orchestration for staged concert performances.
Long-lived lesbian Wende Persons first drafted the libretto (the story, in lyrics) of Patience & Sarah in 1981, because she "had a huge crush on a soprano."
That singer had confided in Persons that she "never felt she was singing who she was" onstage because she was limited to roles where she was in love with men.
They fantasized about making Patience & Sarah into an opera, and so Persons wrote it. "I realized I was trying to convert people! There was no doubt about it: I was trying to convert lesbians to love opera! There's always been a big gay male following, but you don't see lesbians coming to opera so much."
After writing an early version, Persons says, "I said, 'That was easy,' and put it away in a drawer for 18 years." There it stayed until she and composer Paula Kimper decided to make it an opera. "Then I realized writing a libretto wasn't so easy," she laughs.
But after the show did a sold-out run at the Lincoln Center in 1998, Persons says, "I found there was universal support for a good love story. People who might not have voted for gay marriage were coming to Patience & Sarah and being moved by it. We sometimes make social change through art before politics. Politics can legislate what laws we have to follow, but we can make art, and people's hearts are moved. People understand through art."