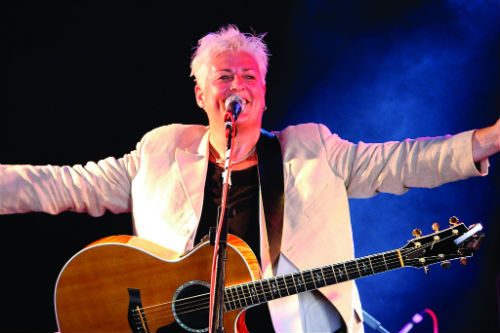 Horse is heading to Australia for Adelaide's Feast Festival.
Before touring during November, Horse shares her stories on growing up, coming out and how both her good and bad experiences shaped who she is today.
You grew up in the small town of Lanark, Scotland, where you were bullied for being gay, what effect did that time have on you and how do you reflect on it now?
Everyone has a different story about how it was for them growing up and not all are horror stories. I feel the feelings of not fitting in, shame, embarrassment, frustration, loneliness, and fear are uniform. I never seemed to fit in, but with a great deal of living and experiences, good and bad, I am now settled within myself. I was both mentally and physically bullied, but the scars are mostly internal. I was chased by gangs, had bottles thrown at me. In one incident the local police shouted over at me "there's that lezzie", which possibly scared me most. After that, I felt I had no one to turn to for help. I know that at the time, had I been able to talk to someone or see people similar to me in everyday life my growing up could have been a lot easier.
You returned to Lanark to marry your wife Alanna, how important was it that you return there and celebrate your love and union to the woman you love?
When I lived in Lanark it was in fear, mostly. With distance from the town, my strength and confidence grew. My father was the local councillor and well known so my fear was that I had brought shame on the family, but in their last years, I came to know that they were very proud of me and my fears were never found. I know that he and my mum would have been thrilled for us. To return to the place I grew up in was a way of saying nothing anyone can say or do will keep us apart. We are no different from anyone else in love.
The Scotland marriage equality bill passed earlier this year. Can you describe how you felt when that moment came?
If I'm perfectly honest, I found it incredibly overwhelming. Everyone around us was jumping up and down and laughing and cheering. I burst into tears. It was the culmination of over 40 years of my own personal struggles. The symbolism of being accepted was enormous. I was so proud! Proud of the parliament and politicians who made this happen but mostly all of the people who have gone before me fighting for our rights and all that still do.
As an anti-bullying ambassador, what message do you want to communicate to people who might be bullied for their sexual orientation or who might be struggling with coming out in their family, community or work environments?
I've spoken over the years at seminars and organisations. I think it's something I've always done. No matter what anyone else says or does, it's you yourself that can either cope or not cope. I think that if you can feel within yourself that you are worthy and just as important as anyone else it makes a huge difference. Growing your inner strength is essential and reaching out when you need to.
In your opinion, what influence can celebrities being 'out' and open have on young LGBTI identifying people?
I think we all have a responsibility when in public life to be as honest as we can. Celebrities in various fields also give the peers of young LGBTI a glimpse of someone whose sexual orientation may be different to theirs but that it is probably the only thing that is dissimilar to them; that being gay is actually normal.
As a musician who has been working in the industry internationally for roughly 30 years, how have you seen the industry change regarding 'out' musicians?
Realistically I don't think this industry will ever change. There was a time when simply being gay was too shocking for people to handle. No one knew what to do with me but what did happen was all fairly negative and destructive. I was never in a closet but on the other hand, I may as well have been as the media avoided us. The stereotypes for success in most areas of life are still prevalent. I believe to be happy you have to think about not what's good for your career, but what's good for your soul.
What connection does music writing and performing hold in regards to your upbringing and personal journey?
I cite music as being one of life's most important elements. It serves so many needs, especially emotional and spiritual. Music was my escape when times were hard. I would sit in my bedroom and write songs. I dreamed of escape. For examples of being accepted and respected, I looked to singers for my inspiration. In my life music is at the heart of me and is a solace and a comfort and lifesaver. I have grown organically as a singer, I am very open as a performer I think less and feel more. This has developed through time and experience. It is a cathartic experience for me and audiences feel the same. It's almost certainly saved me and continues to keep me sane.
Where can our readers see you perform next?
I'm delighted to be joining the Feast Festival in November. I've not been to Adelaide on my travels yet so I'm really looking forward to it. As well as my main appearances I'll be performing to and talking with various youth groups about my experiences and sharing stories and visiting regional towns Port Augusta and Mount Gambier. It's such a great opportunity to give back, I feel so strongly about it because I had no one to talk to or ask questions of when I was younger.