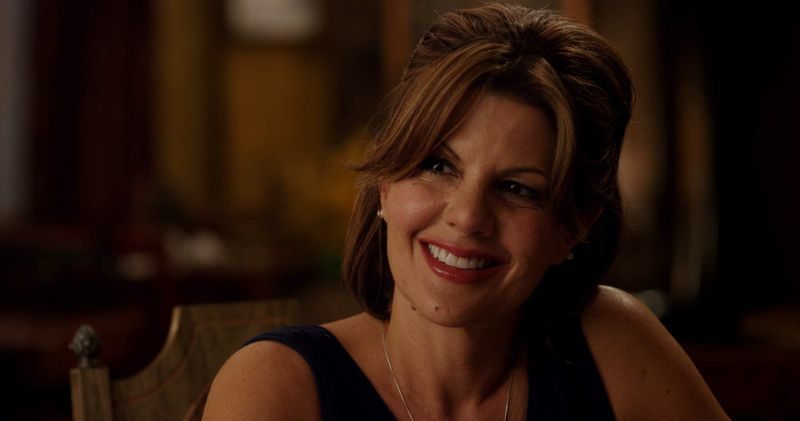 Exclusive interview with actress Renee Props, who plays a lesbian in her latest film!
It's not often that an actor in an upcoming film approaches us to give the exclusive heads up on a special story angle, but that's what happened when actor Renee Props couldn't contain her pride over her newest role in the mob drama, Once Upon a Time in Queens.
And Props had good reason to be proud.
I was granted the pleasure and privilege of viewing the soon-to-be-released film and then spent time discussing it with Props—she plays the lesbian daughter of a mob patriarch played by veteran actor Paul Sorvino—whose words spilt over with passion for the film and its positive message.
In all honesty, I probably would not have felt compelled to see this film had I not been put in touch with Props, but I am exceedingly glad that I did; this is certainly no ordinary mob movie! When questioned on his inspiration for the film, director and writer David Rodriguez said that it "was the idea that the Italian Mafia in N.Y. had been drastically crippled by Law Enforcement. Then I imagined what it must be like for these old wise guys, and how they're now navigating in a world that is quickly changing every day."
The credits roll over images of old newspapers, monochrome dating them, and the melancholic yet hopeful tones of the soundtrack (compliments to composer Geoff Zanelli); these elements set the scene for a film that is certainly not a run-of-the-mill mob film.
Props want to emphasize that the film is a heartfelt family drama and worries that it is "being marketed as a mob film." "But talented writer/director David Rodriguez made a post-mob film," she clarifies.
"This is a 21st century, raw, family drama, human-interest story, and Paul Sorvino shines, it is his role of a lifetime."
The bold establishing shots are of a federal correctional institute in stark realistic lighting, accompanied only by ambient sounds of birds, joined shortly by an uplifting and peaceful melody. This masterful juxtaposition subverts the standard connotations of prisons and criminals, instead creating an instant empathy towards Paul Sorvino's character.
He exits the institute and takes his first breath as a free man, and as a spectator you can't help but savour that moment along with him. In a docile, half-asleep state he travels in a car back into familiar city life. These simple images build a sense of sympathy for the character, regardless of knowing that he belonged to a mob. To create such a connection within a matter of minutes, and with no dialogue, is an impressive skill—clearly a film-reviews by a talented filmmaker (and talented director of photography, John Barr!). So why has misleading marketing been presented to the public, detracting from the film's unique selling point of being "post mob" and culturally/societally progressive? Props considers that "perhaps [it is] because this is the first post-mob film made."
The film's genre is not the only thing Props wishes to clarify. "As a straight woman passionate about gay civil rights, I feel compelled to set the story straight about Once Upon A time in Queens," she says.  The gay storyline involving Rita, the protagonist's lesbian daughter was somewhat swept under the publicity rug. From viewing trailers and other promotions for the film, it is startling that there is little to no mention of this narrative thread at all.
Props was attracted to her role in the film-reviews because "one of [her] best friends from growing up in Arizona is gay. She is a beautiful girl, an only child, who finally and bravely came out in the 1980s."
When asked why she thought that the gay themes in the film were disguised in the film's marketing campaigns, Props replied, "I have three words: Dallas Buyers Club.
It did pretty damn good at the Oscars; we are living in a time when gay subject matter is hot, I have no idea why they would not capitalize on it."
This all then begs the question, how should the film be marketed? Props say that her ideal trailer "would focus on the main storyline, the relationship between old school Mr Joe (Sorvino), his relationship with his daughter Rita (Renee Props), and his relationship with his neighbour Bobby (Michael Rapaport). "If one old school parent sees this film and in turn, their heart is softened and they begin their journey to love their gay child unconditionally, then this story-telling has fulfilled its purpose," says Props.
Andrea Verdura, an out lesbian actor who makes a cameo in the film, agrees: "Once Upon a Time in Queens is about the complications of family, love, and the truth in relationships," she says.