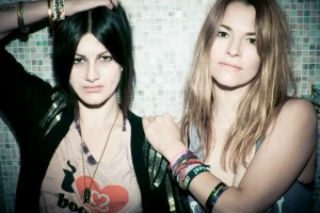 Uh Huh Her's 'Future Souls' is clear evidence of why Hailey is so much more than just the famous Alice Pieszcki
Long before The L Word fame, Leisha Hailey was, and still is an accomplished musician having previously been a member of The Murmurs in the 1990's.  In 2008 we were introduced to her musical talents, yet again, with the first major release from her band Uh Huh Her and the album Common Reaction, quickly followed up with Nocturnes in 2011.
Now years later Hailey, and her partner in music (and in life) Camilla Grey, have backed up those powerful electro pop albums with an offering that is a sharper and more sophisticated sound to each of its predecessors, a maturity of sorts that does not disappoint.
"Innocence" is the first track and it is radio ready with a steady beat and catchy chorus leading to the climatic light and fun bridge.  "It's Chemical" is next and takes you on a clever trip of multilayered sounds and beats with electronic manipulated vocals.
Hurtling forward at an entirely different velocity is the standout track of the album "Bullet".  With haunting vocals and very tight beats, it builds at a pace, which as the lyrics suggest, are "getting you/one step/closer to the edge …" and tipping you over.
Left freefalling into the chorus you are singing out loud, dancing uncontrollably, all before you realize it, and as soon as you do, sadly it's all over.  Ready for a change of pace and slow dance interlude, "Strange Design" does just that.  Peeling back the instrumentals with a minimalist introduction and sultry vocals, this is one for the lovers on the dance floor.
Overall the ten tracks on this album consist of pumping beats and solid vocal lines that anyone will be happy to boogie to.
The electronic sound, which is the signature of this band, has been brought to the forefront of the music mainstream more recently through the high profile success of a number of bands, notably Tegan and Sara.  Future Souls drives the genre forward again with beats fit for any dance floor.