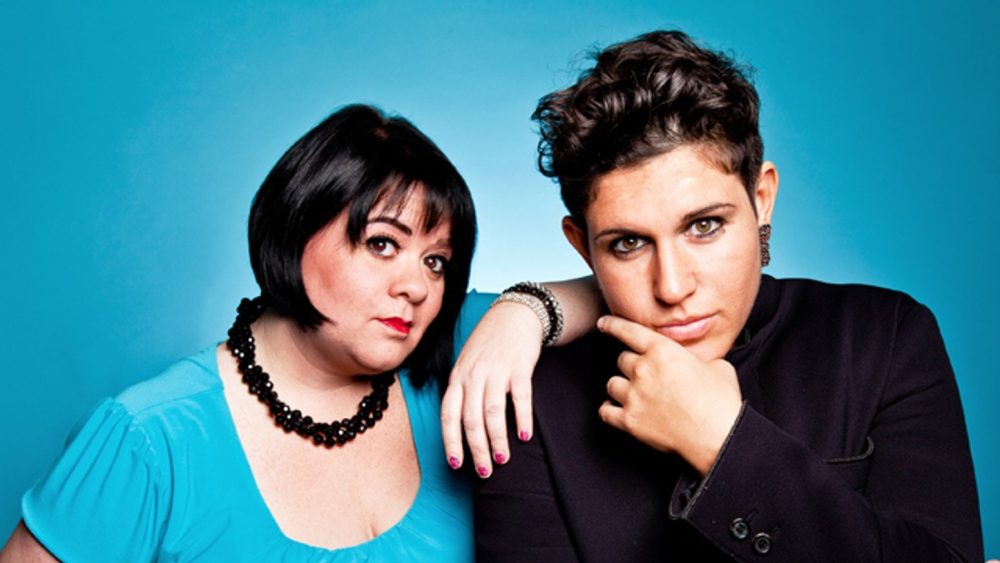 LOTL has the best beats to shake your booty to.
It's Pride Month, so how about a little summertime dance party? Recent albums by God-des & She, Scream Club, Heloise & the Savoir Faire, and the Gossip should be essentials on your party playlist, and will definitely get bodies moving with a mixture of rap, electro and dance-punk.
Stand Up, God-des & She (Self-released)
Fans of the Madison, Wis.-bred, now Brooklyn-based, hip-hop duo know that this sophomore full-length album has actually been available directly from the group or at their concerts since last fall, but just last month it got an official "release" and national distribution.
The 14-track disc is a tight production, beautifully showcasing the interplay between God-des' gritty, complex rhymes and She's gorgeously melodic and soulful R&B-flavored voice. Songs like the playfully dirty "Lick It" and sing-along "Love You Better" will likely already be familiar to many (the former largely due to a performance on the 2007 season finale of The L Word), but there are many more cuts worth discovering. God-des is at her finest when offering her truth on songs like "A Little Too Different," "Give Them What They Want" and "This Is the Life," which touch on the realities of being queer in the music business and in real life. "Stand Up" is a call to make the personal political by standing up for one's beliefs.
Cuts like "Hollywood" and "I Hate Your Ex-Girlfriend" are just hilarious fun. The whimsical "Ja Da" seems almost out of place—with its heavily sampled nonsensical refrain, it's instantly infectious. Frankly, I can't find a cut on this disc that I'm not crazy about, and almost every one of them would work well in a party-shuffle on your iPod or on your next mixtape. (god-des.com)
Life of a Heartbreaker, Scream Club (Crunks Not Dead)
Moving the party in more of an electro-hop direction, the Olympia, Wash., queer white-girl-rapper/DIY-punk duo of Cindy Wonderful and Sarah Adorable also has a sophomore album that's been out for a while but is getting renewed attention now. This 12-song follow-up to their impressive debut, Don't Bite Your Sister, includes guest appearances and remixes from a host of underground rap and electro stars and ranges from high-energy sound clashes ("I'm Going Crazy") to more mellow, laid-back, hip-hop grooves ("Intoxicating Protége").
The ghetto-electro Joey Casio remix of  "Fine as Fuck" (featuring Peaches) and tongue-in-cheek, Euro-synth "International" (complete with ironic accents) are the standout dance cuts, with the synth-pop title track (featuring Electrosexual) and Nicky Click collaboration "Protégé" close behind. Cuts like "You Make Me Smile" prove the duo's love for sugar-sweet love-inspired pop, while "Spit and Glitter" uncovers a darker side. Lots of good party jams here, and quality products from start to finish. (screamclub.com)
Trash, Rats & Microphones, Heloise & the Savoir Faire (Simian/Yep Roc)
Their video for the very Goldfrapp-sounding "Odyle" on their MySpace page couldn't get gayer, with its retro-'80s new-wave synth-pop fabulousness and leg-warmer-clad backup dancers. Led by the one-time Peaches bodyguard-driver Heloise Williams, the NYC-based group—which includes a full band in addition to the dancers—offers a mix of glitter disco-synth and pop-leaning dance-punk on this debut album on actor Elijah Wood's fledgling Simian imprint.
The retro '80s irony is thick throughout the album, particularly on the cheeky "Members Only" and via the appearance of new-wave icon Debbie Harry on two cuts, the '70s disco-flavoured "Canadian Changes" and sinewy no-wave "Downtown." "Datsun 280Z" and "On Fuego" rock out a bit more, but still are very danceable. (heloisemusic.com)
Live in Liverpool, The Gossip (Music with a Twist/Columbia)
The Gossip is one of my all-time favourite bands. I've seen them live many, many times since their inception in 2000, and there's just nothing that compares to out-dyke lead singer Beth Ditto's energy and belting voice on stage. That being said, I think it's near impossible to really capture that via a live audio recording or even a concert video.
The dance-punk band's electricity is tangible in person, in the air and through your body, and as fun, as it is to watch this DVD, recorded live in concert in July 2007, and listen to its accompanying CD, it rings a little hollower than the real thing. However, they are both worth picking up if for no other reason than the inclusion of covers of Aaliyah's "Are You That Somebody?" and Wham!'s "Careless Whisper," and to hear/see Ditto introduce the cunnilingus anthem "Swing Low," screaming, "This is for the dykes!" (myspace.com/gossipband)