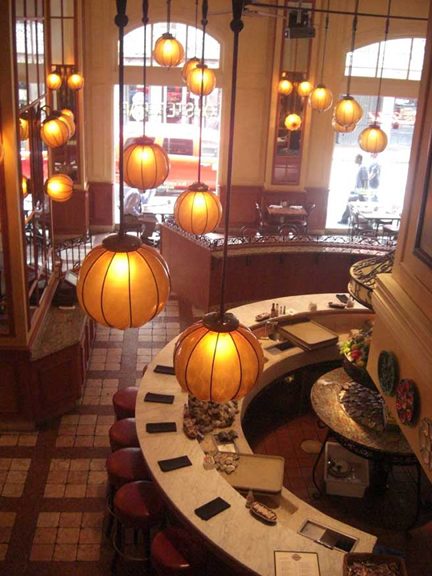 Renowned food and drink writer and cocktail connoisseur Karen Loftus mixes it up on a whirlwind worldwide tour of swanky bars, local watering holes and international cocktail competitions.
While supporting my early artistic endeavors with every imaginable form of service from cocktailing to bartending to catering, my father, referencing our Irish roots reassured me early on, "We're pub people." So, when I embarked on the spirited side of journalism, it seemed like a natural fit. It was a world I was very familiar with, having spent equal time on both sides of the bar. From tipping to sipping, I felt fully at home despite the fact that it was clearly a male-dominated field.
My cocktail tour kicked off two years ago in New Zealand with the 42 Below Cocktail World Cup. I was in the south island bungy jumping and parasailing in between cocktail comps, where hip chicks from New Zealand and Oz fiercely represented the feminine field.
Spotting liquid trends, I found that the old world Brits were looking back while moving forward in their cocktail culture, with a serious nod to the handcrafted classics. For them, it was all about the preparation and fresh ingredients to deliver a timeless treasure.
But the New World lived up to its name—creativity and innovative twists reigned supreme for the contestants from Oz and Kiwi country. Their use of tea and foam created three sensations in the mouth and the drink. It was a multi-layered, modern experience.
The rambunctious American contestants proved that speed was their drink of choice. The cocktails—like American culture—were all about efficiency and the almighty dollar. It was the quicker, harder, faster, money-making modus operandi.
My liquid trip continued at the Sunset Tower in WeHo, with Dom Perignon's winemaker who released his new vintage with an intimate tasting for six spirited journos. We went on a sensual adventure pairing the new vintage with delicacies from earth to sky, starting with caviar passing through Asian broth and continuing on to squab. It was an inspired time.
The tour continued in downtown Los Angeles where I was a judge at a cocktail competition sponsored by Damrak gin. This liquid beauty is perfect for cocktails.
Surprisingly, so is Hennessy as we were witness to a cocktail seminar at The Gable and Lombard Penthouse at the famed Roosevelt Hotel. A New York couple took us through a tour of the classics where Hennessy was the spirit of choice. In today's cocktail culture, it's all about shaking it up.
For any spirit enthusiast, there's no better place to celebrate American cocktail culture than New Orleans at their annual fest, Tales of the Cocktail. It's the Sundance of the spirit world where anyone and everyone who has anything to do with the cocktail culture pours into the Big Easy with their brand in hand, their seminar slated or their party planned.
The superstars of the spirit world, New Yorker Dale DeGroff, Vegas' Tony Abou-Ganim and London's Peter Dorelli and Salvatore are all in attendance. It's a truly intoxicating event with 75 tastings and seminars on everything from whiskeys, to absinthe, to shoju, punch, spicy cocktails, Latino libations and organic cocktails. The list and the options are endless.
After Tales, a trip to Ireland was in order for me to come full circle on the cocktail tour. My grandfather was from Northern Ireland and my grandmother was from the South. I decided to hit them both, starting with Bushmill's, which is the oldest licensed distillery in the world.
They were celebrating their 400-year anniversary, and in honour of my birthday and aging in general, they offered me a spot of the special 400th Anniversary Blend, containing 95 per cent malt and 5 per cent grain whiskey, made with 30 per cent crystal malt.
Belfast was bustling with brilliant pubs, but the crown jewel of the Celtic cocktail culture was The Merchant Hotel in Belfast's historic Cathedral Quarter. This stunning five-star hotel, once the Bank of Ulster, is home to the world's most expensive cocktail, the Mai Tai, which warrants its nearly $1,500 price tag as it is made with Wray and Nephew's 17-year-old Jamaican rum.
The tall tale told there is that Trader Vic, creator of the Mai Tai, made his first drink with this rum. The Mai Tai became so popular that Wray and Nephew ran out of their stock. The Merchant has one of their original bottles.
But the Mai Tai wasn't the only star at this bar. Sean Muldoon, the Potation Manager, is an impassioned genius. No expense is spared—from silver straws, Reidel glassware, hand-crafted ice and simply the best spirits.
Next, I hopped a train to Dublin and popped into Fallon & Byrne, an Irish version of New York's Dean and De Luca, only better. I found liquid nirvana in their cozy wine cellar with over 7,500 bottles of 650 different wines sourced from every known and unknown region imaginable, from the classic French Bordeaux to big reds from Portugal's Duoro Valley and a mix of Lebanese wines, which are best paired with artisan cheeses, cured meats and an incredible sense of decadence.
But no trip to Dublin is complete without a stop at the Guinness plant. I was ashamed to admit that I had never had a Guinness, as I was more inclined to sip or swirl a cocktail or wine rather than pony up to a pint. What better place than the 250-year-old historic plant itself to be baptized by Guinness? As I sipped my ice-cold frothy one, overlooking the emerald city from the plant's top floor, 360-degree view, I couldn't help but wonder, what took me so long?
If only my grandparents could see me now.