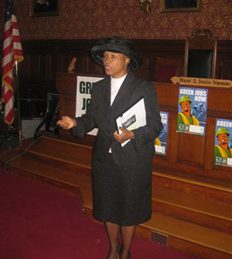 E. Denise Simmons, the former mayor of Cambridge, and the first African American lesbian mayor in the country declared her candidacy for a Massachusetts state senate seat.
A five-term City Council Member in Cambridge, Simmons was appointed by her colleagues on the council to serve as Mayor for the 2008-2009 term.
Simmons says that she was not planning to run for the seat, but family and friends encouraged her to throw her hat into the ring. In a statement announcing her campaign, Simmons cited a challenging job market, the affordable housing crunch, and strains upon social services, declaring that "[w]e need strong leaders in the legislature who are prepared to roll up their sleeves, respond to their districts' needs, and get Massachusetts back on track."
 She will be running against ten other people, including fellow City Council member Marjorie Decker.
The seat opened after Sen. Anthony D. Galluccio resigned in early January. According to The Harvard Crimson, he was sentenced to a year in jail for violating the terms of his probation for leaving the scene of an October hit-and-run accident.
A local newspaper outed Simmons early in her career. She has said this was a relief. "It wasn't that I hid," Simmons told The Advocate in an interview. "I just didn't bring it up. Afterwards, I didn't have to think anymore about which pronouns I used when I talked about my partner."
As Mayor and a member of the City Council, Simmons won notice for her establishment of the Green Collar Commission, charged with developing a Green Jobs Workforce that would train workers for the green economy. She also created the Beauty Parlor Project, an educational initiative that sought to inform and engage women around the issue of domestic violence.
The democratic primary is on April 13, and the general election will be held on May 11.