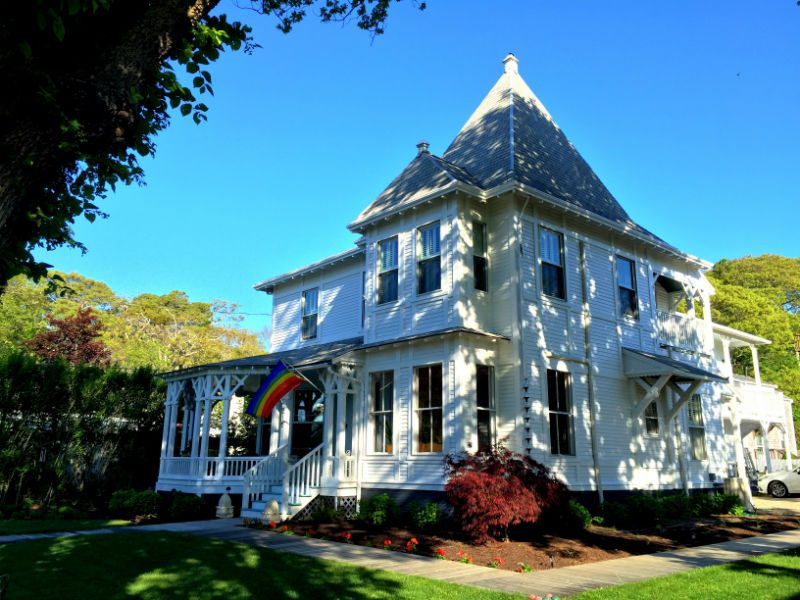 With parties and performances galore, plus a mass lesbian wedding, P-town is your must-do destination this fall.
Summer may be officially ending but the fun is just beginning in Provincetown. The historically gay and lesbian mecca on the tip of Cape Cod, Massachusetts, has enjoyed a beautiful and rainbow-festooned summer, including appearances from legendary LGBT performers, and even a visit by Hillary Clinton and Cher.
And now it's gearing up for even more femme-forward festivities! Aside from the general pleasure of strolling Commercial Street hand-in-hand with your love, there are some big events to put in your calendar.
WHAT'S ON
The 32nd Annual Women's Week Festival is now the longest-running women's cultural festival in the country. This year the Festival runs from October 7 through October 16. Mary Lambert and Our Lady J round up the lineup of superstars who will perform in a benefit concert for Cyndi Lauper's True Colors Fund, which aims to alleviate LGBT youth homelessness.
The closing night concert will be followed by an exclusive Rainbow Party and is one of several events produced by the Women Innkeepers of Provincetown.
The entire Women's Week will be a star-studded celebration of culture and community with Kate Clinton, Lily Tomlin, Karen Williams, Vickie Shaw, Julie Goldman, Suzanne Westenhoefer, Poppy Champlin, Jennie McNulty, Cameron Esposito, Rhea Butcher, Cris Williamson, Susan Werner, Suede, Zoe Lewis, Laura Zucker, and more performing.
Sporty dykes are not left out, with events that include pickup basketball, an annual golf tournament, and Kate Clinton's always-riotous Touch Football Classic.
"Provincetown is the Emerald City for the LGBT community and shows the beauty of how people of all backgrounds and identities can live, work, and play in an environment that allows them to be their true selves," said Cyndi Lauper via the Women Innkeepers of Provincetown.
"We're honored to team up with the Women Innkeepers of Provincetown to raise awareness about the disproportionate number of LGBT youth who experience homelessness, and to collaborate on new ways to end this problem."
Women's Week boasts an estimated 150+ events, shows and parties this year and while the festival promises to be a community love fest, it also offers a love-in on a grand romantic scale:
Bride Pride on October 15 will be "the world's largest all-girl wedding and renewal ceremony" according to Roux Provincetown Bed & Breakfast innkeepers Alli Baldwin and Ilene Mitnick. The wedding ceremony will commence promptly at 11:00 a.m. on the lovely front lawn of P-town's newest lesbian owned and operated B&B, an impeccably restored 1870s Victorian mansion.
Reverend-for-the-day will be LGBTQ icon Kate Clinton who will also be renewing her own vows with long-term partner Urvashi Vaid. Now that's some good company!
Organizers and participants are hoping for at least 100 couples, and if so, the event and everyone in it will become part of recorded history in the Guinness Book of World Records as the World's Largest Lesbian Wedding and Renewal Ceremony!
On behalf of those lucky lovebirds, Bride Pride will be making a donation to GLAD (GLBTQ Legal Advocates & Defenders) to thank them for their ongoing activism.
Imagine taking your vows, exchanging rings, and then parading down Commercial Street with the whole town, including thousands of women, as your reception party! To take advantage of this unique opportunity, register now to be one of the lucky brides.
WHERE TO STAY
If you're headed to P-town with a group, one of the easiest places to stay is the Seaglass Inn & Spa, which is located on the hill near the West End, and is owned and operated by married couple Nadine and Faith Licostie. This expansive but lovely property has numerous rooms connected by long verandahs, and landscaped common areas good for socializing with your entourage.
The large in-ground pool and onsite spa are perfect for relaxing and a continental breakfast is supplied each morning. It's the place to be if you require everything on hand for you and your friends, too, whether you've cycled or driven there, or require special mobility needs.
(They're right near Gale Force Bikes so renting a bike is convenient and easy transportation). The staff at Seaglass Inn & Spa goes out of their way to accommodate you and tend to your needs in a clean, crisp, fully renovated, no-fuss environment.
Do yourself a favor and book a treatment with the lovely massage therapist who does everything from deep tissue to acupressure facials in a soothing environment.
For something quirky and chic for you and your love, try to snag one of the six special rooms at Roux Provincetown Bed & Breakfast. Each room has a unique theme and aesthetic and is furnished with antique curios and accent pieces.
Life partners Alli Baldwin and Ilene Mitnick have lovingly renovated this charming Victorian manse with flash and flair. The ladies' taste and sense of humor is reflected in the adventurous décor (they are not beige people), and the fun doesn't end there: who knew breakfast could be so surprising and tasty? Each morning it's prepared freshly and served personally by Alli, a serious foodie.
Try her innovative, rich, yet healthy twists on breakfast classics such as a peach gazpacho with nut brittle instead of a smoothie, or luscious poached or baked eggs, or my favorite: Philly "pop tart" with hardboiled egg and smoked salmon.
Not your average fusty New England or Cape Cod inn—Roux is something different and reflects the creative, vibrant and energetic personalities of its owners, the women behind the Bride Pride event. Make sure you're on property for happy hour where you'll get to sample some fine wine, teas, and nibbles before you set off for your evening's adventure through the artsy East End and into town to any of the Women's Week events.