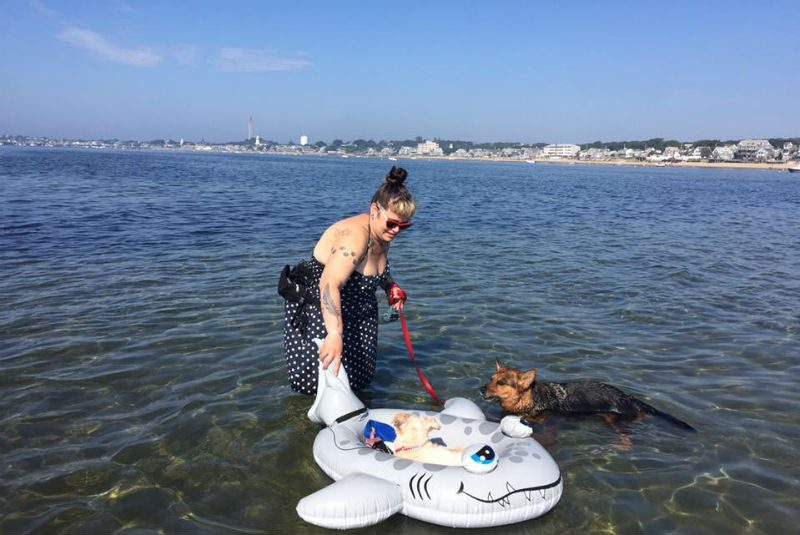 Gaycationing with Dogs; Planning the perfect pooch holiday in P-Town.
I love NYC but the summer heat and humidity leave me melted so it's no accident that my family has developed a tradition of " gaycationing " in Provincetown, Massachusetts a beautiful legendary gay beach town on the very tip of Cape Cod. Not only is Ptown (as it's lovingly called) known for being really gay, but also incredibly dog-friendly which is perfect for us since I prefer vacationing with our canine kiddos whenever we can.
I love seeing rainbow, leather, and bear pride flags flapping off of restaurant awnings and from flagpoles. This month was our third year going up to Provincetown and it's definitely my top pick for vacation spots for lesbians looking for fun in the sun with a canine sidekick!
Each week during the peak summer season is themed with a variety of different parties and events catering to various subpopulations of queers.  By chance, we ended up in town for the end of the bear week (so much love for the Bears!) and during "Girl Splash" week so I'm guessing there were a lot of Curve readers around town!
We rent a little cottage on the far East end of town where things are quieter and didn't go to any events or parties but they are definitely around and easy to find if that is something you are interested in. Our family spends most of our week out on the beach relaxing. One of the best things about Provincetown is that everything is so dog friendly! Here are a few of my favourite must-dos with dogs while in gaycationing:
Top 5 activities in Provincetown to enjoy with your dog:
Exploring town: if you have a sociable dog like my little guy Mercury whose comfortable in crowds your dog is welcome at the outside seating at most restaurants in town and in many of the little shops that line Commercial Street (the main drag in town which speaking of drag has fantastic drag queens parading down it day and night!) including several pet boutiques – this year we found an adorable squeaky lobster toy!
Town Beach: Ptown also features beautiful and quiet beaches. Once you get just out of town, you can almost feel like you are on your own private beach, which is perfect for my special needs big dog who doesn't do well around other dogs or large crowds.
Long Point shuttle: This year we ventured out of our routine and tried a couple of new things with our dogs. One of them was the shuttle out to Long Point (http://www.flyersboats.com/long-point-shuttle-provincetown.php), the very most tip of Cape Cod. The shuffle runs every hour during the day, is $15 per person round trip, and dogs ride free! Our dogs and never been on a boat before but much to my delight neither of them was phased by the trip and enjoyed the outing to visit a lighthouse and play on a quiet beach with seals splashing in the (not so very far away) distance.
Low tide: I've never visited a beach with such a dramatic difference between high tide and low tide. While we enjoy swimming in high tide (Mercury floats in his raft), low tide is where some of my best summer memories are made. At the lowest point, you can walk very far out from shore in warm, shallow water out to sandbars the low tide exposes. Our gaycation days are organized around reading the tide charts so we can plan to be out exploring during low tide- this year was particularly fun to see so many crabs!
Doggone Sailing: this year we splurged and treated ourselves, and little Mercury to a sunset sailboat ride. We went out on Doggone Sailing and Charters

http://www.doggonesailingcharters.com/

, which is lesbian, owned and caters to gay tourists looking to go out on the water with their dogs.  We decided to leave our large special needs dog napping in our cottage, which was a good choice. The sailboat is quite small and you go out with 6 passengers and possibly as many dogs plus the captain and her Maltese Minnie Mate. I would hesitate to bring any large dog just because of the size of the boat, and definitely an activity to avoid if your dog isn't comfortable with cramped quarters, strangers, or strange dogs being very close to them. That said, Mercury loved the sailboat ride! He was outfitted in Ina tiny doggie life-vest and actually fell asleep under the flapping of the sails and the rainbow flag during part of the cruise! A must-do if you have a lap-sized dog and want to see the sunset over Provincetown.
Notes of Caution:
Hydration: swimming and playing on the beach can be a lot of fun, but be sure to keep both you and your pup hydrated with fresh water, seawater is fun to play in but no good for drinking!
Ticks:  before heading out to Provincetown be sure your dog is up to date on their flea and tick preventative! We didn't have any issues this trip but have found ticks on our dogs in past years so now are always vigilant about checking them whenever we get back to our cottage. I also recommend bug spray for yourself- this year I was feasted on by several mosquitos while out in the evenings.
Location: be sure to take your dogs temperament into consideration when deciding on where in (or out of) town to stay, and what activities you will bring them along for. As individuals dogs have different thresholds for crowds, proximity to other dogs etc. For us, this means staying in a quiet cottage with private beach access at the far end of town so our big rescue is able to enjoy more secluded beaches, and then taking our other dog who loves strangers and other dogs on more town focused outings where he gets to be the centre of attention. It can be tempting to want to bring your dog everywhere, but most important is setting them up to succeed and not putting them in situations that will be uncomfortable for them.
Water Safety: be sure to monitor your dog while they are in the water. I always my dog can swim before I let them play near water, even dogs that don't like swimming should know how to if they will be near open water.  Always supervise your dog while they are in the water to ensure they don't become overly tired. My dog Charlotte would happily stay on the beach forever so we have to be sure not to let her overexert herself and although he is a good swimmer, my little elderly dog Mercury enjoys riding an inflatable pool float while the rest of the family is swimming but we always keep it tethered to us. Supervision is key, as are lifejackets for any dogs who aren't comfortable swimming but are near water!
Follow all leash laws: with the exception of posted off-leash hours Provincetown beaches have leash laws in effect and following them is extremely important for the safety and comfort of everyone else vacationing on the cape. Unfortunately, and I hate to say it, but this trip we found there was a particular sort of lesbian tourist (that I committed to calling out I this column) with large young dogs who seemed to find leash laws to be personally offensive. These women took it as an attack when we would call out for them to get their dog that was charging at our family. Our rescue dog Charlotte is dog reactive and very uncomfortable around other dogs, so being charged by an out of control off-leash dog can make a fun beach outing very stressful. One particularly rude lesbian yelled that I was "more uptight than my dog" when I asked her to call off her dog. Don't be that dyke. Obey leash laws, and keep control of your dog at all times so everyone can enjoy their gaycation.
Do you travel with your pets? Do you go to specifically gay vacation destinations? Where are some of your favourite places to visit?