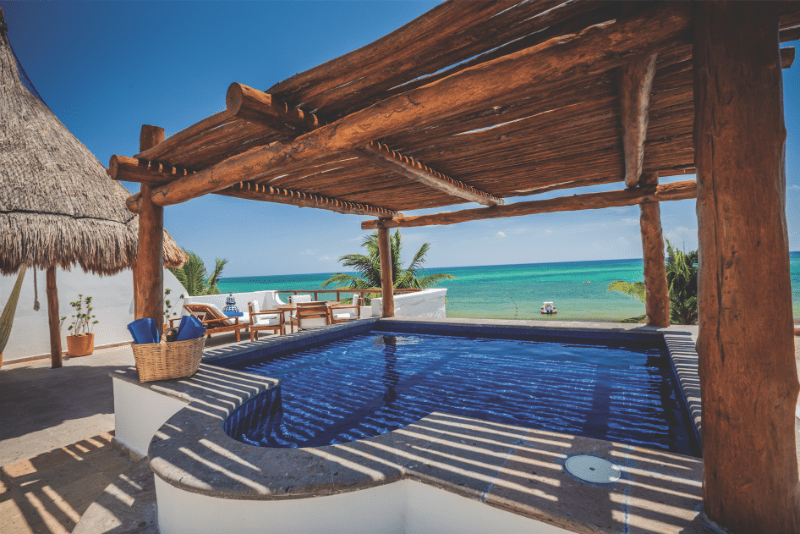 The jewel of the Riviera Maya is Mexico's beachfront beauty, the Belmond Maroma Resort & Spa, a perfect snowbird escape.
Lovebirds seeking to escape the snow and ice should fly south to the East Coast of Mexico, also known as the Riviera Maya, a favourite playground for snowbirds seeking to thaw out in sugar-white sand, turquoise waters and abundant sunshine.
Once you land in Cancun, your choices for accommodation, all-inclusive and otherwise, are as abundant as the Yucatan Peninsula's beauty. But if you want an exclusive and upmarket stay, where the guests around you value their privacy and conduct themselves discerningly, you cannot go past Belmond Maroma Resort & Spa, a 20-minute drive from Cancun.
Conceived on a grand scale—a tranquil oceanfront acreage was designed as both a homage to the Mayan jungle village that once stood there and as a magnet for
luxury-seeking travellers. Maroma has the scale of a 5-star resort, but the low-key and eco-friendly design contributes to the feeling of a private oasis. Two large pools are discretely positioned within the property's grounds. The grand Spanish Colonial lobby, decorated with bold and original artworks, feels more like it belongs in a Mexican magnate's mansion than in a brand-name hotel.
Depending on your budget (and this is the place to go all out), you have a choice of suites, each with its style. This is not a cookie-cutter property. Each room is designed to resonate with its guests. I fell in love with my one-bedroom suite, especially its oceanfront balcony, where I could relax and gaze at the azure horizon.
At sundown, you can take a beer onto your terrace, languish in your private plunge pool, or snooze in your hammock. You'll never want to leave if you're lucky enough to snap up one of those suites. But of course, the beach beckons, and Maroma boasts its private beach. It is so exclusive that there are always more chaises and umbrellas on the sand than guests and a server to greet you and fetch the beverage of your choice.
Many activities and attractions draw you away from your sweet suites, such as an art class, a yoga session beneath a soaring palapa, or an exquisite massage from a dedicated and professional therapist in a transcendental Mayan setting. The spa treatments incorporate herbs grown at the spa and natural and locally made ingredients with remedial properties such as honey from bees, which the female spa attendants carefully tend.
The homemade hive of indigenous bees is one way of acknowledging the Mayans' matriarchal society and contributing to the environment's well-being. While in the spa, visit the gift shop and pick up a bottle of herbal potion to assist you in attracting love or making your dreams come true!
We'd be remiss not to mention the plentiful dining options on the property. They are so good you need never leave, not even to experience the cosmopolitan hustle and bustle of Playa Del Carmen, only 15 minutes away. While at Maroma, we sampled delicious homemade tortillas for breakfast and pancakes made with local honey and chocolate.
For an exquisite lunch, take part in Chef Gabriel's cooking classes on the beach, where you might try dishes such as freshly prepared guacamole, locally caught prawns in green chillies, or so- fresh-it's-still swimming- red snapper, blackened with mole spices—and to drink, a healthy lime margarita with chia seeds!
Both El Restaurante for breakfast, and El Sol Tapas & Restaurant for date night dining, serve authentic, top-quality Mexican food using locally sourced organic ingredients. For fun and raucous treat, book out La Cantina or join other guests for the Chef's Table of specially selected street food paired with robust and revelatory tequila and mescal shooters.
You'll be surprised at how much you can learn about the noble art of turning agave into alcohol—while getting delightfully tipsy. For something casual, maybe a glass of champagne and some sushi, hang out at Freddy's Tequila and Ceviche on the beach and watch the waves.
To work it off, take advantage of the state-of-the-art gym. And there's always that endless, tranquil beach to stroll on and feel blessed that you rewarded yourself with the romantic brand of luxury that has made Belmond famous.
Gay-friendly factor: Here, it is high, with Belmond staff trained to cater to the LGBT traveller. Plus, we can confirm that some of the staff at Belmond Maroma Resort & Spa are gay and lesbian themselves and will warmly welcome you and your mate!