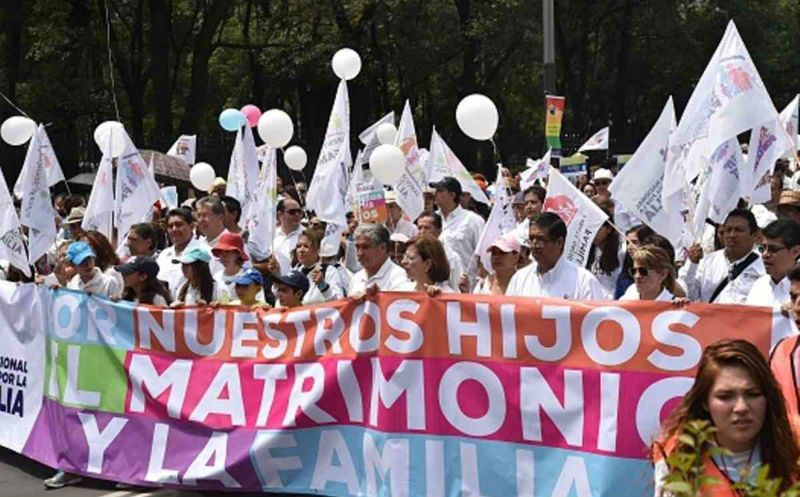 Tens of thousands of people marched through Mexico City to protest President Enrique Pena Nieto's proposal on marriage.
Wearing white, they held banners warning against same-sex marriage and demanding parents' right to control sex education in schools.
Pope Francis, in his weekly Sunday blessing,  said he willingly joined their protest "in favour of family and life, which in these times require special pastoral and cultural attention around the world."
Organisers said they were not opposed to gay or lesbian rights, but wanted to defend family values and the institution of marriage.
"We are not against anybody's (sexual) identity," said Abraham Ledesma, an Evangelical pastor who travelled from the border city of Reynosa, across the border from McAllen, Texas, to participate in Saturday's march.
"What we are against is the government imposition … of trying to impose gender ideology in education," Ledesma told the AP. "As religious leaders, we don't want to be forced to marry same-sex couples and call it marriage."
Others carried signs saying "an adopted child deserves a mother and a father."
Opposite a police barricade separating the two sides at Mexico's Independence Monument, a far smaller crowd of same-sex marriage supporters — perhaps a couple hundred — listened to music and speeches.
"They may be the majority," said Felipe Quiroz, a gay activist and school teacher. "But just because they are the majority, doesn't mean they can take rights away from minorities. That would lead us to a dark period, to fundamentalism."
Four Latin American countries have already legalised same-sex marriage: Argentina, Brazil, Uruguay and most recently Colombia.