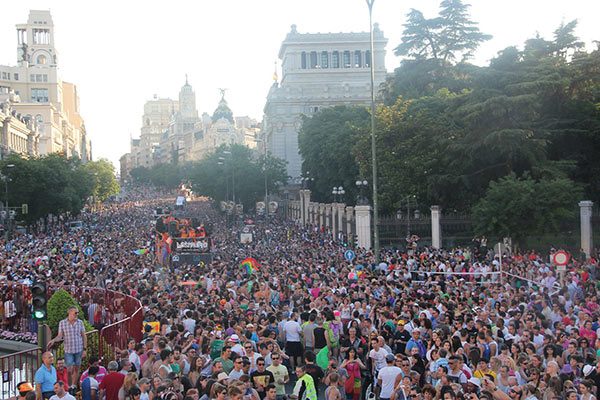 From gastronomy to Gay Pride, Madrid beckons lesbians.
Regarding enjoying the pleasures of gay Spain, take my advice: Barcelona is for boys and Madrid is for Mujeres! Madrid is a thoroughly female-centric city. It's Penelope Cruz on a plate—intelligent, sophisticated, sexy!
The myth of machismo may be alive and well, but I didn't stumble upon it in my time there. From the mysterious laneways of Old Madrid to tapas of infinite variety to the latest in art, architecture, and fashion, this city will not disappoint culture-loving lesbians.
"But what about the euro?" you cry. Yes, there's that. But if you're already in the market for a Roman holiday or a Parisian sojourn, consider Madrid as a surprising alternative and a European destination where they got over the same-sex marriage debate back in 2005.
You'll be hard-pressed to find a local who doesn't believe that the freedom to love whomever you choose is an inalienable human right—just like good food, fine wine, and all the art you can afford.
Where to stay
There are two types of Madrid, old and new, and a link between the two was forged in 1912 when the Westin Palace Hotel was established as an international meeting point for luxury travellers. This lovely edifice has seen some colourful guests: royalty, financiers, actors, artists, administrators, authors, and secret agents (Mata Hari stayed here in 1916).
I was lucky enough to tour the Presidential Suite, which had recently accommodated Hillary Clinton and Naomi Watts (not together, but isn't it nice to picture?). With easy access to transportation, galleries, and museums, the Westin offers a touch of opulence and enchantment—and it's centrally located!
The Sheraton Madrid Mirasierra is a little farther out of town, with views of the city's hills. This chic modern hotel boasts self-catering apartment-size suites, and a large unisex spa offers numerous indoor and outdoor hydrotherapy types.
You could spend an entire day here, which is perfect if business or family have brought you here and you need to relax.
Where to eat
The simple and pleasingly accurate answer is: anywhere and everywhere. But I can tell you where I ate! La Rotonda at the Westin Palace Hotel offers the best breakfast buffet in town, where cava (Spain's answer to champagne) and churros are a part of the day's first meal.
But it's worth going light on breakfast if you're planning a tapas lunch. These eating adventures can consist of numerous courses, served with wine or beer; each version is rich and revelatory.
Vadebaco serves contemporary cuisine, and here you can sample what's popular now and wash it down with your choice of 40 wines offered by the glass and 350 by the bottle. La Kitchen and Cien Llaves offer elegant and upmarket fusion dining experiences (locals believe in spending money and time on dining out).
But if you're looking for a cheap counter lunch that still delivers lip-smacking Madrid, try a bocata de calamare (a fried squid sandwich) and wash it down with a cold San Miguel.
La Gastrocroquetería de Chema nicely combines tradition with innovation for a memorable and romantic tapas dinner. Intimate and rustic, this restaurant served my favourite versions of the tapas staples croquetas and turrón de foie.
Mercado de la Reina is a hip and happening modern place providing the freshest high-quality protein, which you'll need to fuel a night on the town. But if you want to eat somewhere gay, you cannot go past Paris Tokyo with its disco vibe downstairs and upscale dining upstairs.
The light and tasty Asian fusion menu are as delectable as the high-fashion lesbian wall art.
What to see and do
You must wander through Old Madrid and conclude your journey at San Miguel Market, built in 1916 as a fish market and now a newly renovated center for purveyors of fine foods and wine. Open until 2 a.m. on Fridays and Saturdays, this beautiful place gives you some idea of just how important food is to Madrileños.
From oysters to olives to jamón to jewel-like postres, expect only the freshest and most flavorful morsels.
Jorge Juan Street is the place for shopaholics with the urge to burn through some euros and come home with beautiful Spanish fashions. Yes, it's pricey compared to America's designer outlet malls, but there are deals to be had and keepsakes worth the outlay if you believe in souvenirs that do more than gather dust.
Life without art is no life at all—that's a belief held by the residents of Madrid because culture is everywhere you turn. Get lost at the Reina Sofía Museum, Madrid's answer to the Centre Pompidou in Paris, or the CaixaForum, Madrid's answer to MoMa.
The Fundación Mapfre has top-notch exhibits, from the dazzling Jean Paul Gaultier retrospective to Impressionists and Post-Impressionists.
Stroll around the city and take in the wonders of Spanish urban planning. Paseo del Prado is a historic and leafy boulevard evoking the Champs Elysées. CentroCentro is a fascinating cultural drop-in centre that announces the importance of culture in everyday life. (esmadrid.com).
LOCAL LESBIAN –MONICA DUCE
This gorgeous girl-about-town has her fingers in many pies, none more delicious than Club 33, the go-to bar for lesbians, and Madrid World Pride 2017. A Pride insider since 1999, Monica is a founder of AEGAL (The Association of Companies and Professionals for Gays and Lesbians in Madrid and the Madrid region), and has served on the board of directors and directed the production of Madrid Pride since 2008.
This Pride player was a key member of the Spanish delegation that defended and won the Madrid World Pride bid in Boston last year, and she welcomes us to Madrid.
What are the Top 5 things a lesbian visiting Madrid must do?
1. Shopping at Fuencarral Street and the Fuencarral Market.
2. The Chueca neighbourhood is the most popular gay and lesbian area in Madrid and is known for its nightlife. Almost 80 per cent of the bars and clubs there are for gays and lesbians or are LGBT-friendly.
You can walk hand in hand, kiss, or whatever you like with your girlfriend without worrying. This is our place! Two of the most famous bars for lesbians are Truco for the first drink and Escape to finish the night (it's open till 6 in the morning). Both are located in Chueca Square (Plaza de Chueca), which gives its name to the area. Nearby is the erotica shop La Juguetería, focused on girls.
3. Lavapies, the new "pink neighbourhood" of Madrid. Many lesbians live in this area, and there are many restaurants, bars, pubs, and clubs for lesbians. Lapavies is multiculturally diverse and cheaper than other Madrid neighbourhoods.
Some of the best lesbian resto-bars include La Berenjena, Taberna el Olivar, and La Antigua Taquería. El Gallinero for a gin and tonic, and El Mojito, as its name indicates, for a mojito. La 80 for drinking and dancing to '80s music and, of course, Club 33 for drinking and dancing until the sunrise.
And if you like erotic toys, visit Los Placeres de Lola, also in this area.
4. Malasaña neighbourhood, a very popular area in the '80s, with many clubs frequented by Spanish pop stars. Now, it's modern, open-minded, and frequented by lesbians. I would highlight Lolina for a mojito, Crêperie La Rue for a delicious crêpe (gluten-free), or La Gustava or La Antigua Huevería for dinner.
5. La Latina neighbourhood for drinking cañas (glasses of beer) Sundays at noon. It is also the area for the popular street market El Rastro on a Sunday morning.
What is the best-kept secret you can let us in on?
Microteatro por dinero, or bars with short plays for audiences of up to 20 in their basements.
What are some upcoming events for lesbians?
Madrid Pride, usually the first weekend of July, the Lesbian & Gay Film Festival in November, and the Lesbian Film Festival in March 2014.
The absolute best lesbian bar, and why?
Club 33! Why? It has a tradition: It's the oldest lesbian club in Madrid, with more than 30 years of history, but at the same time, it's new—wholly refurbished and reopened in June 2012.
The place is beautiful, and the owners are very kind and make you feel at home. Currently, it's the most active lesbian club in Madrid, with many different events for girls every week.
It's open from Thursday to Saturday until 6 a.m. It has a unique cultural event on Sundays from 7 p.m., with exhibits, concerts, games, and speed dating.
What is the most lesbian-friendly city in Spain?
I would say Madrid. No other city has this much for lesbians.
Does Spain have a lesbian magazine?
The Spanish lesbian magazines I know are online: mirales.es, maglesrevista.es, and pikaramagazine.com—more feminist than lesbian. There is also an LGTB bookstore in Chueca called Berkana with a lot of material for girls.
If you want to meet girls traditionally, you have to go to lesbian bars and clubs otherwise, social media networks are very popular with Spanish lesbians.