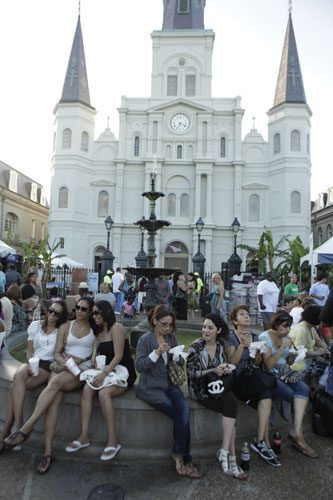 Find acceptance" and your alter ego" in the Crescent City during Halloween
From the moment you arrive at Louis Armstrong International Airport, the authentic spirit of New Orleans grabs you like a six-foot-four drag queen and never lets you go until, indelibly imprinted with glitter (and a hangover), you leave for home, feeling more like yourself than you have in a while.
Here, in The City That Care Forgot, or NOLA, as it is referred to by locals, you can really be yourself, which may even be someone else, because for Halloween and Mardi Gras no amount of gay guising is too much. This town doesn't bat a false eyelash at anything, which makes it the perfect place for a dyke to explore her inner decadence.
What to do
Art is the lifeblood of this city, devoted as it is to self-expression. The lesbian-owned Angela King Gallery at 241 Royal Street is worth visiting to take in some quality contemporary art and support the gallery owner, a lesbian-art lover and California transplant, and the community of art-lovers she fosters.
For some local colour, Dr Bob's Folk Art Complex offers up mixed-media pieces (many a work is bedecked in beer caps straight off the local brews) priced from as little as $35.
But NOLA is now on the map as a major U.S. arts destinations thanks to the superb collections at the Ogden Museum, which presents the most comprehensive assemblage of Southern art in the world, and the Contemporary Arts Center, which fearlessly hangs emerging and experimental pieces that would be right at home in New York City.
The healing arts are flourishing here, post-Katrina, especially at the New Orleans Healing Center, a holistic and sustainable centre with programs promoting physical, nutritional, emotional, environmental, and spiritual well-being. And lovers of the musical arts can bask in the sounds of every genre as national superstars sit down with the local talent at the Voodoo Music Experience, which is held every year around Halloween, come hell or high water.
Where to eat
It's not exactly news that New Orleans is a foodie town, but the fact that it's a walking and drinking town means you should start your day with a good, solid breakfast. Stanley, a restaurant conveniently located on historic Jackson Square in the French Quarter, dishes up eggs poached with cornmeal-crusted oysters and Creole hollandaise, while Lil' Dizzy's on Poydras Street serves some amazing French toast, as well as shrimp and grits.
For a fancier time—mimosas, music and museum-worthy decor, the Columns Hotel is unbeatable for brunch. This stately Southern establishment offers elegance without stuffiness and overlooks leafy St. Charles Avenue in the Garden District. It's the perfect spot to while away your Sunday. For a slap-up lunch and, some say, the best-fried chicken and catfish in town, Dooky Chase at 2301 Orleans Ave. is a beloved local institution rebuilt to the last detail after Hurricane Katrina.
The establishment's matriarch, Leah Chase, was at the helm starting in 1941, and her devoted grandson now carries on the family tradition, offering affordable and authentic Creole and soul food. If you're in New Orleans with your sweetheart, treat her to dinner at Feelings Café on Chartres Street, east of the French Quarter. It's known as the most romantic restaurant in town and is off the tourist trail. The Old World atmosphere and cobblestone courtyard will transport you to a simpler time.
Where to drink and party
Yes, you can drink in the street in NOLA, but there are some lovely indoor bars, too! Loa Bar at the International House Hotel is a classy, candlelit destination where you can imbibe some of the most innovative cocktails in the city. For a more over-the-top experience, the Chris Owens Club presents its legendary burlesque performer and owner in a seemingly endless night of singing, dancing, and audience participation.
The exhibitionism required of this evening is certainly a good excuse to tie one on, and I was boozily charmed by our hostess, Owens, who, although she must be about to attain septuagenarian status, still mesmerizes her audience with impeccable timing and showgirl chutzpah.
If you are in town for Halloween, the best party comes courtesy of Project Lazarus, whose motto—Living in the Positive—should apply to all of us, as well as the AIDS survivors they support. This year's theme for the four-day event, October 25–28, is Monster Brawl, so let your creativity and imagination run wild because the main event and costume party on October 27 will be wild.
Southern Decadence is the weeklong, boy-focused gay event held over Labor Day Weekend, and, thankfully, the girls decided to create their own answer to this male debauchery: Dykeadence (dykeadence.com). Also held over Labor Day Weekend, this festival focuses on solidarity, safety, visibility, and, of course, letting it all hang out.
The girls even have their own outrageous contingent in the boys' Southern Decadence parade, followed by a festival of live music, comedy, queeraoke, book club, and family day. "Our parties are wild," says the organizer, Sara V. Pic. "Wild in a way unlike any other parties in the country. We are a city that embraces deviance, and we are always pushing boundaries."
Yes, they push boundaries every day in New Orleans and don't think for a minute that Hurricane Katrina, Hurricane Gustav, or any other strangely-named tropical storm will bring this city's stride to a halt. As the locals say, "Laissez les bons temps rouler"—let the good times roll.