Where to stay, play and go gay in Florida.
When it comes to quick summer escapes, why should Miami get all the exposure? Its sleepy South Florida cousin, Fort Lauderdale, just 35 minutes North, has plenty on offer to make a memorable short stay for lesbians. For a start, Greater Fort Lauderdale has a very green and relaxing coastline, eight beaches to choose from, and far less of the shadow-casting and intrusive high-rise for which Miami is known. Here's what LOTL did on a recent fly-by visit to beat the winter blues.
Where to stay
Lesbians are welcome anywhere in Fort Lauderdale because this place is gay in a low-key way. If you want to stay in one of the glamorous, big-box beachfront hotels, I recommend the W (whotels.com/fortlauderdale), which has plenty of amenities and a great main pool (the VIP pool is even better, if you've splurged on one of the upscale suites). B Ocean (bhotelsandresorts.com) is also beachfront with lovely ocean views from most rooms and has everything a girl could ask for—including a manageable walk to your cocktail crawl.
There are also a number of superior small lodgings which are gay friendly—but be aware that if they are listed as "gay," this usually means men only—and clothing optional. However, the Royal Palms (royalpalms.com), a very chic mid-century-style resort, recently began welcoming lesbians. I say join in the clothing-optional fun!
What to do
You can fit a lot into a day in Greater Fort Lauderdale: it all depends on what mood you're in, and because the area is easy to navigate, you could fit in most of the below.
Gigantic outlet mall Sawgrass Mills (sawgrassmills.com) offers some of the best shopping under the sun and you're guaranteed to come away with some real bargains after just an hour or two of browsing.
If you're not planning on opening your wallet too often, take advantage of numerous free things to do: Greater Fort Lauderdale has eight beaches, from the cove-like Deerfield Beach to the charming, old-Florida-style Lauderdale-By-The-Sea where you can snorkel. A number of the parks and nature centres are free as are the museums and cultural centres.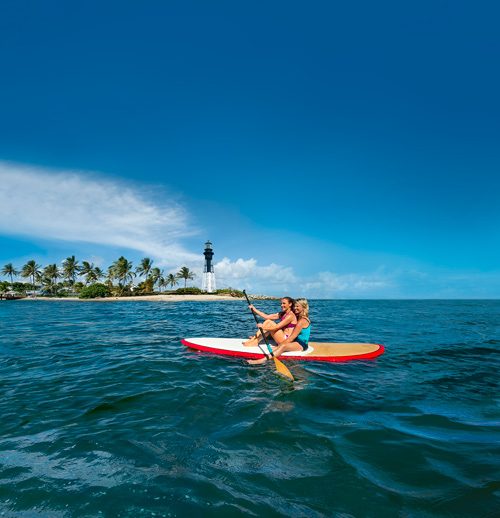 The gorgeous weather almost guarantees you'll be spending your day outdoors, so try paddleboarding on the placid waters of the intercoastal, also known as "The Venice of America" after its labyrinthine network of prestigious dwellings. If you lose your balance and fall off, it's no big deal, but it's likely that with the capable instruction of Sunrise Paddleboards (sunrisepaddleboards.com) you won't. This friendly outfit offers lessons for beginners and more advanced outings such as paddleboard yoga and tours under the full moon. To take advantage of the big blue, Sea Experience (divefortlauderdale.com) offers daily dive and snorkel trips to the offshore reef that won't take the whole day.
Where to eat
You are spoiled for eating out options in Fort Lauderdale. For casual waterside dining, my favourite is Coconuts (coconutsfortlauderdale.com), which has a large patio perfect for sunning yourself and people watching while you dig into your mahi-mahi tacos or stone crab claws. For something really cheap and easy, try Flip Flops (flipflopsdocksideeatery.com), with its super-relaxed Key West vibe and happy hour bargains of wings, wraps, and frozen margaritas. For a smoochy night out take your lovely to Dapur (dapurkitchen.com), an Asian tapas lounge with a nightclub vibe, which is owned by the exceedingly hospitable Edi Mulyanto. This gay guy has a soft spot for the ladies—on Thursday nights we drink free from 7 p.m. to 10 p.m. Hello, messy!
Where to meet girls
New Moon is the official lesbian watering hole (newmoonbar.com), with its homey atmosphere, pool table, and solid choice of brews. But girls are more than welcome in all the other places, which include the lesbian-owned Sidelines. While this friendly sports bar isn't officially a lesbian bar, it is lesbian owned and you will feel at home here playing pool, a game of darts, or hitting the juke box. But you really can't go wrong anywhere on Wilton Drive, Fort Lauderdale's gay golden mile. Even the neighbourhood Dairy Queen offers a serve of downhome nostalgia and camp value. Now that's well worth a lick. (sunny.org)