TheiLugano Hotel and da Campo Osteria shine in Fort Lauderdale.
I have to confess, I don't like cheese. Ok, that's a bit of an exaggeration. I love a gooey grilled cheese sandwich, and it's impossible to tear me away from an oversized floppy slice of melty New York pizza.
But you won't ever catch me eating squares or chunks or slivers or strings or dollops of cheese, simply for cheese's sake. That is until I found my way to da CampoOsteria at the ilLugano Hotel in Fort Lauderdale, Florida.
My girlfriend and I had just gone on an Olivia cruise. I have a rule about cruises. After the ship returns to port, I like to stay one more night in the port city and fly home the next day. I love a little breathing room before the return to real life.
We were staying at the beautiful ilLugano. It's an all-suites hotel that gives new meaning to a home away from home. The perfectly-appointed Lugano suites (the second highest category that they offer) are massive and boast multiple balconies; gorgeous décor; and every possible convenience, including a full kitchen (two-burner stovetop, a full-sized refrigerator, dishwasher & microwave oven) and a washer/dryer.
The suites have the most gorgeous views of the Intracoastal Waterway and the ocean, as well as all of the modern conveniences, of course, including a Bose sound system and two 32-inch flat-panel LCD televisions. Plush linens, robes, and oversized bath towels round out the luxury. And, as you might guess, even the bath amenities are of the lux, European variety.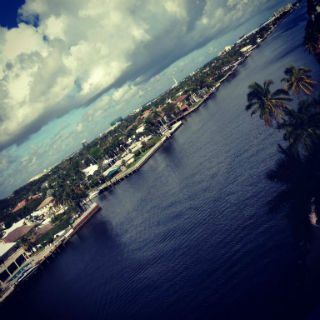 The property offers easy beach access just across the street. Or, you can simply enjoy the heated waterfront, swimming pool if you don't want to venture off property. ilLugano also offers guests an impressive fitness centre; Cadillac Escalade transportation within a 3-mile radius (based on availability, a fee may apply); beach buggy transportation; private boat docks on the Intracoastal Waterway for yachts up to 30 feet in length; private yacht charters; and live entertainment on Saturday nights.
The entire property had a "home away from home that will make you want to run away from home" feel. Do you know how usually no matter how amazing a hotel is, you always end up missing the comfort and convenience and familiarity of home? I had trouble imagining I would ever feel that way. But because the ilLugano is so well-equipped and well-appointed, I wanted a lifetime pass.
And to make things even better, ilLugano Hotel is part of the gay hotel Fort Lauderdale Travel Advocacy Group, International Gay and Lesbian Travel Association, and Gaytravel.com communities. So, needless to say, they were super friendly and inclusive.
Now back to my cheese story. We didn't have to go far for dinner as the ilLugano is home to a highly popular Italian restaurant called CampoOsteria. This is where I got schooled in cheese.
The menu is filled with culinary Italian classics that keep the place full of locals and out-of-town guests alike, things like tender, fried eggplant; succulent braised short rib ravioli; brightly flavoured veal saltimbocca, and a clever tiramisu soufflé. But the belle of the ball that turned me from cheese denier to cheese admirer is their fresh pulled mozzarella.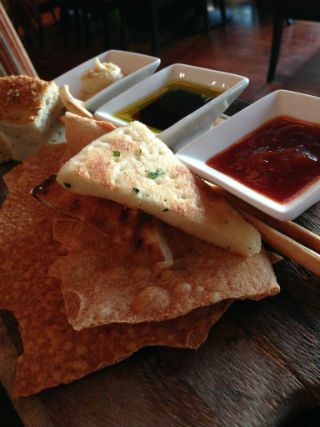 Just how fresh, you ask? Well, it couldn't get any fresher, really, because they pull it tableside. You can order it with a variety of accompaniments. Or you can go all out by ordering what they call "Super Mozzarella." And super it is.
The Super Mozzarella includes Caprese (heirloom tomatoes and sweet basil);
Terra (Prosciutto di parma and fig balsamico); Semplice (olive oil, sea salt, and cracked pepper); Speziata (pickled hot pepperoncini and peppadew peppers); Pesto (basil, roasted garlic, pine nuts, and roasted tomato); and Verde e Nero (Green and black olive tapenade along with mixed olives).
Right in front of our eyes, the cheese comes to life as the chef combines the cow's milk curd (made from adding an acid to milk) and highly salted, boiling water. The water literally melts the curd into mozzarella, which the chef then stretches and pulls until—voila!—the warmest, creamiest, tastiest treat you could imagine, whether you are generally a cheese fan or not. It certainly made a fan out of me.
I tried it with each of the many accoutrements, more than once. My favourite was the Caprese style. The juicy, heirloom tomatoes with super sweet basil were basically impossible to resist. I'll certainly never look at mozzarella, or cheese in general for that matter, the same way again.
My two favourite things about travelling are learning new things about a place I've never been and learning new things about myself that I never recognized before. This overnight allowed for both. I learned that Fort Lauderdale can hold its own against its in the competitive world of Florida hotspots any day, from its hotels to its restaurants to its beaches.
I also learned that I can no longer say that I don't like cheese. Maybe I don't like all cheese. But I definitely like warm, freshly made, ooey-gooey mozzarella. And, I don't want to speak too soon. But I just might be inspired enough by the chef at da Campo to try my hand at making it myself one day.
One day…