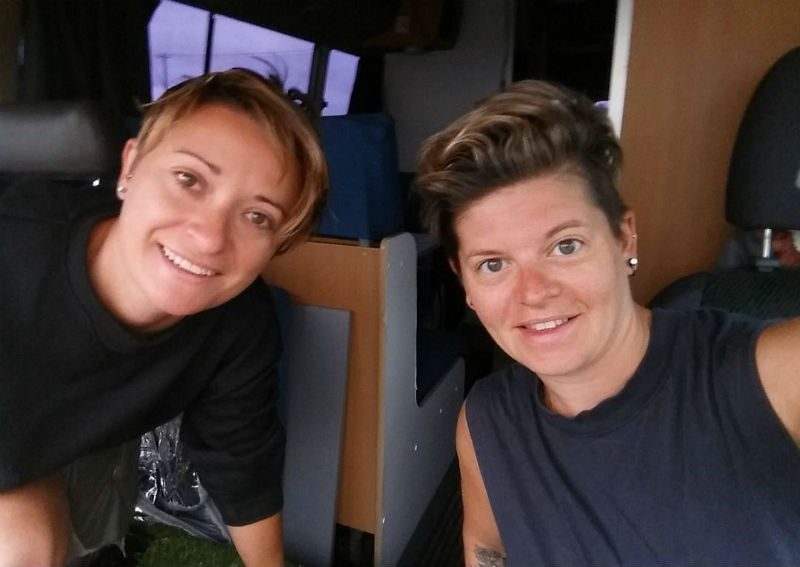 Kate and Jot share some advice from their first two weeks on the road.
I'm sure I'm not the only reader who's up to date with Wentworth.
It's got lesbian storylines, it's Australian and it's actually pretty good.
Anyway (as you know), Season 4 opens with them on a bus returning to Wentworth after the prison has been rebuilt after the epic fire that closed Season 3.
That type of bus is exactly what I am calling home for the next year. A Toyota Coaster.
Hopefully, ours has never actually been a prison transfer bus but anyway it's had 17 out of the 21 seats taken out and a mini refurb has made it into our tiny home. Queen sized bed, fridge, shower, toilet, sink, cooker and even a TV and hard drive fully loaded with all the TV shows and movies we could possibly watch in a year even if we do nothing but watch TV in the bus. There's a crazy storm happening right now which is why Wentworth is currently playing until it passes and we can go back to our usual outdoor living.
We've been on the road for just over two weeks now and I'm absolutely loving bus life. Today I've been for a beach run, I've been fishing and I've swum in a lake and the sea. That's like a week's worth of activities in a chapter out of someone else's life. And there's even time for a cuppa and feet up in front of the tele. All the activities are of course ever so well documented on Instagram (apart from the tea drinking).
But it hasn't all been smooth sailing. Or driving even. Everything that could have gone wrong so far has. The water doesn't work so we haven't showered for 6 days and counting, the battery went flat which took out the fridge and all our gourmet cheese leftover from Christmas with it, we've had engine issues and the other day I tried to go to the toilet which the bus was moving (highly illegal) and you can guess how that ended.
I had to jump in the icy ocean to deal with that horror. So there's been a lot to overcome. Teething problems we're calling it. And the bus is booked in at the mechanics tomorrow.
Jot has been driving me around for the last 11 years so why break the habit of a lifetime inevitably she has found herself as a chief driver while we are on this trip. As she doesn't like listening to music while driving, we either chat or listen to podcasts. The podcast playlist includes; My Dad Wrote a Porno, The Moth, or This American Life.
Our chats are mostly food-based but we went off on a tangent the other day and found ourselves discussing how handy it is to be a lesbian couple during life on the road.
Here's our ever-growing list so far.
1. Being able to pretend to be each other when we are on the phone with the bank/ NRMA/ anyone.
"Sorry Kate, that's in Jo's name I'll need to speak with her". Me, "OK I'll just pass her over…. Yes this is Jo…". When Jot does it she does cock up my date of birth every time though, which is probably why so many of my birthday cards from her have come from service stations clearly bought in panic on the day.
2. Being able to share clothes.
Handy at the best of times but in Bus, space is of the essence so anything we can share is a bonus. As Jot is a size 8 and I'm a 12 it's really only socks and shoes but the dream is that one day we'll meet in the middle. I feed her cake while I go for a run. We'll get there.
3. Having similar tastes in TV shows.
No reality TV versus football debates in this tiny house. Although Jot doesn't like Pretty Little Liars which doesn't make an ounce of sense to me.
4. Being able to go to the toilet together.
Ok, that makes us sound like massive pussies but we've had to use some pretty shocking public toilets and it's reassuring to know that if a snake or huntsman jumps out at me then Jot is in the next cubicle. I'm sure she'd help me…
5. Tampons.
When an unexpected tampon time occurs there are double the chances one of us can find one at the bottom of our bags. Those things don't have a best before date right?
6. Being able to halve the cost of makeup, hair straighteners and hair dryers.
Not that one of us has opened the make-up bag in the last three weeks. And actually, that can be a con as well as I found out the last time Jot went on holiday without me and I was left with terrible hair and no eyebrows.
7. Both are short.
We've actually turned our bed around so even though it is still as wide as a queen-sized bed it is about half a foot shorter. Although we are going to have to find another short couple to sell Bus onto in a year or so.
From time to time I worry that we mess up the odd boy – girl – boy – girl seating plan, or on a double date a bloke is sitting with three girls and no man chat happens, but fortunately, our friends aren't the type to give a shit about that.