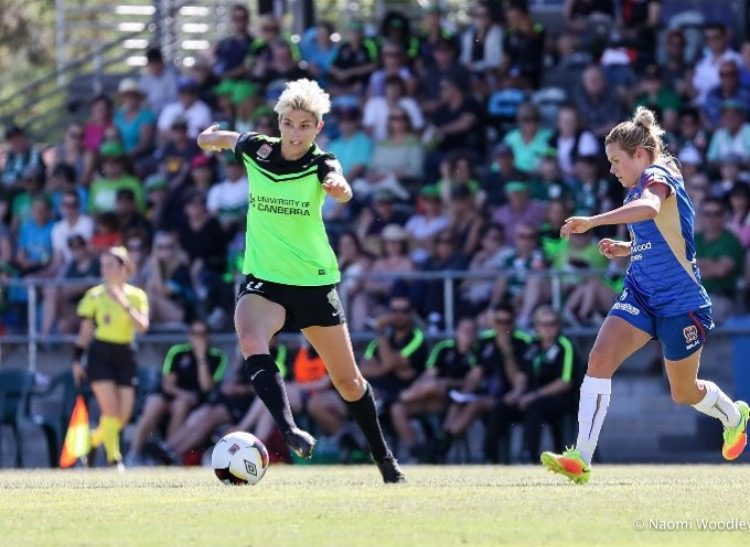 Australian LGBTI Sportsperson of the Year Michelle Heyman talks about women's sport, being a gay athlete and her new genderless clothing brand.
There are few people I have met who are as upbeat as Michelle Heyman, the star striker of the Australian women's soccer team, The Matildas.
Despite a long-term ankle injury that has kept her sidelined from playing the game that she loves, there is always a broad smile and earnest and contagious enthusiasm in her voice.
This was never more obvious than when her name was called out at the Australian LGBTI Awards at the Sydney Opera House as the winner of "Sportsperson of the Year".
"When the category came up, I was a little bit nervous, and I don't usually get nervous for awards. I was pretty excited just being nominated. I thought that was a huge achievement already with the other athletes that were nominated. Just to be a part of that group, I was overwhelmed so I didn't really set my sights that high. And then when they said my name, I couldn't believe that it was me! I really just could not believe it."
Not only was she surprised to have won the popular vote, but in her acceptance speech, she was amazed that people recognised her for just being herself.
"I don't go out there being as loud as some other people can be about being a gay athlete. I have never hidden who I am; I'm just being me. So that is how I wanted it to come across. It was more like I seriously wake up every day and do the things that I love and be true to myself, so yeah, it feels strange to get an award for it," she laughed. "I just want others to be comfortable with who they are and for them to understand it is about being the best you that you can be."
But being herself is something that Heyman believes is vitally important to the person she is.
She recognises that as a public figure, she is also a role model, and this she takes very seriously:
"The one thing I have always wanted was to be the best role model possible because growing up I didn't have a role model, I didn't look up to anyone like that so, for me, to be able to be that person for others, that is one of my main goals. I just want others to be comfortable with who they are and for them to understand it is about being the best you that you can be. I want it to be a 'pay-it-forward' type of thing. I just always try to be the best me that I can be and try to put forward a positive attitude to pretty much everything that I do. I try never to be negative because life is way too short, and it is about who I am today.
With all the followers and supporters I have, I feel like I owe my life to them because without them supporting me, I wouldn't be the athlete I am today, so it is pretty cool to be able to be that role model for them."
There has been a recent explosion in interest in women's sports, with the recent AFLW competition getting wide-ranging coverage across the country, and Heyman is hoping it has a flow effect on women's soccer. "Everything that the women's AFL has done is incredible. I love how they have marketed the game and promoted females in sport, and now it is up to every other sport to catch up. I'm trying to work with FFA (Football Federation Australia) to build soccer within Australia and make it more like what we see with the AFL. We want to see it promoted constantly on TV with commercials that put the game out there. It is so good to be able to turn on the TV and see women playing sport at those levels, instead of just men constantly."
Heyman's work with FFA does not stop at promoting women's soccer.
She has also been working on promoting the inclusivity of the LGBTI community in soccer, "I have never had any issues personally with inclusivity, so for me, it is just very normal. But I believe that what everyone is doing within the sport and starting to become more comfortable is just the right thing to do. Hopefully, it keeps improving, and more people can feel comfortable with who they are."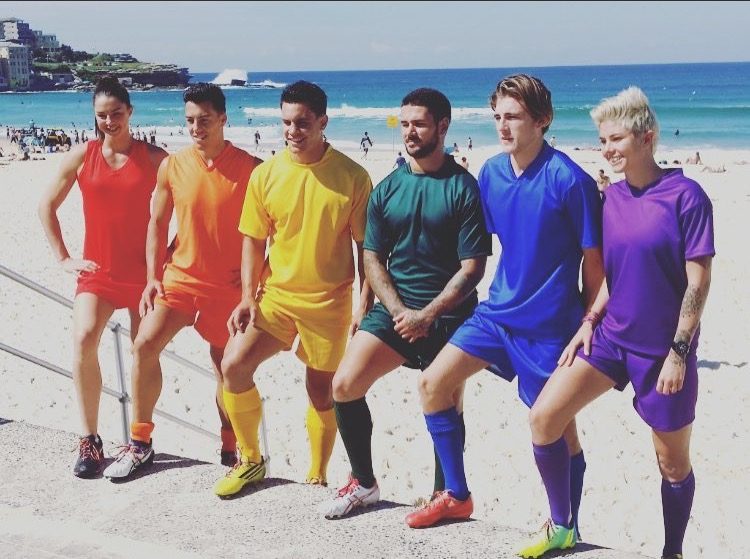 Heyman is an Ambassador for Rainbow Laces, an initiative to reduce homophobia across sports.
But it seems, however, that not all LGBTI athletes are as close to this comfort level as Heyman. At the Rio Olympics in 2016, of the 500 or more athletes on the Australian team, Heyman was the only one out. The only one of over 500 competitors. Think about that!
"I don't believe you would lose sponsors just from being a gay athlete in this day and age."
"I guess sometimes it is just that people don't want their personal lives out there, so that is the only thing I can think of as to why athletes stay in the closet. I don't believe you would lose sponsors in this day and age just from being a gay athlete, although some people I know have said that they are worried about it. If anything, I have got more now. I still find it a little weird that I was the only Aussie athlete out, so it was kind of funny when that happened. I was thinking, well, I know I'm not worried, but yep, ok, just roll with it," she said with a grin.
Heyman laughingly tells the story of when she had a call from a magazine asking her when she had come out. Confused, she asked them if they meant to her parents. No, they meant to the media.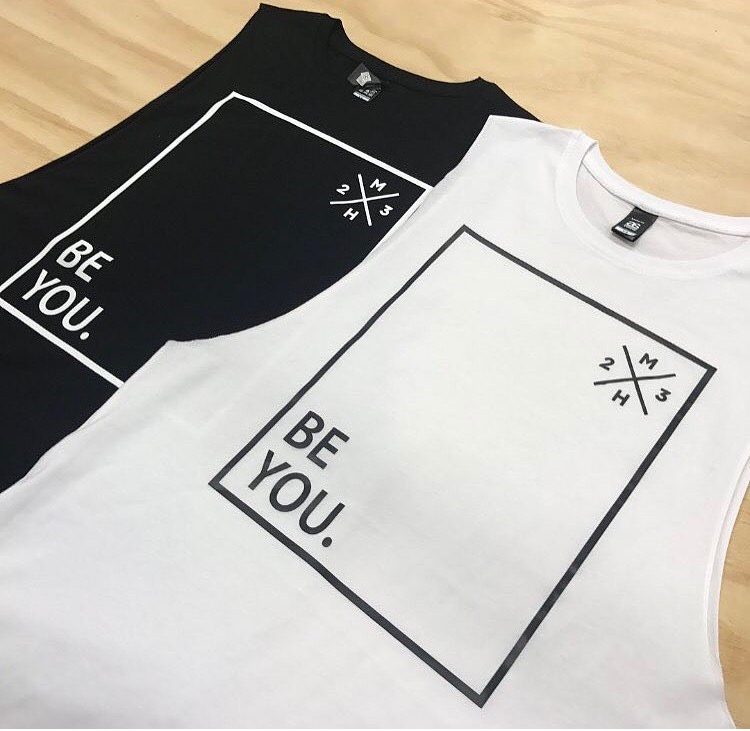 Heyman's apparel line MH23
"I was like, 'well, I haven't – everyone has always assumed I'm gay. I mean, it's all over me; it is already in the media; I'm not hiding who I am.' They were laughing and saying that they thought I would have done an article on it by now. So I asked them, 'do people do that for being straight?' I am happy to chat, and I'm not going to lie because I have got nothing to hide, and if you ask me questions, I will answer. But I found it weird—what is the interest in my sexuality? I get it that it could help others, but I will do that just by being myself; I don't need a big thing to state the obvious."
Heyman is busy building her brand outside playing soccer in the W-League for Canberra United and representing Australia as a Matilda. In 2016 she launched an apparel line called MH23, and she is currently hoping to set up soccer clinics around the country. Spreading her brand is one thing while preparing for life after soccer is another.
"The whole idea behind the clothing line is to have genderless apparel, so it can appeal to anyone who might want to wear my brand. Tim Cahill has an academy, and I think why there wouldn't make young girls, and even young boys, who would want to come to a Michelle Heyman academy? So I'm looking to find grants or funding here in Canberra to start it. That is what I'm working on. I want it to be professional, but I want it also to be about my heart and my soul and why I play soccer."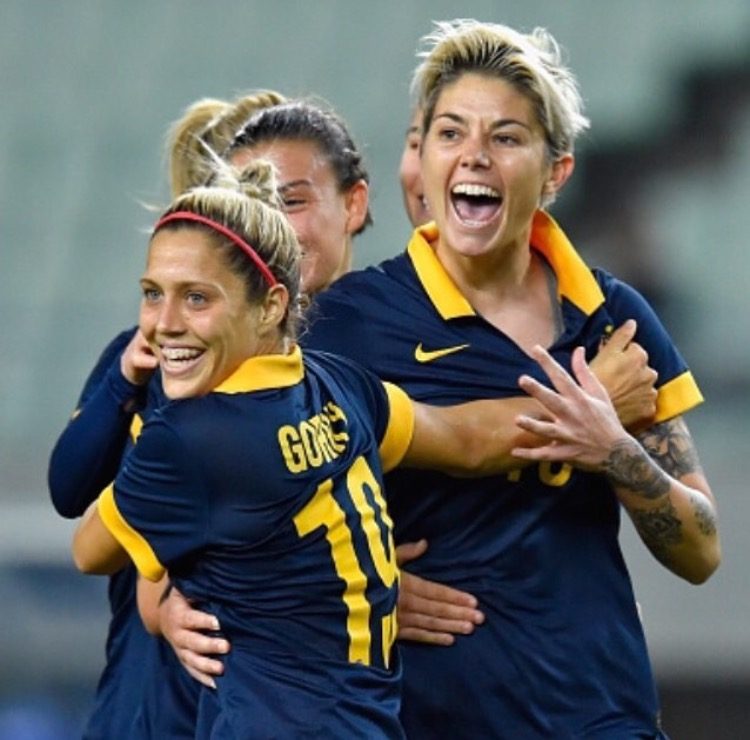 Heyman celebrates a goal with her Matildas teammates.
But now, her immediate focus is on completing the rehab on her injured ankle and getting back out on the soccer field.
"We have a tournament for Australia coming up in June in America, so I'm trying to prepare for that. Still some time to get it back to a hundred per cent," she says with a smile in her voice, "I'm just really keen to get back out there."
And your supporters are keen to see you back out there, Michelle, doing what you do best—kicking goals for your country!