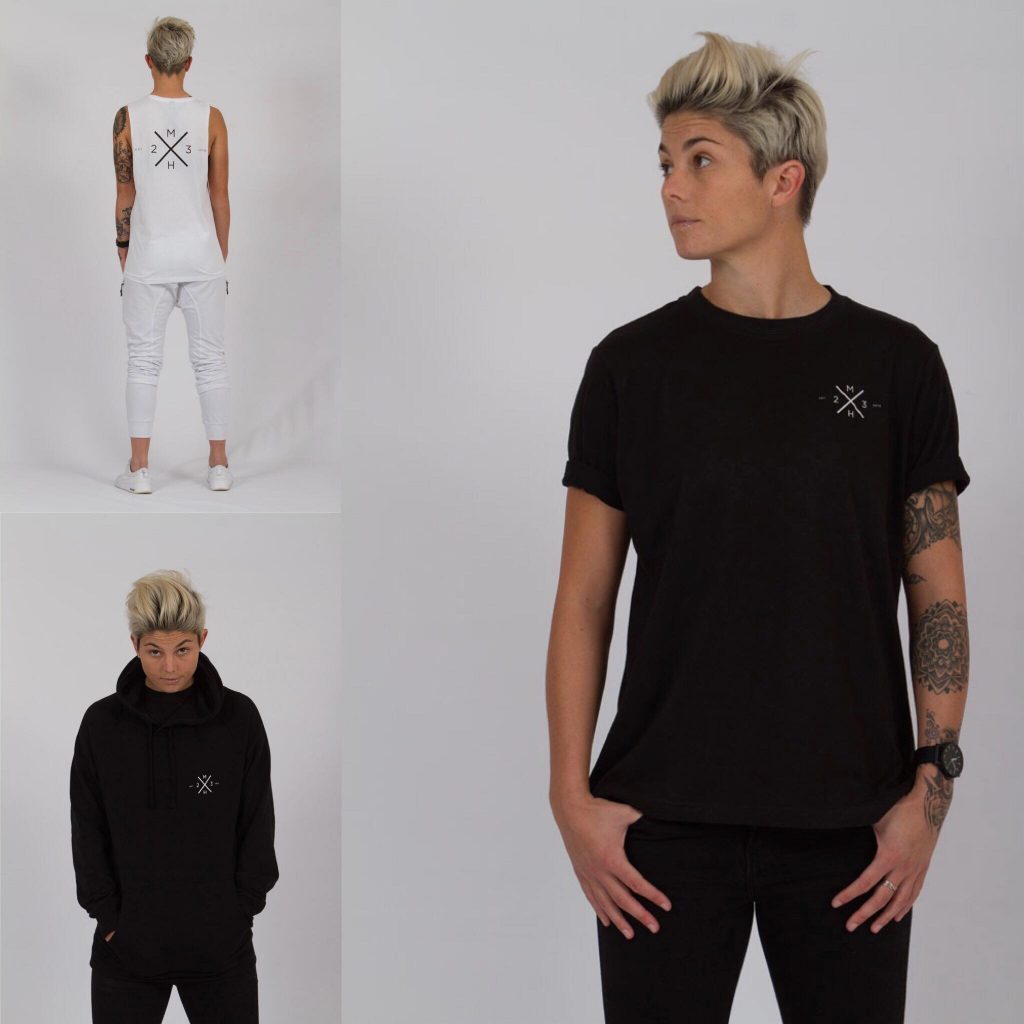 Just shy of 11, Michelle Heyman started playing soccer, not knowing that a strong desire on the field would propel her onto the international stage and our screens, the same screen on which she grew up watching the women before her.
Although we recognise Michelle for her goals and performance, she has so much more to offer than just her talent on the pitch. Michelle stands out as a role model, public speaker and style icon off the field – launching her MH23 apparel in 2016, backed with that great smile we all know so well.
Michelle has always been interested in fashion and clothing but never seemed to find the right fit. It seems that fashion has always had its agenda – male clothes for men, female clothes for women, and like many others, Michelle struggled with this division. In a women's section, she would find short skirts, little tops, high-waisted and tight jeans – "clothing that made me feel uncomfortable". She wouldn't be left with many options in the women's section that would fit her personality and sense of self. Instead, you were more likely to find Michelle in the men's section looking at button-ups, t-shirts, and pants with low crutches.
She loved the men's section – "everything was comfortable and nothing was tight! Just the way I like it."

Even from a young age, Michelle was a self-proclaimed tomboy –  "You'd never see me in girls clothes, mum once tried to put me in girls clothes, but I didn't like it. I wanted to dress like a boy". Given Michelle's sporty and competitive nature her mum was open to this and allowed Michelle to find her own style and comfort – "and you can't run in a skirt or beat the boys in a skirt!" When Michelle is invited to award nights, media appearances or photo shoots to represent the Matilda's and W-league – "I have to check in with the stylist and make sure they don't put me in a dress." Michelle will work with the team to find a look that's more suited to her androgynous style, "they're always understanding and find me a great suit to wear instead". As the Australian perspective and overarching view on clothing and aesthetics is changing, it's important to recognise the differing needs of people that don't allow gender to define them, "I'm mainly styled by Donny Galella and he understands me as a person and loves to style who I am!"
Androgynous/A-gender fashion was brought to the limelight when female model Rain Dove walked the runway in NYC Men's Fashion Week (2015), "What she's doing is incredible. Rain Dove is a very powerful human! She has the body and confidence to model for male and female clothes." Michelle welcomed the idea of non-binary fashion that anyone can enjoy without the stereotyped and gendered approach: "Rain is comfortable with who she is, and it shows on the runway and in all her shoots."
Michelle draws inspiration from Ruby Rose and the real L-word star Brittenelle Fredericks.
"I like the look of a tom boy, someone who can look femme but still pull off a masculine edge."
Heyman's go-to look includes low crutch black pants and a stylish button-up tee with a blazer – "I love the look of business with a funky twist." Michelle also likes to make a statement with her clothing "I love to wear bright, colourful socks, watches, necklaces and fun/quirky accessories – if you can't dress the way you want to, then you start to lose who you are, the essence of what makes you."
It's Michelle's history that gives us an insight into her decision to launch MH23 apparel. In a Matildas camp a few years back – the team had undergone a severe goal-setting exercise that required them to look beyond their soccer careers. "I was 26, I wanted a future, I didn't have a real job outside of soccer, and the financial consequences of retirement weighed on me". With the mindfulness that her soccer career won't last forever, Michelle sought to follow her interest and the hindrance she felt with fashion. "I used to get frustrated not being able to buy the clothes I liked, so I thought, why not make something I can wear." with that, Michelle began her fashion line and business, launching MH23 Apparel in January 2016.
The inspiration behind MH23 is to dress the way you feel. "I wanted to feel as good on the outside as I do on the inside". Although Michelle can be seen wearing men's clothes, MH23 apparel opens the doors to non-binary fashion, inviting confidence within her and her customers – "I'm a stronger woman dressing the way I do because it's who I am – I dress the way I feel so I can succeed in everything I set for myself." Currently the brand features non-binary fitness and casual attire ranging from singlets to beanies and is available online. Between her w-league seasons and international tournaments, Michelle is busy working away on the expansion of her clothing line – "I'd like MH23 apparel to reach more customers worldwide and expand the line from casual sportswear to business and dressy attire, especially androgynous suits!"  Michelle sees MH23 as an opportunity to have a store that she could buy and wear everything in!
 "I would love to have a shop where there is no female or male sides. You just walk in and shop till you drop".
So what is it about fashion and clothing that draws Michelle in?
She sees it as an "extension of yourself" – an absolute necessity to "feel comfortable in your own skin and what's on your skin." Especially for those who are subject to the stereotypes placed upon them from society – finding comfort and self-expression is really important, "It's more about being able to rock whatever you wear, being confident and proud of the style you have. If you can't dress the way you want to, then you'll lose the very important parts that make up who you are". Michelle has got her sights set on the future of MH23 – "It would be pretty amazing if MH23 apparel was to be featured in fashion week!" Michelle's aspirations would be helping close a gap in the marketplace for non-binary attire that is fit for everyone.