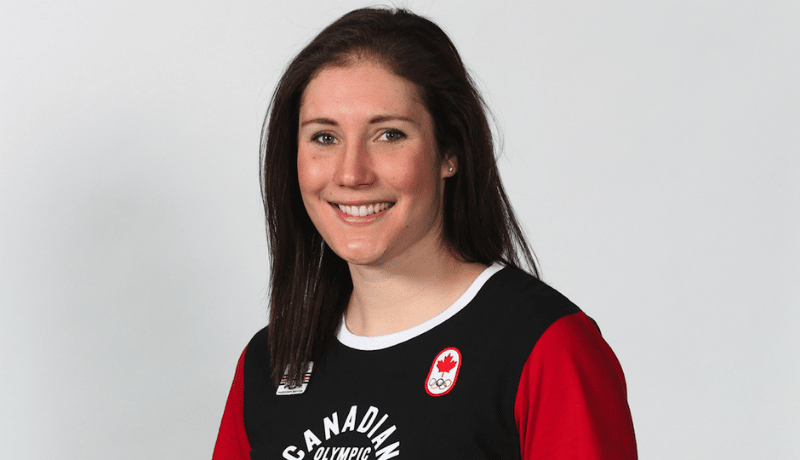 Canadian speed skater Anastasia Bucsis traveled with her partner and fellow athlete Charline Labonte to Sochi, Russia and competed in the 500-meter event in her second Olympic Winter Games.
It was an extraordinary Olympics, with competition played out against a backdrop of international intrigue, indignation and media exposure as out LGBT athletes risked their safety to compete openly in spite of Putin's anti-homosexual laws. Bucsis, 25, a Faculty of Arts student at the University of Calgary in communications and culture, reflects on her time at Sochi.
You were the second Olympic hopeful (after Belle Brockhoff) to come out, prompted by Russia's anti-gay laws. What was your thought process about coming out?
Coming out seemed incredibly natural to me. I felt morally obligated to lend my face and story to the cause; I struggled so much when coming out (even with the best family and friends, and in a country that celebrates diversity), that I promised myself that I'd try and help anyone struggling with the coming out process. When everything started to unfold in Russia, I knew that it felt 'right' and that I would regret not feeling as though I stood up for my beliefs.
Did you ever worry that you might re­gret coming out, or feel that it would compromise your career?
I have never regretted my decision to publicly come out. It's made my life so much better and I feel a freedom and lightness that comes with being completely authen­tic. I am living the life I was meant to live. The thought of the 'unknown' was a little bit intimidating (i.e. before we left for Russia— what would it actually be like, were we going to be safe, how was I supposed to act around Charlie, etc.) but I focused my energy on all of the positives surrounding our team and my task at hand: to be the best speed skater that I possibly could be.
Do you feel that coming out impacted your Olympic performance in any way?
If I hadn't come out (to my parents, family, and friends) I wouldn't still be speed skating. I had so much anxiety when I was in the closet—it completely robbed me of all of the joy and happiness that I usually felt while skating. The week after I came out to my parents, I skated as though the weight of the world was lifted off of my shoulders. When I publicly came out, knowing that I had hopefully helped or in­spired a kid to do the same, it was incred­ibly fulfilling and it made me that much more inspired to chase my dreams.
Were you happy with your placement in Sochi in the 500 meters?
My time and placing in Sochi was incred­ibly bittersweet. My internal satisfaction didn't match my external result, so for the longest time I was actually a little confused. My biggest lesson learnt that came out of racing in Sochi was that my only true com­petition is myself. I had had a really bumpy road to Sochi and there were a lot of road­blocks that made my preparation leading up to the Olympics a tough one. Of course I be­lieve I am better than 28th place, but I also am so grateful for the struggles and journey that shaped me along the way. There was absolutely nothing that I could have done better or that I would have changed on that day; I raced with heart and was proud of my journey. There were a number of factors that could have allowed me to 'defeat myself ' before the gun went off, and I didn't allow that. I had so much fun, and was blessed to have had the opportunity to represent my country and hopefully inspire people along the way to chase their dreams and live authentically.
How did you become involved in the documentary To Russia With Love?
My good friend [Olympic gold medalist swimmer] Mark Tewksbury, asked me to join in on the discussion. I can be a private person, and so my initial reaction wasn't to partake, as I didn't want to introduce any outside distractions. I'm so glad that I lis­tened to Mark; I am very proud of the film and so grateful that this amazing time of my life (and in my career) was captured in film. When I was at the premiere, I actual­ly could see my personal growth through­out the film.
What was your favorite moment during filming To Russia With Love?
I have two: when connecting with oth­er LGBT Russian teens and hearing their heart-wrenching stories. It really reaf­firmed that our similarities far outweigh our differences. And my second: filming in Calgary with my 92-year-old grand­mother. She is the embodiment of love and acceptance. I hope I grow up to be half the woman that she is.
What did you think about calls for the LGBT global community to boycott Sochi?
I personally was against any kind of Olympic Boy­cott simply because that hurts the athletes. I had trained my entire life for the 77 seconds that I skat­ed in Sochi, and so I be­lieve that a boycott would have hurt the wrong peo­ple. I do believe that a fur­ther discussion and clause (which is presently unfold­ing) needs to be added to the IOC's declaration of host countries. What hap­pened in Sochi can never happen again if we truly want to believe in the Olympic Spirit.
Do you think the presence of out LGBT athletes at Sochi made a difference?
I hope so. Obviously there were more LGBT athletes than the 5 out competitors in Sochi. Gay athletes are a part of the sport­ing world; sport is simply the final frontier of homophobia and we are actively working towards eliminating this. The fact that we are actively having these discussions and promoting an inclusive environment that is welcoming to all—I have to believe that this will have a positive effect in the future.
Your partner, ice hockey player Char­line Labonte is also out. Has being out affected you as a couple?
I think simply knowing that we have in­spired a kid to come out or to live authen­tically is the best gift that we could ever give. Since I have come out, I'm comfort­able in my own skin! And being comfort­able in who you are and what you believe, well, that's when a lot of the magic starts to happen. We're both blessed to be a part of sport and to hopefully inspire others to get active and push their own limits. Since Charlie has come out, I think I've gained at least 500 hockey-obsessed Twitter fol­lowers. Sorry guys, my hockey knowledge isn't all that sharp… I'll stick to wearing spandex and turning left. (@anastasure)