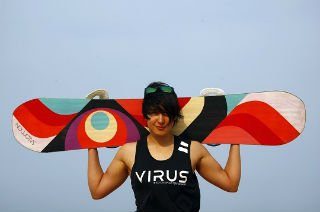 Australian snowboarder Belle Brockhoff has touched down in Sochi vowing to make a statement against Vladimir Putin's anti-gay laws.
The feisty 21-year-old "out" lesbian also said she would do everything in her power to take a stand against the torture and violence perpetrated against lesbians and gays in Russia.
"It's Putin's country and he can do what he likes with the country, but what I'm worried about is the safety of the LGBT community," Brockhoff said upon arrival in Sochi on Wednesday evening local time.

"Obviously there's a lot of violence, torturing, torturing to death almost, and I'm hoping to see change after these games."
Brockhoff, who comes from a family of Australian winter sports pioneers, said from her training base in Austria two weeks ago that she intends to raise six fingers in support of Principle Six of the Olympic Charter.
That's the section which talks about human rights and freedoms, and there was the suggestion Brockhoff would raise six fingers as early as the Opening Ceremony on Friday night.
She also said she would "rip on Putin's arse".
It now appears she has changed her tune slightly. The snowboard cross athlete said on Wednesday that she will definitely not make any protest gestures before her event.
"Not until after my competition. The Olympics has always been my focus, this has been my focus for the last 10 years and I'm not going to change that at all.

"I want to compete because this has been my goal ever since I picked up my first snowboard. I'm not going to throw that away, but definitely after I may do something."
The first Australian woman to win a snowboard cross World Cup medal, Brockhoff said any protests she makes will be far more meaningful if she manages to make it to the podium at Sochi.
"Hopefully if I get a medal I'll be able to use that as a platform to point these things out and hopefully get a change," she said.

"But you know, if I don't get a medal not many people will want to listen to my opinion."
Brockhoff said she wasn't fazed by the dual burden of being a spokeswoman and sportswoman.
"My Mum's always said athletes don't really come out before they have success. They're always scared about being rejected by their teams, dropped by sponsors.

"So yeah I just thought screw it, come out."
Looking glamorous with cropped dark hair and a glittering ear stud, Brockhoff got that competitive glint in her eye when told about the size of the berms and jumps on the snowboard cross course.
"I really like the big berms. All the other girls will be sh***ing themselves, it suits me," she said.