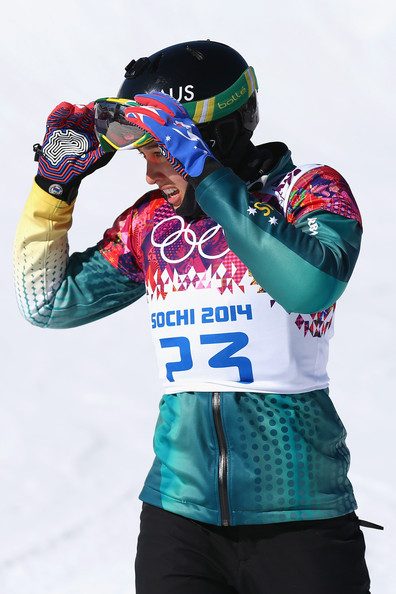 Winter Olympian Belle Brockhoff tells about her love of snowboarding, being out in Sochi and whether what happens in the Olympic Village stays in the Olympic Village
Belle Brockhoff, Australian winter Olympian and snowboarder, joins LOTL to talk about her love of winter sports, being out and whether there is truth in the statement that what happens in the Olympic Village stays in the Olympic Village.
Belle, you started snowboarding at a very early age – what initially attracted you to the sport?
My family was actually quite active in snow sports for a very long time originally so when I turned 3 years old they put me on my first pair of skies. As a family, we went to the snow every year. When I turned 9, I became quite interested in snowboarding when my mum had just started it herself. I have to admit I was a bit jealous! It was when I turned 10 did my mum bought me my first snowboard and lesson. I've never looked back since.
You recently came out and you have been applauded for your decision to publicly stand up for gay rights in Russia. What made you decide to come out?
I came out when I was 11 years old originally to my best friends and I gradually told more and more people while growing up. I just didn't feel the need to tell everyone I knew and met at the same time that I am gay. It was before the games that I felt like people should know about me because I wanted to compete openly and honestly. By doing so I felt free within myself and snowboarded the best I have ever boarded at the Olympics. Now that was half of the main reason. The other half is that I am very protective of those being discriminated against especially if it's because of their sexuality. I wanted to send a message to the LGBT community in Russia that they're supported by myself and many others around the world. I wanted to show the Russian government that I am not afraid of their discriminating laws and to inspire LGBT Russians to not be afraid to be who they are.
I have had a very positive experience since coming out to the world. I've had people around the world reaching out to me about coming out and sharing their stories. It's been amazing and I'm very happy. I also had a bit of social media hate but in all honesty it doesn't bother me, it amuses me.
What advice do you have for people struggling with their sexual orientation or are afraid to come out?
My advice is that if you are afraid to come out that is okay, it is only normal. Coming out isn't as bad as it sounds and you would be very surprised on how accepting a lot of people can be. You don't have to come out all at once, you can come out to a close family member or a good friend or even a online LGBT forum where you can talk to others anonymously. Do what is comfortable for you and do what feels right for you.
How would you describe your experience in Sochi at the Winter Olympic Games? Any gossip to report from the Olympic village?
My experience was incredibly amazing! It was more than what I have imagined and expected. It was my dream becoming a reality!
Hmm well there's definitely gossip I have to keep locked away but I do know there were many in the closet male athletes on the app 'Grinder' in Sochi. There were also a lot of gay Sochi volunteers sneaking around with other gays.
What role can sporting figures like yourself do to bring awareness of LGBT issues?
Sporting figures do their sport because (obviously) they love it! By doing their sport they inspire those around them which is a great way to promote awareness of LGBT issues especially if their profile is increasingly growing. Spreading the word about those issues especially through their social media platforms will definitely help promote awareness.
You must spend a lot of time training in the snow, do you have anyone to keep you warm?
I think I do..it's complicated haha. I've been seeing a girl on tour who also competes against me funnily enough. She is 24 and from Switzerland. She has been a great support on tour and during the games but with this crazy distance we aren't sure where we are going so we are just going with the flow plus we have super busy lives! I do have very good family and friends around me as well which I'm so grateful for.
If not, now that you're an out and proud snowboarder, do you find it easier to meet women?
I do find it easier but then I find it a bit harder to figure out whether they're interested with me because of who I am or because I'm more well known now. I do love meeting people regardless!
After competing in your first winter Olympics, what's next for Belle Brockhoff?
Right now I'm on a break to give my body a break but I'll be starting up training very soon. During this break I've been working with my sponsors and also looking for new ones as well as a sport manager. I've also recently contacted BeyondBlue to start up some volunteer work with them which I'm super excited about! I'm having fun with my friends and family as well, just soaking up all the little down time I have!
My next major competition is the 2015 World Championships which happens every two years! I'm so excited about it and I'm aiming to win gold! I'm very hungry to win that comp. During the lead up to it I'm doing some fund raising as it's a very expensive sport. I'm doing this through Dreamfuel (www.dreamfuel.me).