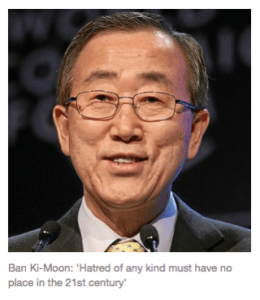 As I scrolled through my emails and social networks this morning, I was struck by the amount of chatter about the Winter Olympics in Sochi, none of it favourable.
The focus of conversation was LGBTQI rights, and the conversation has spread much wider than my inner circle. After reading much of it, I thought, this is a conversation all of us should be having. For the sake of people we do not know, Russians we will never meet, people who hope everyday that they won't be targeted because of their sexuality.
UN Secretary General, Ban Ki Moon addressed the International Olympic Committee just one day before the start of the Winter Olympics.
Alluding to Russia's anti "gay-propaganda' laws, and LGBTQI rights issues, he said, "Many professional athletes, gay and straight, are speaking out against prejudice. We must all raise our voices against attacks on lesbian, gay, bisexual, transgender or intersex people." In reference to the fact that LGBTQI citizens are being arrested, instead of those who perpetrate crimes against them, he added, "We must oppose the arrests, imprisonments and discriminatory restrictions they face."
Russia's anti – 'gay propaganda' laws were signed into law in June 2013, with 137 votes in favour of the bill and one abstention. Earlier that month the Duma (lower house) voted 436 to 0 in favour, again with one abstention. Just the numbers in this vote caused me to question the likelihood of the members being able to vote freely. The bill was introduced on the premise that children need to be protected from information about homosexuality.
"It's not about imposing some sort of sanctions on homosexuality…It's about protecting children from such information," Mr Putin said.
The unfortunate repercussion of this law is that in a way, it legitimises actions by vigilante groups because at a Government level, it has been made clear that protecting children is the basis of the law. What more noble cause is there than protecting children?
Drawing the link between children and any dangers from homosexuals themselves, leads us into very perilous territory.  It suggests that there is some kind of causal link between homosexuality and paedophilia, or that exposure to information about same-sex relationships might make children gay. Nonsense! Let's see the figures on heterosexual men who prey on young girls and then, let's be honest about why this law was made. This is blatant discrimination.
Putin has claimed that "homosexuals are equal citizens enjoying full rights" in Russia. If that were so, there might be an anti-'heterosexual propaganda' law. If this is indeed about protecting children from sexual education, then the argument follows that there must be an equal law regarding heterosexual 'propaganda'.
Recently Human Rights Watch released a video compilation of Russian LGBQTI citizens 'enjoying full rights', with footage showing violent attacks on gay Russians featuring harassment, humiliation and abuse. The compilation was made from videos posted on Russian social media showing horrific footage of gangs harassing and using violence against gay citizens. Allegedly the videos were posted on social networks by the perpetrators themselves to add to the victim's humiliation.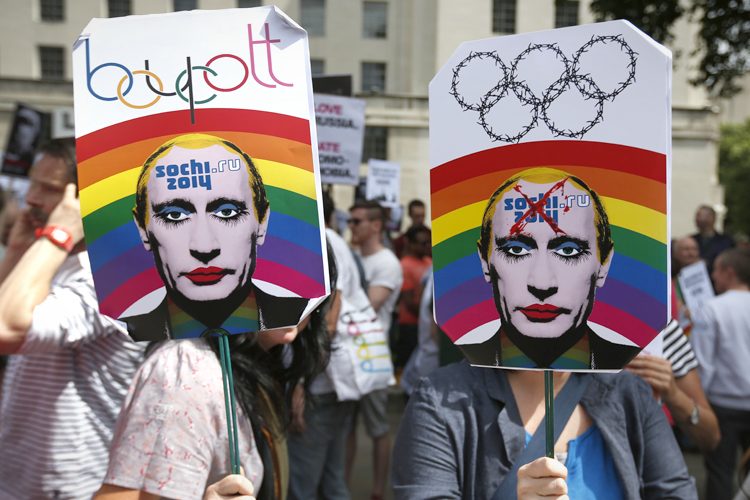 The video is disturbing. I sobbed as I heard horrific stories and saw images of people attacked for what they wore, who they were or how they looked. It scared me that this was happening in a nation of 144 million people.
In a documentary made by Channel 4 that screened this week in the UK, Hunted, it has emerged that there are even groups who target gay men and women such as 'Parents of Russia' and a group called 'Occupy Paedophilia', a group who deliberately blur the lines between paedophilia and homosexuality.  In one scene of the documentary, a male member of Parents of Russia, is shown attending a lesbian and gay event and handing out bags containing a length of rope, with the intention of suggesting they commit suicide (Source: The Guardian.)
I struggle to understand why a person's sexuality should subject them to so much discrimination and suffering. Just when I want to celebrate the wins of our LGBTQI community, such as equal marriage rights in a number of countries across the world, I am reminded that there is still so much hatred towards us. Although Ban Ki Moon was careful not to speak directly about the 'gay propaganda laws' in his address, he was clear in his statement that, "Hatred of any kind must have no place in the 21st century". This is a sentiment I felt the International Olympic Committee (IOC) themselves should have been heralding.
Sochi was chosen to host the XXII Olympic Winter Games in 2007, years before the anti-'gay propaganda laws were passed last June.  This was a bold move for the Olympic Committee after the events of the 1980 Moscow Olympics, when more than 45 nations boycotted the Games in protest of the Soviet Union's invasion of Afghanistan (in December 1979).  The Australian Olympic Committee hits the nail on the head saying, "It was a sad time, with the onus on young athletes to do the dirty work of politicians." Sochi was Russia's second chance – an opportunity to address the human rights issues that have plagued Russia's international profile. It was also a chance for the IOC to demand more of Russia than they promised when Sochi won the bid.
The very notion of the Olympics is to bring people and nations together. Even the symbolism of the games suggests that the Games are a way to slice through indifference and intolerance and celebrate honour (winners were originally crowned with an olive branch, or kotinos, a symbol of peace).  The IOC should demand that the 'spirit' of the Games be upheld by countries who win the bids to host. Silence is complicity.
In an article for The Guardian retired American NBA player John Amaechi (who was one of the first very high profile athletes to come out) agrees, warning the 2,500-plus US competitors in Sochi that, "If they don't speak out against Russia's new anti-gay laws they will be complicit in them."  Standing up to Russia is risky business and something that many Games sponsors have not had the courage to do. Amaechi eloquently expresses the point, "I do understand that there is risk. But principles are usually associated with risk."
The Olympic Creed reads:
"The most important thing in the Olympic Games is not to win but to take part, just as the most important thing in life is not the triumph but the struggle. The essential thing is not to have conquered but to have fought well." Ask any LGBTQI person about triumph and struggle and you'll find that it is something we can all relate to.
If, as the creed suggests, the important thing is the struggle, then let's throw a spotlight on the struggle of Russia's LGBQTI citizens. Let's talk about injustice and discrimination. Let's tell Russia, the IOC, the Broadcasters and the Games Sponsors that this is not good enough, that we won't stand for it.  If the 'essential thing is not to have conquered but to have fought well', let's make sure we put up a good fight for Russia's LGBTQI community. The Russian Government and police are certainly not doing it.
And let's keep the spotlight on Russia long after the last medal has been bestowed and the lights in the stadium are out. As Ban Ki Moon says, "We must all raise our voices against attacks on lesbian, gay, bisexual, transgender or intersex people." Who will, if we don't?