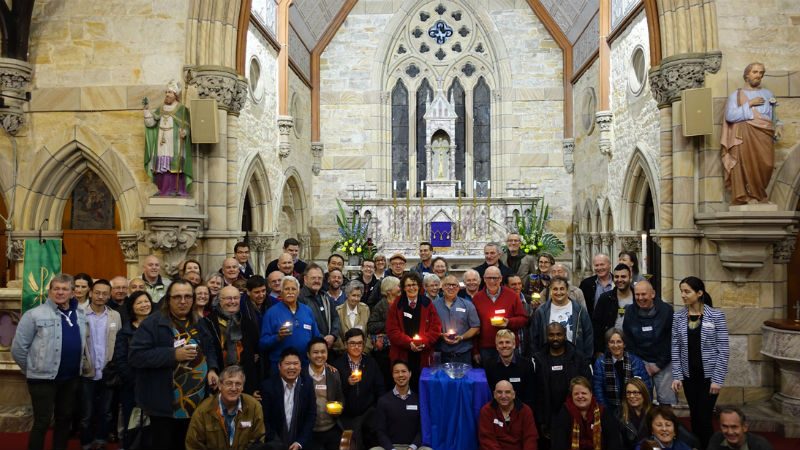 The liturgy highlighted the hurt caused by the action and inaction of Catholic people and churches.
On Friday, August 12 the Rainbow Catholic Interagency for Ministry held a 'Liturgy of Apology'  to LGBTIQ people at St. Joseph's Catholic Church in Newtown.
The historic event acknowledged the hurt caused by the action and inaction of Catholic and Christian people and churches. The event was inspired by Pope Francis' call for an apology to gay and lesbian people in the world. St. Joseph's Catholic Church is the first Catholic church in Australia to respond.
During the liturgy, personal stories of LGBTIQ community members were shared. Francis Voon, one of the organisers said, "It was difficult to choose which personal stories to share during the liturgy; each individual's story is so powerful, unique and previous."
Voon also noted that there are many heartbreaking stories. "Some have been badly hurt by us as a church community. Others we have failed completely, to the point of suicide, because of prejudice, ignorance and fear, and worse still, in God's name."
He continued to say "with Pope Francis' encouragement, in the name of God, we apologise for religious LGBTIQ-phobia, and we pledge to work towards healing and reconciliation in this Year of Mercy."
The organisers of the event strived to make it a respectful and safe space for all in attendance and the liturgy included a symbolic "well of Tears". The congregation was invited to interact with the well in whatever way they found meaningful.
One attendee described the event as "a powerful and raw moment of letting go and of forgiveness".
Dignitaries from multiple Catholic parishes, ministers and leaders from other Christian denominations and faith communities were all in attendance as well as representatives from national and local LGBTIQ and Christian organisations.
A fellowship of tea and coffee followed the liturgy with Acceptance Sydney committee member Chris Price inviting everyone to "take this opportunity to really meet one another and listen to the stories of LGBTIQ people."
Melody Gardiner from Australian Catholics for Equality said, "Tonight is the beginning of new possibilities for our Catholic and Christian communities here in Sydney and across Australia. Rainbow Christians globally are watching and we hope to see other Churches and communities follow the example of Liturgy of Apology we have seen tonight."
'Liturgy of Apology' has been made available through St. Joseph's parish priest's website PeterMaher.org by The Rainbow Catholics Interagency for Ministry.