Quirky cuisine that delivers a flavour burst.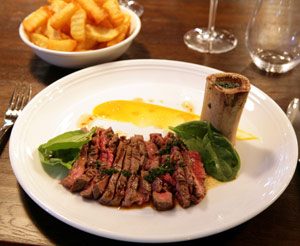 Quirky cuisine that delivers a flavour burst.
When Tomislav Martinovic returned to Sydney after a stint in London working for the likes of culinary alchemist Heston Blumenthal of Fat Duck fame and Eric Chavot of London's Capitol Hotel, it's little wonder that the foams and waterbaths that the pair are famous for would make some kind of appearance in his new restaurant's cuisine.
However Martinovic's early stint under Guillaume Brahimi at Bennelong and with Matt Moran at Aria has also ensured that there's a level of comfort to his Modern Australian cuisine. Many of your favourite dishes have been dressed up and given a playful twist. While there's no Paris mash for the potatoes here, there are hot chips to die for and Martinovic's unique take on salt and vinegar crisps is playful and tasty…
We start our meal with the aforementioned crisps – wafer thin rice paper that has been deep fried arrives on the plate looking more like scrunched up tissue than food, three sprays of vinegar from the handy atomizer and the crisp dissolves in your mouth, a taste sensation.
Entrées are equally imaginative – my companion's Comboyne Egg is a marvel to behold with its crisp batter soldiers, foamy white potato top comforting pea and ham and oozing gooey egg centre.. My Yamba Prawn Risotto arrives on the table with a waft of fragrant lemon and chives. The biggest surprise – the basmati rice – which lends a toasty flavour and a lightness I'd never before experienced.
"Many of your favourite dishes have been dressed up and given a playful twist"
The mains arrive – dory and scotch fillets respectively. The trio of dory are accompanied by a smear of cauliflower puree and parsley. The dory is succulent, the smear adds a touch of decadence
The scotch fillet, grilled mango, chives, and bone marrow looks curious with the bone upended on the plate like a rocket ready to launch but according to my fellow diner, the fillet is divine and accompaniments surprising.
Most surprising however are the desserts. Old fashioned treats such as cheesecake and apple crumble are given the Martinovic twist. The crumble literally explodes in your mouth courtesy of the included pop rocks and the cheese cake arrives as a creamy foam with tiny gelatinous cheese cubes atop a crunchy biscuit base. It's your grandmother's recipe gone wild.
If you're looking for a fine dining experience that is not only tasty but innovative – a meal that will fulfill your appetite and deliver a taste of adventure – then look no further than Tomislav