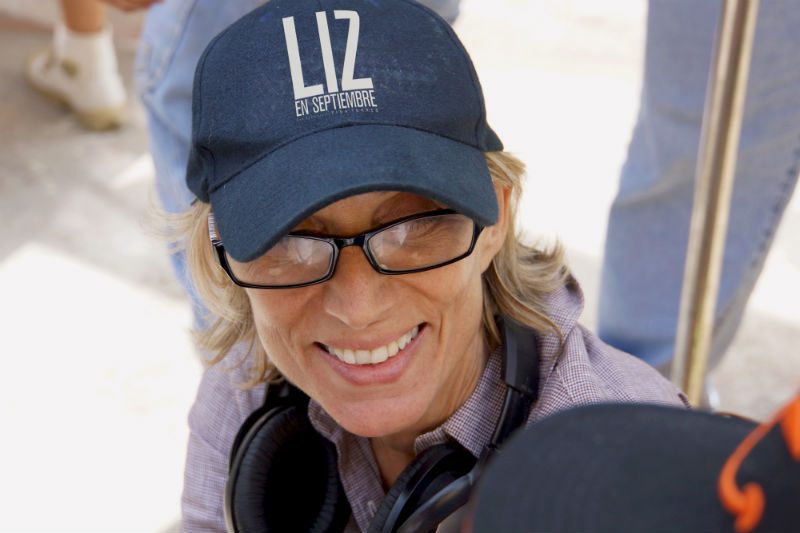 Acclaimed Venezuelan film director Fina Torres has written and directed numerous critically successful films and received nine international awards as Best Latino Film at numerous film festivals.
Her latest opus is the excellent lesbian drama, Liz en Septiembre, starring a newly out supermodel, actor, and author Patricia Velasquez. The film, which is an adaptation of the classic lesbian play Last Summer at Bluefish Cove by Jane Chambers was released in Venezuela in September 2014.
Pleasures of this film include its exquisite visuals created by Torres and strong performances from the mostly-female ensemble cast.
Filmed against the backdrop of Venezuela's beautiful Caribbean coastline, the story follows a Shane-esque thirtysomething Liz, a former model, and a dark secret she harbours, which is revealed during a bet: her friend challenges her to sleep with the bicurious cutie who is stranded at the small beachside resort where the women have gathered to celebrate Liz's birthday.
That Torres is a very accomplished director makes this film even more enjoyable. After studying and working in photography and journalism in Venezuela, she moved to Paris where she earned a Bachelor's degree in cinematography from the Institute de Hautes Etudes Cinematographiques, IDHEC.
She worked as a film editor, camera operator, and script supervisor in France after graduating, and in 1985, Torres won the Cannes Festival Camera d'Or for directing and producing her debut feature Oriana.  She co-wrote, produced and directed her second feature, a comedy, Celestial Clockwork in 1993, which was a winner of four international awards.  Torres directed and was the executive producer for the Fox Searchlight romantic comedy Woman on Top and was nominated as Best Director at the 2001 Alma Awards.
She took time out from her latest projects to take us behind the scenes of Liz In September.
This is an adaptation of the classic lesbian play "Last Summer At Bluefish Cove." What were some of the main changes you made to the story?
As a screenwriter, it was a challenge to adapt a very American play from the early '80s to a contemporary Venezuelan (Latino) story without losing its essence.
The first change was to go deeper into Liz (Lil's) struggle to accept her impending death and her choice to leave this world when her quality of living was over (this is not in the play) rather than concentrating on Eve's (her lover) coming out of the closet. I also went deeper into how her close friends deal with the subject of euthanasia and had Eva help Liz on her way as a most courageous act of love.
It is not easy to translate the intimacy of a theatre into the wide-open space of a movie — to turn East Coast beaches in the US into the warm and exuberant Caribbean coasts of Venezuela. The film is a different format than theatre, dialogue is not the essential, — images, silences, the between the lines are.
So we have to visualize, re-invent, re-write. The other important changes are in the characters. I reduced them to six instead of eight, made them very Caribbean Latino wise in their idiosyncrasy, behaviour; the way they relate to one another. The way they move, dance, fight and reconcile, cry and laugh. Because there is a lot of humour, as in the play. Immense laughter.
When and how did you decide that Patricia Velasquez was right for the role of Liz? What qualities does she possess that made her right for the role?
We were already working on another project when Patricia invited me to a master class where she had a scene to play. It was a scene from "Last Summer at Bluefish Cove". I knew the play very well. 10 years earlier with Judy Miller, who owns the rights, we had the idea of making a film in English.
So when I saw Patricia as Lil, a light bulb went on. Why wouldn't we make the film in Spanish, adapt it in Venezuela? I called Judy and not only did she say yes but she co-produced it with me. Patricia was perfect for Lil's character in my contemporary version. She knew exactly who Lil was, identified herself with and took the character to a great cinematographic level.
Patricia only recently came out, after the film. Was the film a turning point for her, do you think?
I do think so. We were just starting the project after Judy said yes and the idea of writing her book popped out in the most organic way. I saw Patricia start from scratch her project with the same energy and conviction she puts into everything she does.
We knew the film would take at least two years to be ready, also the book. We planned to open them together. Both took longer than we thought. But finally came to fruition. One of Patricia's greatest qualities is her courage. For a Latino famous model, known by thousands of people all over Latin America it took a lot to come out.
Patricia's performance is outstanding. What aspects of the role resonated with her particularly?
Many. I studied Patricia very closely, interviewed her, observed her. We had become very close friends.  As she was at the film's starting point, she was extremely inspirational. Being the author of the adaptation I can tell you that many elements of Liz's character are Patricia's.
As Patricia, Liz was a famous model, as Patricia, Liz is a courageous, defying, seductive, fearless, even sometimes a ruthless person. As Patricia, Liz is beautiful. Some elements of Patricia's biography are in the film, for example, in her monologue at the pool with Eva. Nevertheless, Liz's beliefs and views of the world are mine but mixed with some of Patricia's in a very intimate way. I think that Liz's character is a complete hybrid between Patricia and me. And I agree with you and more, to me, this is Patricia's best performance in a film. She gave her heart and soul to it nonstop for two years.
Some models successfully make the transition from modelling to acting. What has made this transition possible for Patricia?
Patricia is extremely intelligent and modelling was a good starting point for her but in her soul, she was called to be an actress. She worked very hard to get to her art.
This film, like some other lesbian films recently, deals with loss. Is this unique to lesbian narratives?
No, not at all. Our grief or concern for death and loss is proper to all human beings, indistinctly of their sex and sexual preferences. I think is important to hammer the message that gays are exactly as human as straight people are: same needs, same fears, same expectations, same troubles, same happiness. Homophobia, unfortunately, is still not a thing of the past. We have to continue the struggle to erase borders that separate one to another human being because of their sexual identities or preferences.