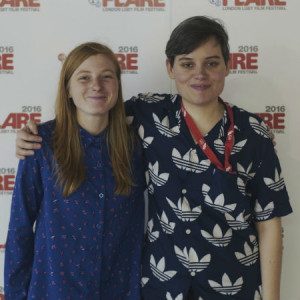 These UK filmmakers want to portray authentic LGBT characters without film cliches.
UK-based filmmakers Scout Stuart and Sophie Broadgate have made their second short film.
Written and directed by Scout and produced by Sophie, A Juliet, a Margot is a subtle character drama depicting two queer women in the process of moving out of the apartment they have called home for several years. The two question how their relationship and routines will be affected by leaving the apartment.
Both filmmakers identify as lesbian and seek to reflect authentic portrayals of LGBT characters and relationships on the big screen.
Sophie says, "There are way too many LGBT deaths in film for my liking. We want to stray away from convention and get rid of tropes that still linger even today."
This played a major role in the script for A Juliet, a Margot.  Scout was inspired to write the script after having a conversation with Sophie about clichés seen in lesbian cinema.
The filmmakers acknowledge that while there are a lot of great LGBT films, they wanted to make a film that was less about said clichés, conflict within sexuality, or dating and instead examine an authentic nuanced and supportive queer relationship.