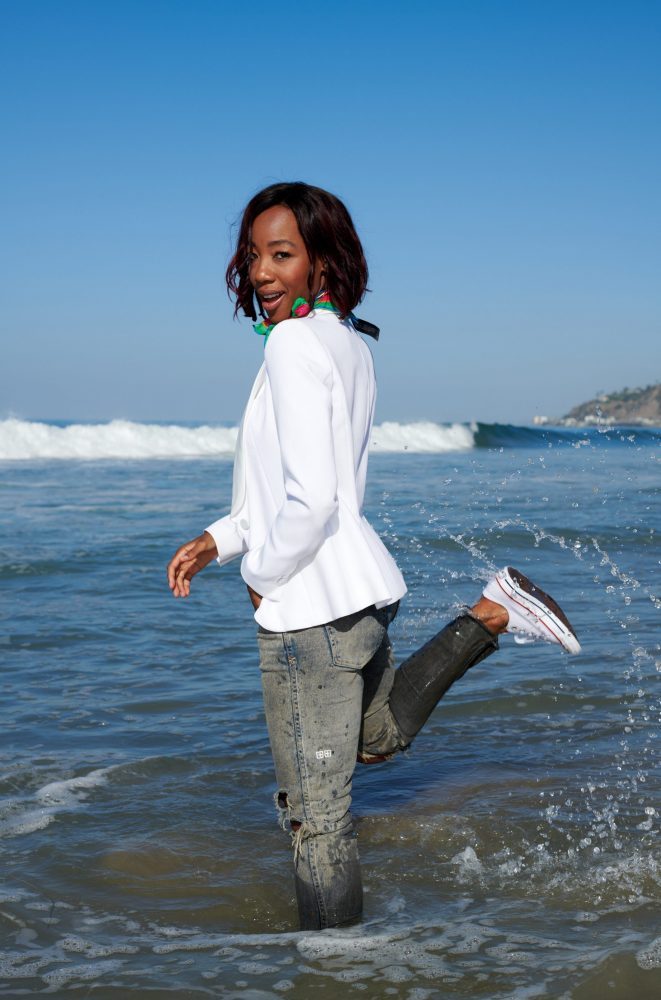 If you didn't already have a crush on Charmaine Bingwa…
I'm waiting for Charmaine Bingwa to open the Zoom link I'd sent her PR. My linen shirt feels like a sauna in the humidity. She appears on my screen, rugged up in a sweater and beanie. I think she looks adorable – reminiscent of universally loved Poussey from OITNB, but she does ask that the video of her in her pyjamas doesn't go anywhere so you'll have to take my word for it.
She brings the same vibrant energy and humour to the interview as she does her projects. She is switched on, passionate, easy to talk to. Don't tell my girlfriend, I think I have a bit of a crush.
You've got such a really long resume already, I don't really know where to start, so let's start with your childhood. Was show business always an option for you? Were you going to all the dance classes growing up? What was your family like?
No, my family were immigrants, they came to this country with like $100 so I don't think showbiz was ever an option. And it's a high-risk industry to them, so it was never encouraged. But you like what you like, and it's a passion that changes the world! I love this!
I was a musician initially, then I transitioned into acting. Even if a million people were saying no I'd still be doing this.
Did you go through the phase of 'I guess I'll go be a doctor or lawyer?
(Laughing) It's a legitimate phase for immigrants, isn't it! I actually have a business degree. You gotta try and make them happy, but spoiler alert: I couldn't.
You've been described as being an all-rounder. What are your thoughts on being involved in so many aspects of a production instead of specialising in one component?
I think it's really interesting. Maybe because I have a short attention span. I love to dive into everything really deep. And they all really compliment each other. I've found coming off a major writing spurt has deepened my acting ability or spending a few days in an edit room affects my writing. It's a complete package and I'm driven by curiosity. I'll never stop asking questions.
I guess it makes sense from a business perspective as well, if you can do a lot of things you're more likely to be hired for at least one of them.
It's funny, in Australia if you tell people you do more than one thing they don't really take you seriously, whereas over here (L.A) people love it.
What was it like being the first openly queer WOC to win the Heath Ledger scholarship (and how many times have you been asked that question)?
I don't think I've been asked it like that actually, I liked the way you asked it. I forget because that's just who I am. But it was hearing other peoples' responses to it that made me realise the gravity of it. I got notes every day from people saying 'I'm a POC and I'm gay and I never thought this was possible until I saw you do that. When you think about it not happening for 10 years it, unfortunately, does send a subliminal message saying 'this is not for you. I feel like I won the award for everyone. A group effort.
You said something interesting which I want to go back to – you said you didn't really think about it because it's just who you are. Is that aspect of your identity something you can easily forget about? I know for some people it's just a thing, and for other people, it's a majority of their identity and day to day life.
I guess there are many different parts to my identity that don't always feel cohesive. It just is who I am. I might not always lead with it but I never shy away from talking about it. I didn't realise I'd dropped bombs when I made that speech. I think it's important to normalise sexuality. I think there's a time and a place for calling it out, but I want it to be normal. I don't think you should have to make some grand coming-out speech. It's just like you wear a red shirt I wear a yellow shirt. Cool.
Are you scared of being niched as the 'lesbian' actress?
I don't think so. I think everyone over here is aware of the range I have.
I wonder if that's more of a reality for lesbians who present as very butch (check out what Lea DeLaria has to say on it).
Potentially. I don't know whether that's a good thing or a bad thing. But I can imagine it'd be a different experience. I think the only difference with me is I date girls.
Do you feel like you have some kind of responsibility to amplify the stories of queers and POC?
I don't feel a responsibility, but I want to. The world is a better place when it has a tapestry of different stories and different people. I don't think it's my duty, but it's personally important to me.
Okay – let's talk about Little Sista, which I'm sure you've been grilled on as well. You wrote, produced, acted, directed, pretty much everything. Was that the first time you were involved in so many aspects of a series?
I'd done little things here and there but that was my first significant thing where I'd done that. Luckily, I didn't think too much before I got involved because it's A LOT of work.
What's the most important thing you learned from wearing so many different hats?
Be flexible! Things won't always go perfectly. Be a solution-oriented person. I believe everything happens for a reason. Sometimes you'll be on a shoot and somebody won't turn up or it's raining and you wanted to shoot outside all day. Being a filmmaker is being a problem solver. It also taught me to dip into my potential. You go into these things not being entirely confident you can do it. But doing everything taught me anything is possible and helped me be less afraid when I approach larger projects.
Sounds like you're the type to throw yourself in the deep end.
Exactly. Then after you figure out you can swim, you decide to do a marathon!
So, what are you walking on at the moment?
Well, the offices here have just opened up. Pilot season is about to be upon us so I'm sure I'll be called for a bunch of things. I'm also an avid writer
Scripts? Stories? Raps?
Scripts, ooh raps – do you write raps? You look like you write raps.
No, I don't! But if you have one you want to share I can drop a beat. The rest of the interview will be conducted in beat poetry.
What about haiku?
How do you feel about a sonnet on the fly?
Ooh damn! I love that! I've just written two features, so I'm working with my team to develop those.
I also read that the director of Nekrotronic said you're his favourite villain. What's it like playing the bad guy, did you like it?
So fun! There is no restriction, you get to be a bit more theatrical than normal, and because this world is so heightened, it's such a thrill.
And what are you watching at the moment?
To be honest, I'm not really watching anything, I'm just reading like a thousand scripts a day. Oh, actually I'm halfway through the R. Kelly documentary, which is highly disturbing. I got half way through and I was like I don't know what life is! But I'm grateful I'm living in a time where people are becoming more aware and people aren't leaving it up to the law to call people into justice by putting out films.
(Charmaine wrote a film called Stille Nacht, about a rigid German-Australian mother who finds answers through her gay daughter).
Well, that's another gay storyline. I think I often subconsciously write from my experience. That was fun, writing something completely different from my own reality. I try to focus more on what the key relationship is rather than the fact that it's an LGBTQ+ story. It's really about a mother and daughter trying to find common ground which is completely universal. I think humans are so complex and fascinating. I love this because I can just do it all day. There's so much complexity. That's what I loved about making a short film – zooming in on a conversation or a moment, it's really special.
You have to work so much more with subtext and nuance to tell the whole story without TELLING the whole story.
Exactly! The director actually approached me. He's a cis-gendered male and he wanted someone from the community to write it, which is great.
Thanks so much, Charmaine. Before we go, is anything else super exciting you want to mention?
Not in particular, but I think it's going to be a good year!