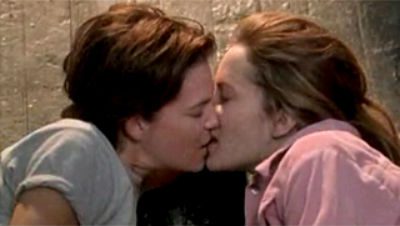 Birthdays always suck.
Who doesn't love mango? Sweet, juicy and ripe? They have been called the nectar of the gods. But what happens when it goes bad?
Mango Kiss is a funny, yet provocative look at polyamory, friendship, jealousy, and hypocrisy.
Lou and Sassy (her name is Sandy, but she prefers to be called Sassy) are the best of friends. They do everything together…including living together. Performance artists and creative souls, two are inseparable. Of course, they move to San Francisco: a gay mecca of the US and the perfect backdrop for a lesbian relationship's drama.
One day during a rehearsal, Lou confesses her feelings for Sassy.  Sassy dismisses her, reminding her that they are rehearsing. A short time later, Sassy finally reciprocates with a kiss in the grocery store. They happily decide to enter couplehood, and it seems as though all is well.
Yet, the issue of monogamy comes up. It is handled cautiously: both sides feel the fragility of it possibly breaking the relationship if they are monogamous, possibly breaking the relationship if they are not.
Adding richness and depth to this story is the cast of characters who love, hate, support, and sabotage them. Between an artistic mother and a dominatrix grocery store manager, this movie is chock full of great colour and characters. With Daniele Ferraro as Sassy, Michelle Wollf as Lou, and Sally Kirkland as Emilia (sassy's mother), among others, this film is perfectly cast. Each actress brings such unique and beautiful talent and depth to their characters.
The movie is light – amazingly so considering the subject matter. It is a fun and whimsical look at the fluidity (and sometimes lack thereof) of sexuality. Various sexual identities and roles are examined, typically with a bright and wondrous approach.  From role-playing to BDSM, this group explores it all. There is the excitement of a new relationship; the lukewarm, stagnant, familiarity of a well-established relationship; confusion about who plays what roles in the others' lives, and of course, jealousy.
For as entertaining and facetious as this movie is, it also offers poignancy and relevance. It offers a great new perspective on love and relationships. If you're looking for a quirky but good, solid movie, this is it.