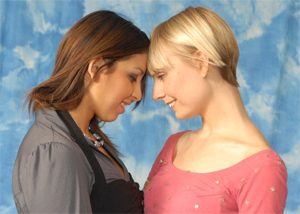 Filmmaker Manan Katohora, whose Sapphic love story When Kiran Met Karen made the rounds of 20-plus festivals this year, is currently filming, Come to My Window.
He plans to submit it for the 2010 festival circuit. The flick stars two unknown straight actors: Alison Hight as Nicole and Henna Nawab as Priya.  Assistant director-producer Simi VanScoy describes the film, in which she also portrays Priya's apprehensive sister, as "a queer take on Slumdog Millionaire."
"We were taking inspiration from Slumdog and I thought…if we make a male-female story—it's a complete rip-off…I want to write something real," explained Katohora. "The character of Priya, the only child, her brother dies and she's doing what she doesn't want to do because of her parents.
"The reason we chose Alison [to play the role of Nicole] is that when she says those lines you actually believe it. She's saying so many clichés, sappy, over the top lines…she's quoting films and film characters and you look at her face and believe that she believes in it and that's important for this story. It's important for someone watching this short film that it's not a rip-off of Slumdog, but a character who is so inspired and really believes it can help her in her own life that she can make an audience believe it." Hight, also a model and singer, says this role is probably just another step in her career, but allows, "You never know which one is really going to get you out there."
Nawab is more optimistic, "I am hoping it does kick start my career. I've always been trying to get more experience and I'm hoping this film catches a lot of attention because it is so different from other movies coming out now."
For Katohora, it's both an answer to those who dismissed When Kiran Met Karen's two lesbian characters as too unlikeable as well as a personal triumph of lessons learned. For their part, Hight and Nawab find portraying young neighbours whose next door relationship comes to fruition as lesbian lovers, over the span of several years, an adventure.