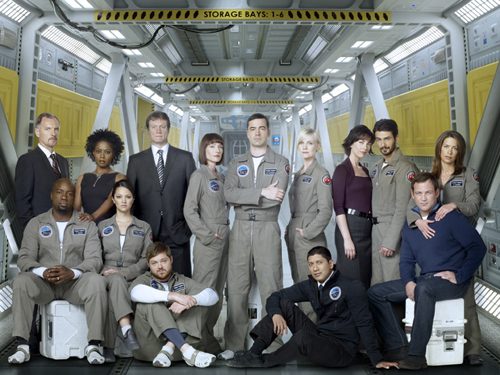 Brace yourself ladies, your TV is about to get very, very gay!
Tired of having nothing to watch, or finding out about a great new show with a  foxy queer lead—but only after it's three episodes in? Well then, fire up your TiVos, because we've got the all the must-see queer TV you've been waiting for. From hospital dramas to animated classics to gladiatorial gore-fests, it's all here in our lesbian fall TV preview.
Defying Gravity
Synopsis: It's high space drama for the eight astronauts tapped to undertake a six-year mission to Venus on an international spaceship. This space-faring soap is sure to be packed with suspense, science and plenty of zero gravity hook-ups.
Why we care: Two words: Christina Cox, this Better Than Chocolate and 3 Way alum never fails to set heartbeats a flutter and one look at her in a space suit grants her a guaranteed spot on my TiVo lineup. If that's not enough, half the crew of the Anatares is of the female persuasion and these brainy beauties are plenty easy on the eyes.
There Goes the Neighborhood
Synopsis: Taking a cue from Big Brother, in this new series families are sequestered in their neighbourhood by a 20-foot wall. Cut off from the outside world, each family will have compete and avoid elimination to claim the $250,000 grand prize.
Why we care: Among the families competing for the cash prize are the Mullennixs—a lesbian couple—along with their two sons, three dogs and five cats.
Top Chef (Bravo) Aug. 19
Synopsis: Cable's No. 1 cooking show is back, and for season six the series is headed to the city of sin, Las Vegas. Once again, 17 chefs will compete in a variety of cooking challenges to win the coveted title of "Top Chef."
Why we care: Along with gazing at Padma Lakshmi (yum) every week, the series is carrying on its fabulous tradition of including queer gals in the kitchen. This year, Preeti Mistry and Ashley Merriman are the chefbians to watch.
Project Runway
Synopsis: Hosted by supermodel Heid Klum, 16 up-and-coming fashion designers compete in weekly challenges for $100,000 to start their own fashion line and a chance to show their collection at New York's world famous fashion week.
Why we care: While there is no official word on if there are any queer ladies in the bunch, there is more than enough entertainment value and drama to make the show TiVo worthy. And did we mention Heidi Klum?
90210
Synopsis: Based on the '90s series Beverly Hills 90210, this reboot replaces The Walsh's with the Wilsons—a Midwestern family that has moved to the iconic zip code when the patriarch of the family accepts the position of Principle of West Beverly Hills High School. Much teen and fish out of water drama ensues.
Why we care: West Beverly is going West Hollywood with the addition of a "punky lesbian character." The gay-for-pay guest star is none other than Hollywood royalty progeny Rumer Wills (daughter of Demi Moore and BruceWillis)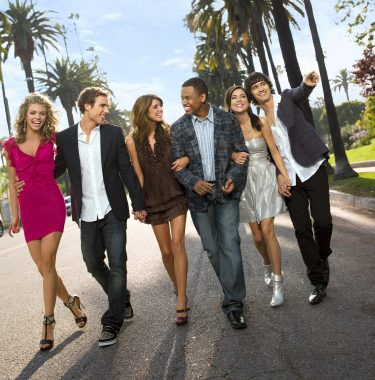 Melrose Place
Synopsis: A group of hot sexy 20-somethings live in an apartment building. Queue the intrigue, drama and partner mix-and-matching.
Why we care: One of the lead characters is Ella (Katie Cassidy), a bisexual publicist. Our guess—based on the trailer—is that Ella won't be the only one to show some heteroflexible tendencies.
America's Next Top Model
Synopsis: Created by supermodel Tyra Banks, ANTM pits 14 aspiring models against one another in a series of challenges and photo shoots to find out who is the fiercest of them all. On the line: a fashion spread in Seventeen, a contract with Elite Model Management and a $100,000 contract with CoverGirl Cosmetics.
Why we care: The official bios for cycle 13 have not been released yet, but ANTM is usually good for a bisexual or lesbian contestant or two.
The Wanda Sykes Show
Synopsis: The out comic (and new mother) will be hosting a self-titled late-night show featuring guests, pre-taped segments from out "in the field" and "heated" panel discussions.
Why we care: Umm, hello? Wanda Sykes.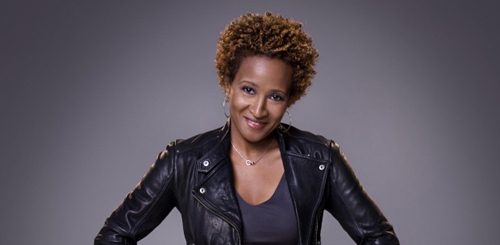 Glee
Synopsis: Glee is the story of one optimistic high school teacher on a quest to return the school's declining Glee Club to its former glory. Aiding him in his quest is a band of talented misfits who periodically break into song. Basically, it's the Bad News Bears meets High School Musical.
Why we care: Out lesbian and all around comic genius Jane Lynch is the cheerleading coach, glee club rival and highlight of the series. And the woman can rock a tracksuit.
Bones
Synopsis: Forensic anthropologist and novelist Dr Temperance Brennan is wicked-good at deciphering clues in the victim's bones. As such, she's frequently called upon by law enforcement to aid in cases where only bones are left to work with. Along with Special Agent Seely (David Boreanaz) and her very own Scooby gang of scientists, Brennan solves four seasons' worth of murders (so far).
Why we care: Bisexual character Angela Montenegro (Michaela Conlin) may not have lived happily ever after with her girlfriend Roxie, but if there is one thing we know about lesbian relationships, they have an uncanny way of coming back from the dead. Here's hopin'.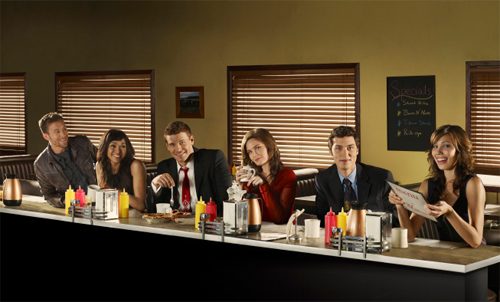 Fringe
Synopsis: Agent Olivia Dunham, played by the smoking-hot Anna Torv, is thrust into the world of fringe science when a case goes seriously Outer Limits on her. Teaming up with a clinically insane scientist and his con-artist son, Dunham investigates horrifying crimes that may be linked to a greater apocalyptic pattern of science gone very, very bad.
Why we care: In addition to the thrill of seeing a strong female character in a lead role, the character Agent Astrid Farnsworth is played by a sexy newcomer and out lesbian Jasika Nicole.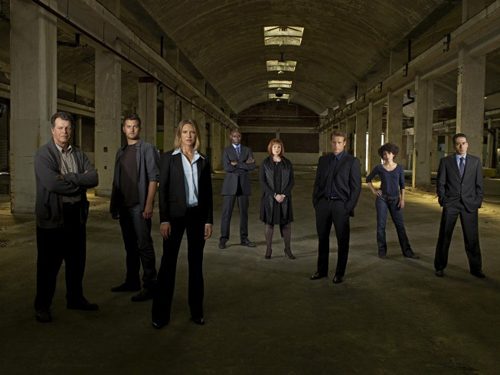 The New Adventures of Old Christine
Synopsis: The hilarious story of Christine, a 35-year-old divorcée, as she navigates her post-marriage life in dating, business, motherhood and general sitcom shenanigans. She's also the co-owner of a women's only gym with her best friend (and wife) Barb, played by Wanda Sykes.
Why we care: Umm, hello? Wanda Sykes—again.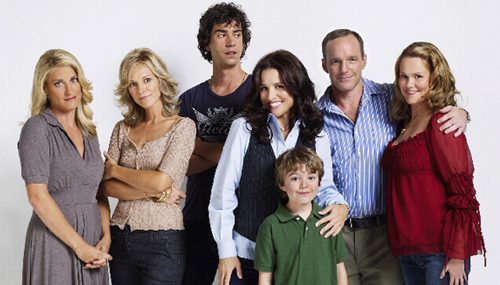 House M.D.
Synopsis: A brilliant but antisocial doctor, Gregory House, along with his crack team of fellow physicians takes on all manner of infectious and rare illnesses.
Why we care: You would have to be living under a pop culture rock not to be aware of the ethereal beauty Olivia Wilde, who portrays the bi-sexual doc Thirteen—some would even say she is mountain-ox-strangling-hot.
Heroes
Synopsis: Ordinary schmoes around the world suddenly discover they have superhuman powers. Some use their powers for good—others for evil.
Why we care: Rumor has it that this season Claire (Hayden Panettiere) a.k.a. the indestructible cheerleader is getting a lesbian storyline. Not since Natasha Lyonne hooked up with Clea Duvall in But I'm a Cheerleader have we been so excited about pompoms.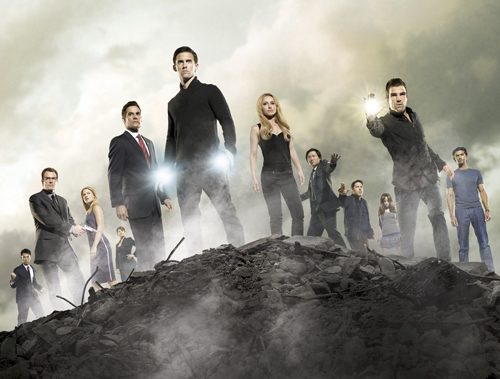 The Big Bang Theory
Synopsis: Theoretical physicists and socially inept roommates Leonard (Johnny Galecki) and Sheldon (Jim Parsons) get a new foxy neighbour named Penny (Kaley Cuoco). The series is chockablock with the very finest in geek humour and awkward romance.
Why we care: Besides being riotously funny, the series also stars out actor Sara Gilbert as fellow physicist Leslie Winkle. Gilbert consistently steals every scene with her patented dry delivery and ability to make geek-speak sexy.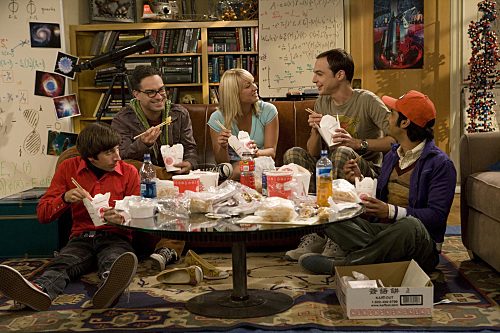 Criminal Minds 
Synopsis: A group of specialized F.B.I. agents beaded by Unit Chief Aaron Hotchner (Thomas Gibson) analyze the most heinous of criminal minds in an effort to stay one step ahead and prevent future crimes.
Why we care: Sassy analyst Penelope Garcia is played by out lesbian and all-around hottie, actor Kirsten Vangsness.

Grey's Anatomy
Synopsis: A hospital drama based on the professional, personal and romantic lives of several surgical interns. Each episode is packed with an abundance of life and death dilemmas—and even more, bed-hopping.
Why we care: One of the central characters, Dr. Callie Torres (Sara Ramirez) is queer and like the rest of the Grey's residents getting her (gay) groove on.
Dollhouse
Synopsis: A highly clandestine multinational company has developed the technology to create human dolls, people who have had their memories wiped and, through a very fancy laser light show, can become whoever and whatever you want, provided you have the money. However, Echo (Eliza Dushku) is slowly and secretly becoming self-aware.
Why we care: Along with the numerous fond memories we have of Dushku in leather from her time as Faith (Oh Buffy, why did you ever have to end?) the producers have hinted heavily that in season two there is going to be a lot more queer action.
The Simpsons
Synopsis: The most iconic animated family in history. Entering its 21st season, The Simpsons continues to tell the story of the family and their community's misadventures in Springfield.
Why we care: Patty Bouvier, sister of Marge Simpson, is without a doubt our favourite chain-smoking, gravel-voiced, MacGyver lovin', purple-haired dyke.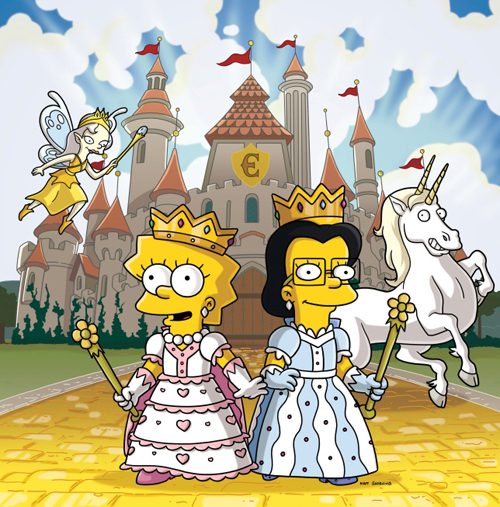 The Amazing Race
Synopsis: Racing around the globe and solving clues, 12 teams (typically made up of two people who by the end of the race can't stand each other) compete for a chance at winning $1,000,000.
Why we care: Rumor has it that one of the teams competing this season is a lesbian couple who perform in Cirque du Soleil. Hot!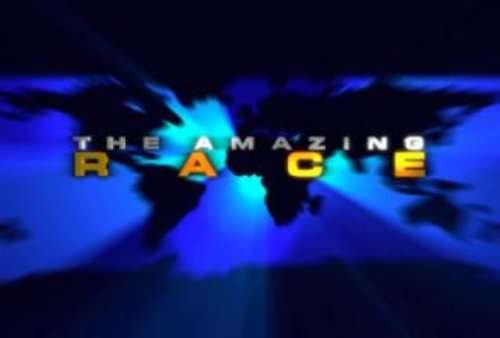 Stargate Universe
Synopsis: In the most recent Stargate spin-off, a team of explorers hop through the stargate wormhole and onto an unmanned spaceship called Destiny. The only problem is that somebody left the Destiny on autopilot and the team is stranded on the ship, leaving behind everyone and everything they knew.
Why we care: Camille Wray (Ming-Na) is a big 'ol lesbo who leaves behind a wife on Earth when she is marooned on Destiny. Let's just hope she takes a cue from Captain Kirk and finds herself a few nice green girls.

Three Rivers
Synopsis: Three Rivers is the story of organ transplants from three different perspectives: the donor, the recipients and the medical team responsible for the procedure.
Why we care: Hello Shane! That's right, Three Rivers stars none other than the queen heartbreaker herself, Katherine Moenig. Now that's what I call primetime.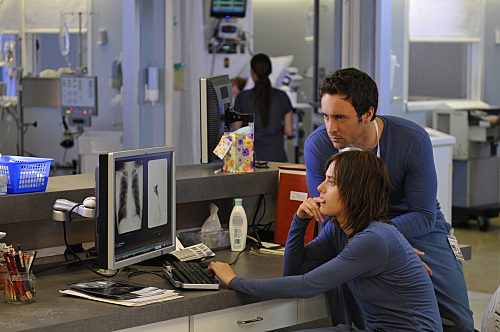 30 Rock
Synopsis: Liz Lemon (Tina Fey) is the head writer on a skit series, The Girly Show. Surrounded nutcases like a boss (Alec Baldwin) that thinks writing starts with the catchphrase, a loose cannon comic (Tracy Morgan) and an attention-hungry starlet in decline (Jane Krakowski), Lemon just tries her best to keep it all together and not go bonkers herself.
Why we care: Oh Tina Fey, we know you like boys, but we firmly believe that if we love you enough, someday you'll see the error of your ways. Not to mention, your show is brilliant and hilarious.


Spartacus: Blood and Sand 
Synopsis: Spartacus, the most famous gladiator ever, is captured and forced into the arena to participate in ancient Rome's favourite blood sport. The series promises to be chock full of gladiatorial matches, blood, guts, revenge, and—if the trailer is to be believed—lots and lots of gay girl action.
Why we care: Getting in on all this lesbian lovin' is none other than the warrior princess herself, Lucy Lawless. While her patented high kicks don't appear to be in residence, she is sporting some fiery new locks—and the girl can seriously wear a toga.

Better off Ted
Synopsis: Back for a second season this dry, clever comedy is about Ted Crisp, a Veridian Dynamics employee struggling with a serious case of ethics in a very unethical company.
Why we care: The series stars everyone's favourite blonde bombshell lesbian, Portia de Rossi, as Ted's humourless (and therefore hilarious) scruple-free boss, Veronica Palmer.