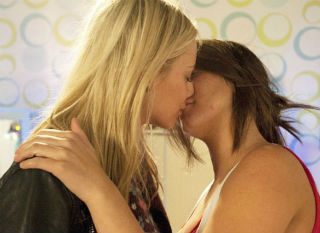 Fandom is generally ignited through the intense and dynamic relationship between two characters in a TV show or Film.
Romantic subtext and "shipping" are obviously a big part of why people are drawn to certain Fandoms which is why there are hundreds of lesbian 'canon' fan fiction stories and videos made about 'real' pairings.
Still, there is nothing more tempting to a fanfic writer or a videographer than to feed the frenzy of 'Non-canon' pairings featuring characters who are not actually 'together'.  We at LOTL Magazine want to build a home base for this fan fiction and videos.
Sian is introduced as Sophie's love interest, and they start out as schoolmates.
They become Coronation Street's first lesbian couple after a first kiss that as most of us know is unlike any other. Like with all 'young women' the pair have their love troubles, with initial rejection from Sian, but then to move onto an engagement. There is a near cheating scandal and that is what has the power to make or break a relationship.
Wrecking Ball