We take a look at the high-octane guilty pleasure, with a lezzie twist.
If you like smoking hot gay women with guns, trucker mouths and a disdain for the law—and really, who doesn't?—then you're in for a treat with Bitch Slap, a guilty pleasure available on Apple TV
The premise is simple. Set on a desolate stretch of highway, the film stars three diabolical dames with a baddie hostage in tow who are on the hunt for a buried fortune in diamonds. The story unfolds through a series of flashbacks, progressively uncovering secret motivations, plot twists and betrayals. It's a modern post-feminist homage to the sexploitation films of the '60s, and the result is a film that is equal parts Faster, Pussycat Kill! Kill! and Kill Bill. Girl fights, gun fights, water fights—it's all here. And, best of all, it's all seeped in Sapphic seduction.
Erin Cummings (Dante's Cove, Spartacus: Blood and Sand) steps into the role of Hel, the pinup-styled ring leader of the gang and brains of the operation. America Olivo (Friday the 13th) stars as the drug-fueled muscle, Camero, a murderous, lusty dyke  who loves hard and kills on a whim. And Julia Voth makes her feature film debut as Trixie, the bait—a stripper with the heart (and vajajay) of gold. The three are introduced to the audience as they exit their vehicle, the camera focused squarely on a trio of ample bosoms.
It's this focus on their (admittedly lovely) forms that has lead to some feminist backlash about the film's overt ogling of its cast. But make no mistake—the women of this film rule the day, both as heroines and villainesses. Boys make brief appearances onscreen periodically to move the plot forward, but are quickly eschewed (or bumped off) to make way for some more girl-on-girl action of both the loving and pugilist variety.
Speaking of which, the film boasts a number of ferocious yet firmly PG-13 lezzie love scenes that, despite their lack of nudity, still manage to be fiercely sexy. And when the loving stops, and the bitch slapping begins in earnest, that's when things really heat up.
It's thanks in no small part the woman behind the choreography, stunt maven Zoe Bell (Xena: Warrior Princess, Kill Bill). Having a female behind the scenes is a boon for the film, as her touch makes for uniquely feminine fight scenes; a mixture of grace and hair-pulling, boobie grabbing, crotch biting brutality.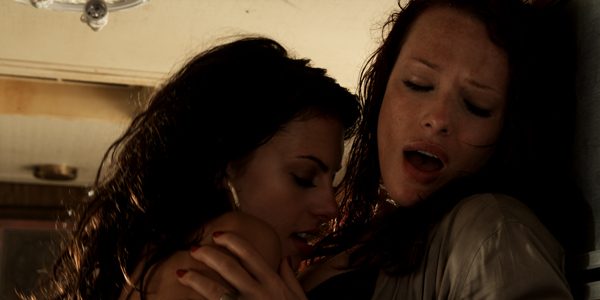 Pulling off this level of hand-to-hand combat believably is no small feat. Olivo is both comic and menacing in her part and Voth fulfils her role well, although admittedly a large part of it is posing, looking alternately demure and aghast. But it is Cummings who really shines in her role as the no-nonsense, badass bombshell. Whether she is handling the ladies or a hand cannon of a firearm, she does it with a flair that leaves us hoping for a lot more screen time for her character in the next two films of this proposed trilogy. 
Making a hilarious, be-habited cameo, Lucy Lawless and Renee O'Connor reunite as Mother Superior and Sister Batrill. And even Hercules himself, Kevin Sorbo, pops in to curb your craving for the fantasy series of yester yore. 
Bitch Slap is by no means a great film, and it was never meant to be.
The dialog is salty, the women are overtly sexy and the plot is very, very thin. But it does succeed in being precisely what it set out to be, a fun, fluffy, tongue-in-cheek actioner. Cartoonish and cheeky, Bitch Slap is a very guilty pleasure, heavy on both the guilt and the pleasure.