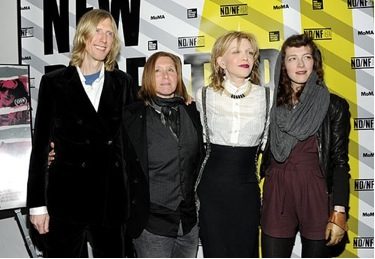 Patty Schemel is excited about her upcoming gig at the Ford Amphitheatre in Hollywood, following the Outfest screening of her documentary film, Hit So Hard: The Life & Near-Death Story of Patty Schemel.
I would think she's excited just to be alive.
Hit So Hard is a journey through drugs, sex and rock 'n' roll with a view from the drummer's seat. As stickmeister for Courtney Love's band Hole in the early 1990s, Schemel's memories and home videos offer a backstage pass to a gritty, glorious time on the grunge scene.
"When I was shooting all of it, it was my way of doing a journal," says Schemel, from the home that she now shares with her wife and baby daughter in the artsy Silverlake area of Los Angeles. "Parts of it are just tons of shows shot from the side of the stage or from behind me; there's like hours of that footage as well. Like something only I would be interested in seeing."
Um, some others are interested as well. The images of Kurt Cobain, Courtney Love and their daughter Frances Bean have never been released before, and the story of Schemel's success, self-destruction and survival are entertaining, engaging and horrifying. All of Schemel's surviving bandmates (bassist Kristin Pfaff died of a drug overdose just weeks after Cobain's suicide) are interviewed in the film.
It's shocking that despite Hole's popularity, for a while Schemel's drug affair left her living on the pee-stained streets of Los Angeles. But the film is not overtly a cautionary tale, nor does Schemel offer any apologies for her behaviour. She has merely allowed the filmmakers to show a brutally bare picture of her life and near-death through her own words and images.
Putting the images out there was "a little scary," Schemel admits, because some of it is "sensitive, private stuff." In March, who knew what to expect at the premiere at New York's Museum of Modern Art?  "It was pretty intense," Schemel recalls. "But everyone was so supportive—the gay community, a lot of people in recovery, as well. And then also there's the typical Hole fan that loves to see all the footage and all the archival stuff."
Schemel's wife, Christina Soletti, is a TV producer and has a producer's credit on Hit So Hard. "She's amazing at her job," says Schemel, adding with a laugh, "I didn't know exactly what she did until I saw her work on this film."
While her life now centres around her family and a dog business, Schemel still struggles with the pangs of addiction. I asked Schemel if her sexuality had anything to do with her substance abuse. "I used to think growing up that I drank so much because I was gay," she says. "But that was just another excuse to continue drinking or whatever. I'm sure when I was a teenager it was behind some of my drinking and stuff but you know, it's not the reason why. "I believe it's in my DNA. I'm just that person that can't put down a drink or a drug after I have one."
Schemel plans to tour with the film and experience everything through the eyes of her daughter.  And of course, music is still a part of her life. She volunteers for a drum camp for girls and plays in a band with her brother Larry, called Green Eyes.
"At the beginning of the film when we were going through all the footage and stuff [in 2007] I didn't want to play music, I didn't want to be in a band, I didn't want to do anything," Schemel admits. "But slowly over the years, I've just gotten back to the beginning, you know? Like I said in the film when it was just about playing music and fun."