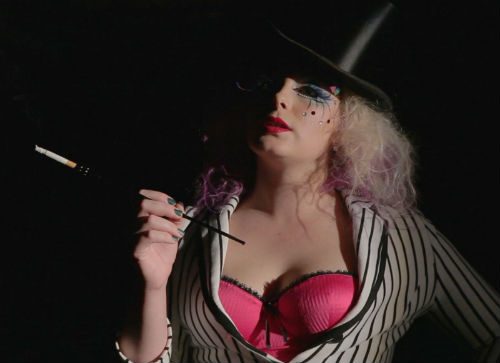 Exploring the cultural conflicts with sex and love in Lauren Batschowanow's film
Young Sydney female filmmaker, Lauren Batschowanow, has been accepted into two prestigious international film festivals with her cabaret and burlesque styled feature film, True Face.
The film has been given official selection at both the Illinois International Film Festival in Westmont, the USA for its world premiere in May 2015 and the Female Eye Film Festival in Toronto, Canada. Lauren will be travelling to Canada in June 2015 to take up an invitation to join the directors round table and associated panels at the Female Eye Film Festival.
"I hope to pave the way with an innovative style of film which entices both mainstream and underground audiences to appreciate cinema together," Lauren said. "Burlesque is experiencing a strong reprise. Both women and men are enjoying the comical and intelligent entertainment presented in burlesque, especially when it explores and presents the human body in such a raw and entertaining way."
Lauren is a professional performer and filmmaker and has credits as an actor/singer/dancer as well as writer/director/producer. Her background and experience in artistic expression began early on in her life.
Her grandmother, Norma Butler De Berry was an ice skater in the international touring show, Hot Ice and she later met Lauren's grandfather. Both performed in the musical Bells Are Ringing in 1963. Lauren's mother had the privilege of studying at The Conservatory Actors Studio in Sydney for four years with Lionel Long, OAM, one of Australia's most successful and popular artists during the 1960s and 1970s.
He studied with an acclaimed acting teacher, Stella Adler and was known for his work on the popular television program Homicide. Lauren's father, Alex Batschowanow, has been part of the Australian entertainment industry as a musician, in multiple rock groups during the 1980s, and made the transition into acting over the last decade. His credits include The Chronicles of Narnia: The Voyage of the Dawn Treader, the Australian feature film Sisters of War and the popular television series Sea Patrol.
Given this exposure, it was little surprise when Lauren directed her first play at the age of 12 years old, and later at the age of 16 when she directed a remake of Shakespeare's A Midsummer Night's Dream and simultaneously played the lead role of Titania. Since then, she has spent the following 12 years writing, acting, directing, and producing in a variety of film and theatre productions.
Lauren grew up in the western suburbs of Sydney with a single mum, on a low income while attending a lower socio-economic school and was informed by her careers advisor that she would not be accepted into university.
Thankfully, Lauren was convinced by her drama teacher to attend TAFE to pursue performance and auditioned for the musical theatre course at the Contemporary Music Centre in Quakers Hill, where she studied with the talented actor and voice coach, Sarah Matthews and musical theatre director, Stephen Helper, who conceived one the top 30 longest-running Broadway shows of all time, Smokey Joe's cafe. Upon graduating with distinctions, Lauren auditioned for the Bachelor of Performance course at the University of Western Sydney (former theatre Nepean) and upon acceptance, she moved out of home at the age of 19 to survive independently while studying and working.
In 2009, after her graduation, Lauren founded Russian Doll Productions, a film production company with an emphasis on thought-provoking and aesthetically intriguing projects.
Although she received common feedback that it was not possible to make a feature film without private funding or organisational support, Lauren began devising the story for True Face. In 2011, she had her script co-written with writer/actor/director Christopher Price and began rehearsing with the cast in 2012, while working full time in a corporate sales position. Later that year, Igor Shmaryan joined Russian Doll Productions.
Igor is a film producer with almost a decade of experience in the industry, and the collaboration between Lauren and Igor has continued since.
In 2013, after post-production of True Face, Lauren's special focus on cabaret and burlesque culture, lead her to pursue the art as a performer and has since adopted the pseudonym Lady DeVine while expressing or performing this genre of entertainment.
Currently, Lauren is overseeing the production of the feature documentary, Pasty Poppers!! Revealing the Roaring Burlesque Scene in Sydney, where she has had the privilege of recording and interviewing Australia's top burlesque performers including Kelly Ann Doll, Bullseye Billy, Glitta Supernova, Alyssa Kitt, Betty Grumble, Australia's burlesque queen, Imogen Kelly, and many more.
Lauren is also in the development stages for the feature film Resplendent Fatales, tagged as a burlesque murder thriller slated for release in 2017.
"My message to young people is to visualise your goals, work hard towards them, stick to your guns if anyone tries to sway you, and remember to have fun because you never know when your time on earth will be complete."
True Face highlights the fact that we as human beings tend to wear a mask to get through life. The film centres around main characters that show this with their varied circumstances. One particular character, Ali, is gay but struggles to come out due to his family's religious background and culture.