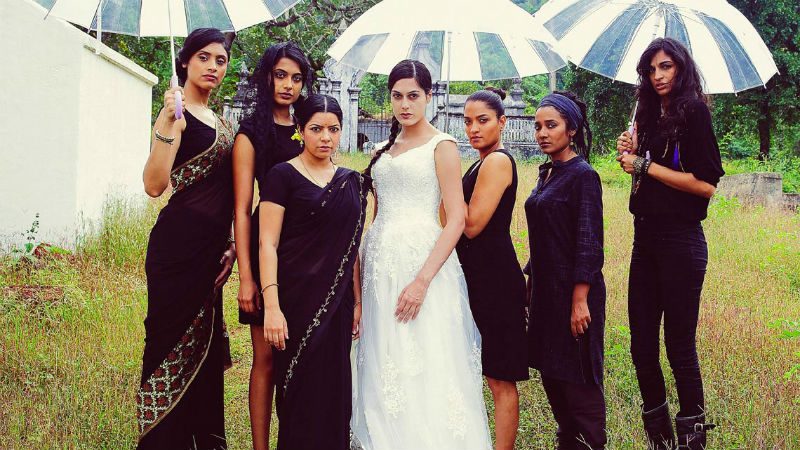 This year the festival will feature 14 LGBTIQ films.
The 2016 Sydney Film Festival has finally arrived and brought amazing feature films and documentaries.
With over 300 screenings of 244 titles from 60 countries, there's bound to be plenty to suit every taste and interest.
This year's festival includes 14 LGBTIQ films and queer cinema never looked quite so diverse. This year's program will be the biggest ever of films exploring the lives of LGBTIQ people all over the world.
LOTL readers might find interesting three films Angry Indian Goddesses, Lovesong, and Princess Shaw. Read more about the films below!
Angry Indian Goddesses
Dubbed India's answer to Bridesmaids, this female buddy movie from acclaimed director Pan Nalin presents a refreshingly frank portrait of women in India today.
Ahead of Frieda's pending nuptials, a group of her closest friends gather to catch up on lost time at her beachside home in Goa. The diverse bunch includes a singer, photographer, actress, activist, a trophy wife and a businesswoman. Their conversation flows freely and jubilantly, leading to revealing and often hilarious discussions that span everything from sex to gender politics to the handsome guy next door. That is, until an incident threatens to break their newly formed bond. An audience favourite at the 2015 Toronto International Film Festival, Angry Indian Goddesses is a riotous, genre-bending gem that explores the pressing issues of gender and sexism in contemporary Indian society.
Lovesong
Indie darling Jena Malone and rising star Riley Keough shine in this exploration of the ambiguous close bond between a lonely soft-spoken woman and her free-spirited friend.
Neglected by her husband, Sarah (Keough, Mad Max: Fury Road) embarks on an impromptu road trip with her young daughter and feisty college friend Mindy (Malone). After an alcohol-infused heart-to-heart, a long unspoken intimacy emerges between the old friends, but circumstances force them apart. Years later, Sarah attempts to rebuild their intimate connection in the days before Mindy's wedding. Filmmaker So Yong Kim (For Ellen, SFF 2012) skilfully uses naturalism and minimalism to capture the intimacy and express unspoken, sometimes unformed emotional truths in this film. Summoning beautiful performances from her actresses, she has crafted a bittersweet, elliptical love story about muted desire and the grey areas that can define a relationship.
Presenting Princess Shaw
An unlikely viral sensation is born when YouTube mash-up artist Kutiman encounters a troubled New Orleans singer in this uplifting documentary from Israeli director Ido Haar.
By day, Samantha, a.k.a. Princess Shaw, works in an old people's home. By night, she writes, records and posts songs on the Internet. Her heartfelt unaccompanied lyrics reveal a difficult past and an uneasy present. In Israel, a musician called Kutiman specialises in creating collages of YouTube videos by unknown artists. Impressed by Princess Shaw's big voice and candid videos, he decides to use her in his next remix. Unaware of Kutiman's interest, Princess Shaw happily goes along with Haar's explanation that he's making a film about internet performers. When he captures the moment Princess sees Kutiman's interpretation of her song, we know her life is about to change.
For more information, full schedule and tickets, click here.