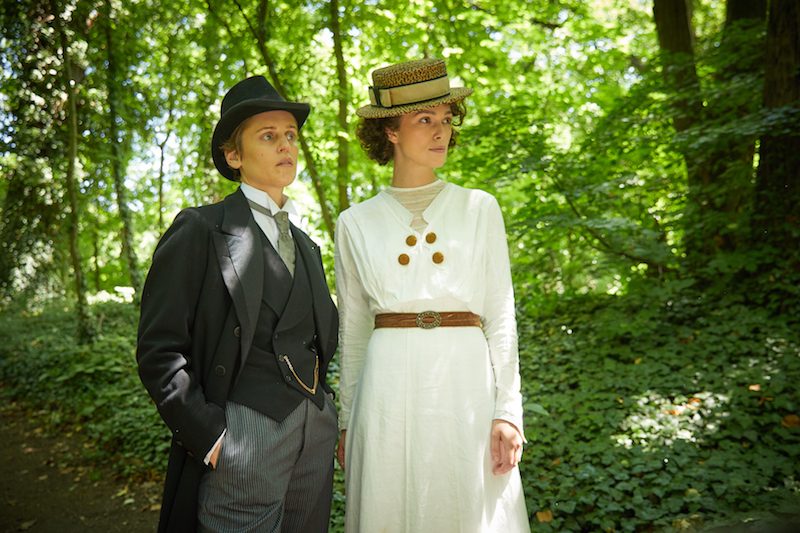 Ever since I can remember, the French author Colette has had an aura of queerness about her.
She put female protagonists squarely at the centre of her narratives in bestselling, internationally famous books such as Gigi, but to what extent was she actually a lesbian, bisexual or queer?
A new biopic lays some of it out for us. Colette, set against a picturesque backdrop of rural France and glittering Paris at the turn of the last century, is a rich and witty biography that answers that question and more.
Sidonie-Gabrielle Colette is an unpretentious, independently-minded farm girl who, when we first meet her, is already in a clandestine relationship with an older man by the name of Willy. Her mother (played by Fiona Shaw) is supportive and wise, but they both know that women's rights are non-existent and the standard of living for females almost certainly depends on men—if not the girls' father, then the man who chooses to marry her. Colette has no dowry and therefore is pretty much worthless beyond her physical charms.
This is why Sidonie-Gabrielle Colette's marriage to Henry Gauthier-Villars, AKA "Willy," effectively begins her adult life and the plot of the movie. Willy, a popular author/dandy/con man—he considers himself a "literary entrepreneur"— involves Colette in his Parisian "factory" of writers and, desperate to churn out content, milks her for tales of her frisky schoolgirl adventures. These are published under his own name as the "Claudine" series, which sell out and become a sensation in Paris.
The couple begins to attract attention and receive money and notoriety but with Willy always taking credit and burning through their earnings—even though he is, essentially, dependent on his wife's penmanship for his own status. He begins to womanize, too, and while Colette is shaken by his betrayal she eventually gets over her jealousy to realize that she is also attracted to women. More important to Colette is that Willy's betrayal is professional and financial—it becomes imperative to her selfhood that she publish work under her own name.
The film also reveals that Colette was somewhat of a polymath. Not only could she write prolifically, she was also a performance artist, experimenting in mime, and producing avant-garde stage works with her female lover. These "wild days" of fin de siècle Paris are bold, bittersweet, and in some ways the beginning of first-wave feminism.
As Colette, Keira Knightley portrays the author as a woman seeking female empowerment before it was understood to be something that women could or should have. As an actor, ever since her early role in Bend It Like Beckham, Knightley has balanced the potency of femininity with androgynous energy that matches the most accomplished male actors—and Colette is no exception. Knightley is an elegant, angular Colette—not the voluptuous, earthy, bawdy exhibitionist Angela Carter describes in her 1980 essay appreciating Colette's many talents and lives. She went on to have three marriages as well as belonging to the lesbian demimonde of the day.
It's a relief that we don't have to suffer a trio of male spouses. Willy (Dominic West) is more than enough—a bombastic, flamboyant bore, and it's a pleasure to see Knightley go toe to toe with West—and shine in her scenes with other women, too. It's just a pity she doesn't get to do more of them. A lot of screen time is spent with Willy and Colette wrangling over her authorship and independence, and this is perhaps influenced by the writer-director team—Wash Westmoreland and the late Richard Glatzer—who also shared a creative partnership. Sadly, it was Glatzer's dying wish to create Colette, and that dedication shines through in the production.
Writing as a lesbian, I would have enjoyed more time spent on examining why Colette was openly attracted to women at a time when this was mostly taboo, and how her sexuality spurred her to become more confident in her authorial voice as well as her authority. After all, she did become France's leading female author—and surely one of the first mononymous celebrities.
Nevertheless, Knightley seems to have found her stride with the support of the LGBT clued-in crew (producers include Christine Vachon and Elizabeth Karlsen who brought us Carol, and screenwriter Rebecca Lenkiewicz—she contributed to the screenplay written by the director Westmoreland and his husband Glatzer—also worked on Disobedience).
It's admirable that Colette deals with the lesbian scenes without titillation and with absolute frankness. Colette's carnal attraction to American-heiress-in-Paris Georgie Raoul-Duval (Eleanor Tomlinson) is immediate and direct. The scenes between Georgie and Colette are sensual and intense. Colette is later drawn to the cross-dressing aristocrat Mathilde de Morny (Denise Gough)—aka Missy—with whom she shares the first-known same-sex kiss on stage, scandalizing Paris. Missy provides Colette with real encouragement in her abilities, and they go on to have quite a long relationship (according to the end credits of the film), which I found myself wanting to know more about.
So, all in all, it's a satisfying cinematic experience. Is a little less Willy and a bit more Missy too much to ask? Since I'm taking a page from Colette's book of life, I like to think not.