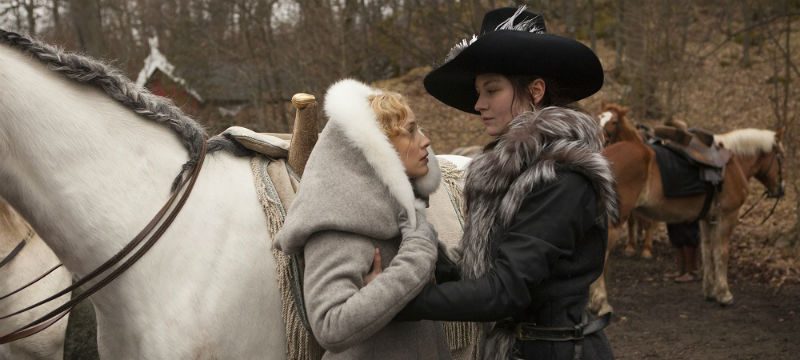 An absolutely jam-packed list of LGBTIQ stories across the whole spectrum.
A great list of LGBTIQ stories across the whole spectrum from fantastical feature films to raw documentaries and promises to make audiences laugh, cry, think, be inspired and engaged.
Summertime
France 1971, Delphine lives a hard-working life on her parents' farm in Limousin.
Striving for independence and something more, she packs a suitcase and heads to Paris.
A chance encounter on the street with Carole sees her quickly join a group of feminists as they battle the patriarchy during the dawn of feminist activism in 1970s Paris. Enthralled by the charismatic Carole, the chemistry between the pair is palpable as Delphine is surprised to discover that Carole has life in boyfriend, Manuel.
Undeterred she takes a chance that changes the course of both of their lives forever.
Addicted To Fresno
Shannon (Judy Greer, Grandma) is a foul-mouthed, self-centred sex addict, while her sweet-natured lesbian sister, Martha (Natasha Lyonne, Orange Is the New Black) only wants to help.
After being booted out of rehab for sleeping with her therapist, Shannon begins working alongside her sister as a maid at a tacky motel in dead-end Fresno. When Shannon sleeps with – and accidentally kills – a motel guest, the sisters enter into a series of bizarre situations as they try to cover up the man's death.
The Same Difference
Putting a much-needed spotlight on the black, lesbian and bisexual community, this US documentary explores the internalised homophobia, misogyny and complex gender roles that are prevalent amongst black, queer women.
Feelings Are Facts: The Life Of Yvonne Rainer
In 1962 a maverick band of choreographers formed Judson Dance Theater. They threw the dance world for a loop, introducing running and walking, screaming, and strange arrhythmic movement into a discipline that had for so long been confined by tradition. Their leader was the defiantly deviant Yvonne Rainer.
Liz In September
In her first film since coming out of the closet, the beautiful Patricia Velásquez (The L Word, CSI: Miami) plays Liz, an aloof, soft-butch heartthrob who is used to getting her way with the ladies. Eva (Eloisa Maturen) is a heterosexual mother mourning the loss of her son. When Eva's car breaks down close to Liz's home – a coastal sanctuary for lesbians near the Venezuelan Archipelago – Liz's challenge is set and their fates entwine.
Portrait Of a Serial Monogamist
Elsie is a sassy TV journalist in her 40s, who prides herself as an expert on the quick and easy break-up. After breaking things off with long-term girlfriend, Robyn, she fears she might be a 'serial monogamist', and her friends bet she won't last five months being single.
Game Face
With marriage equality proudly earned in the States, and hopes that Australia is not too far behind, queer communities are looking to new arenas in which to fight for equality. At this turning point for LGBTIQ rights, this fast-paced documentary about LGBTIQ people in American sport could not come at a better time.
Game Face, directed by Michiel Thomas, follows the lives of Fallon Fox, a determined lesbian woman of colour and the first transgender Mixed Martial Arts fighter, and Terence Clemens, a young gay man and college basketballer negotiating coming out to his teammates as he tries to follow a career in professional sports.
Barash
Often compared to Blue is the Warmest Colour, Barash is one of the best lesbian coming of age dramas in recent years. It opens with Naama, a bored teenager in small-town Israel, living with her authoritarian father and well-meaning mother. Family life is turbulent, particularly after her sister – a military secretary – goes missing again (it turns out she's eloped with her Arab boyfriend – another issue to raise their father's blood pressure). School is a repetitive, empty place where students spend most of their time sucking down cigarettes outside.
Naama escapes all this by going to dance parties and getting stoned. Her apathetic rebelliousness gets raised to a whole other level when the self-assured Dana turns up. A grittier version of the Manic Pixie Dream Girl, Dana introduces Naama to Tel Aviv's lesbian clubs, real drugs and kissing girls.
Girl Gets Girl
From Sonia Sebastian and the creators of the highly successful Spanish web series Girl Seeks Girl(Chica Busca Chica) comes this absolutely hilarious romantic comedy starring Celia Freijeiro (Chica Busca Chica) as Ines – the entirely hopeless-in-love stud who leaves a web of broken hearts and sexy encounters when she jilts her pregnant fiancée Verónica (Cristina Pons, Chica Busca Chica) and flees to Miami. Ten years later and finding herself in another elaborate mess she can't babe her way out of, Ines decides it is time to return to Madrid to face all that she has done and to finally tell the one that got away – Lola (Sandra Collantes, Lavapiés) that it is now or never. Or is it?

The Amina Profile
This compelling documentary reveals the spellbinding, true story of the blogger, Amina Abdallah Arraf al Omari, a Syrian-American lesbian. Amina's blog, A Gay Girl in Damascus, grabbed international headlines in 2011 as Amina began reporting on frontline events from the uprising in Syria. When she went missing shortly after gaining recognition, her situation only became more bizarre.
Raven's Touch
Desperately trying to make sense of the cruelties of life Raven (Dreya Weber) assertively secludes herself in her forest cabin in an attempt to heal. By surrounding herself with nature and refusing all attempts by an old, dear friend to return to the world, Raven appears to be closer to a mental breakdown than recovery.
The Firefly
Lucia and her brother Andres were inseparable until he left her alone at a most challenging time. Now estranged for two years, Andres reaches out to Lucia on his wedding day only to be tragically killed on his way to confront her.
Shocked by his sudden passing and racked with grief and regret, Lucia falls into a spiral of despair. With an unsupportive husband who is more obsessed with his career than helping his grieving wife, Lucia finds herself drawn to Marina, her late brother's fiancée. The two women bond over their shared grief, recalling stories of the man they both loved. As they do, their connection grows deeper and feelings neither expected spring to the surface.
The Girl King
tells the story of the real-life Queen Kristina of Sweden a brilliant 17th-century monarch who fought the conservative forces of her court to modernize Sweden. Shocking the court with her refusal to marry, Kristina fell for her lady-in-waiting and names her as the Queen's bed companion.

Bare
Sarah's (Dianna Agron, Glee) life is as bland as the small desert town she's lived her whole life in. Working a dead-end job as a cashier at Super Town, hanging with friends at the local quarry on a Saturday night and feeling unfulfilled by her relationship with boyfriend Haden, she sees no end in sight to the boredom of her life. Suddenly, everything changes when she meets the enigmatic drifter Pepper (Paz de la Huerta).
Sarah is drawn almost inexplicably to the woman she finds squatting in her late Father's abandoned antique shop. The spontaneous Pepper piques Sarah's curiosity as she draws her into a world she never dreamed of inhabiting. Drugs, stripping, spirituality and sex break the cycle of boredom and open her eyes to the possibilities of life outside of her norm.