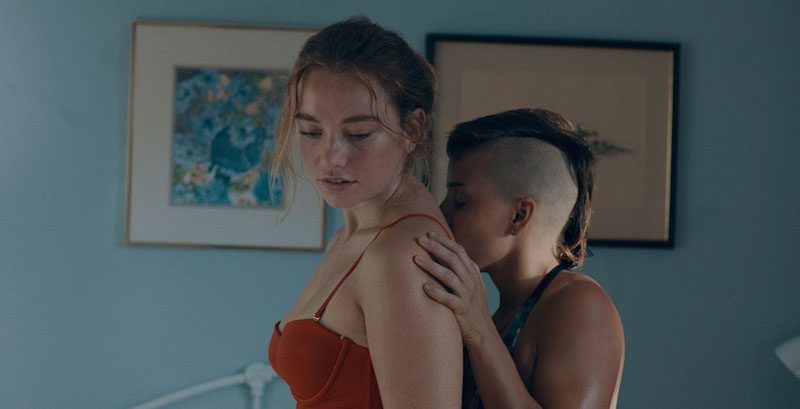 We love and support our gay male family, but let's face it, patriarchy doesn't stop when queerness begins, and the disturbingly lesser amount of lesbian representation compared to gay male representation speaks to that original binary inequality.
Lets check out our recommendations for 2017:
Seventeen
Austria; German with English subtitles
At 17, things can turn from carefree to catastrophe in an instant.
Especially love. Everything seems possible but nothing is certain in Monja Art's Seventeen (Siebzehn). Don't miss it.
SISTERHOOD

 
by Tracy Choi
Hong Kong, Macau, Taiwan; Cantonese with English subtitles
In this beautiful and genuine film (winner of the Audience Award at Inside Out – Toronto's Gay and Lesbian Film Festival), we follow Cici as she returns from Taiwan to Macau to mourn a lost friend, Ling, and reconnect with the past she has long left behind.
THE LAVENDER SCARE

 
by Josh Howard
USA; English with no subtitles
We often watch documentaries about the Stonewall riots and subsequent protests in the United States, however, rarely do we see the lead-up to this iconic turning point. This free seniors screening of The Lavender Scare aims to fill in some of these blanks.
CHAVELA

 
by Catherine Gund, Daresha Kyi
USA; English and Spanish with English subtitles
Winning the audience award for Best Documentary at Frameline, this film paints a portrait of a cigar-smoking, tequila-downing rebel and queer icon, Chavela Vargas.
PRINCESS CYD

 
by Stephen Cone
USA; English with no subtitles
From the director of Henry Gamble's Birthday Party, a new coming-of-age story about a teenager exploring her sexuality over an idyllic summer in the suburbs.
RESTLESS LOVE

 
by Vera Egito
Brazil; Portuguese with English subtitles
What's that saying? Relationships come and go, but friendships are forever. For the three protagonists in Restless Love, this saying bodes very true.
THE DEATH AND LIFE OF MARSHA P. JOHNSON

 
by David France
USA; English with no subtitles
Even if you already know of Marsha P. Johnson and fellow Stonewall veteran Sylvia Rivera, it won't stop you from being captivated by this examination of their lives and Marsha's untimely death in 1992.
THE FEELS

 
by Jenée LaMarque
USA; English with no subtitles