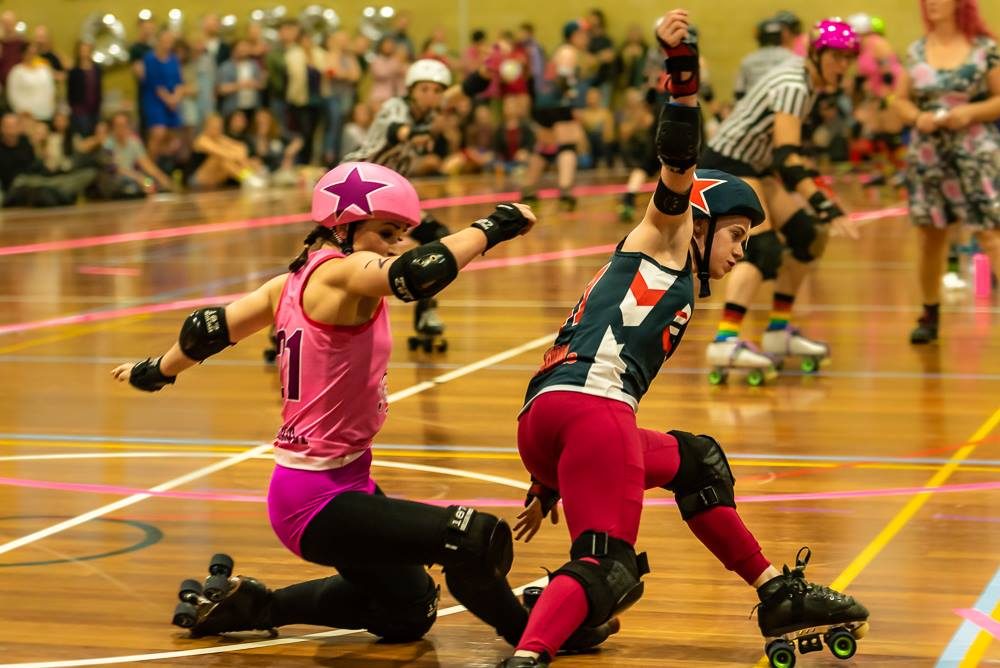 The fast-paced, full-contact sport of roller derby will be on full display with the return of Sydney Roller Derby League's annual Pride Fight for one night only, in collaboration with Sydney WorldPride.
This highly-anticipated sporting event will see four teams battle it on wheels – Rainbows vs Sparkles, followed by Butch vs Femmes. Expect glitter, glamour, sweat and big hits – but lots of on-track love and support.
Each team features a gender-diverse roster of skaters from national and international teams. As an official part of Sydney WorldPride, the event is expected to attract global audiences.
"Our League is proud to be able to hold such an inclusive event, which celebrates Pride in all forms. Roller derby is fast, chaotic and fun to watch and play. Still, it's also such an inclusive space for LGBTQIA+ people," says SRDL Diversity & Inclusion rep Kanami Watabe aka "Terrortoma" (They/Them).
"We've held Pride Fight for several years, and this year will be our best. This year's roster is fantastic, and we can't wait to showcase the talent amongst our skating community, especially as our first major bout since COVID-19."
SRDL's Pride Fight event will also feature a "Derby 101" introduction to help those new to the sport follow the action. The night will include wild outfits and wilder derby names, a fun festival atmosphere with community stalls from other queer and gender-diverse organisations, and a Street Hockey Roller Chix Club demo.
"If you don't know anything about roller derby, you can still enjoy Pride Fight," they said.  "Roller derby is a really fun sport to get involved with, and we have so many people in our community that put their hard work into these events, both on-skates and off-skates. We can't wait to show off our skills on the track."
SRDL's Pride Fight is officially part of Sydney World Pride and will be held on 17 February 2023. Tickets are available here