From 24 February to 5 March, Sydney's famous 'gaybourhood' streets will come alive with street dining, free performances and celebrations at Sydney WorldPride's festival hub, Pride Villages.
Free to attend thanks to funding from the NSW Government, Crown and Riley Streets will become home to daily stalls, dining and bars, with Crown Street, also hosting the Travel Proud Stage presented by Booking.com, featuring performances from local and international talent, including iconic Eurovision winner Conchita Wurst, self-love superstars Big Thick Energy and Australia's Queen of Cabaret, Trevor Ashley.
Conchita Wurst said: "I am so excited to be part of Sydney WorldPride and cannot wait to spread all the happiness that I already feel knowing that soon I will be back Down Under!"
On 4 to 5 March, the final weekend of Sydney WorldPride, Oxford Street, will be transformed into a street party to celebrate the 45th anniversary of Sydney Gay and Lesbian Mardi Gras. During both days of the all-ages Oxford Street Party, the American Express Oxford Street Stage will feature free performances by Australian talents, including Vassy, HANDSOME, Haiku Hands and Chela.
On the final weekend, a Community Hub will be open on Oxford Street. Run by community organisations, the hub will be a place for community members to engage and connect with a range of LGBTQIA+ organisations.
During Oxford Street Party, a Community Hub will open on Oxford Street for the festival's final weekend. The hub will be run by community organisations and will be a place for community members to engage with issues affecting the LGBTQIA+ community.
Minister for the Arts and Tourism Ben Franklin said the Pride Villages, funded by the NSW Government, would create hubs of joy, vibrancy and inclusivity where all were welcome to celebrate the largest Pride festival in the world.
"The NSW Government is proud to support Sydney WorldPride, and we welcome everyone to the Pride Villages to take the rainbow-coloured party to the streets for nine days of WorldPride," Mr Franklin said.
"Pride Villages will create a vibrant festival atmosphere, giving the 78,000 expected visitors to Sydney free and open spaces to gather, celebrate and enjoy the festival."
More than 20 local businesses – including much-loved shops and venues, the Riley Hotel on Riley Street, the Burdekin and Stonewall on Oxford Street, and High Heels on Crown Street – will be extending their footprint onto the street to allow patrons additional space to connect with friends and enjoy the vibrant atmosphere.
Lord Mayor of the City of Sydney, Clover Moore, said: "We have been working hard to ensure that the Oxford Street precinct is vibrant, accessible and active during WorldPride, including funding the Pride Villages program to help activate vacant Oxford Street shopfronts and adding colour with street banners, Living Colour floral displays and the beautiful murals on the northern side of Oxford Street.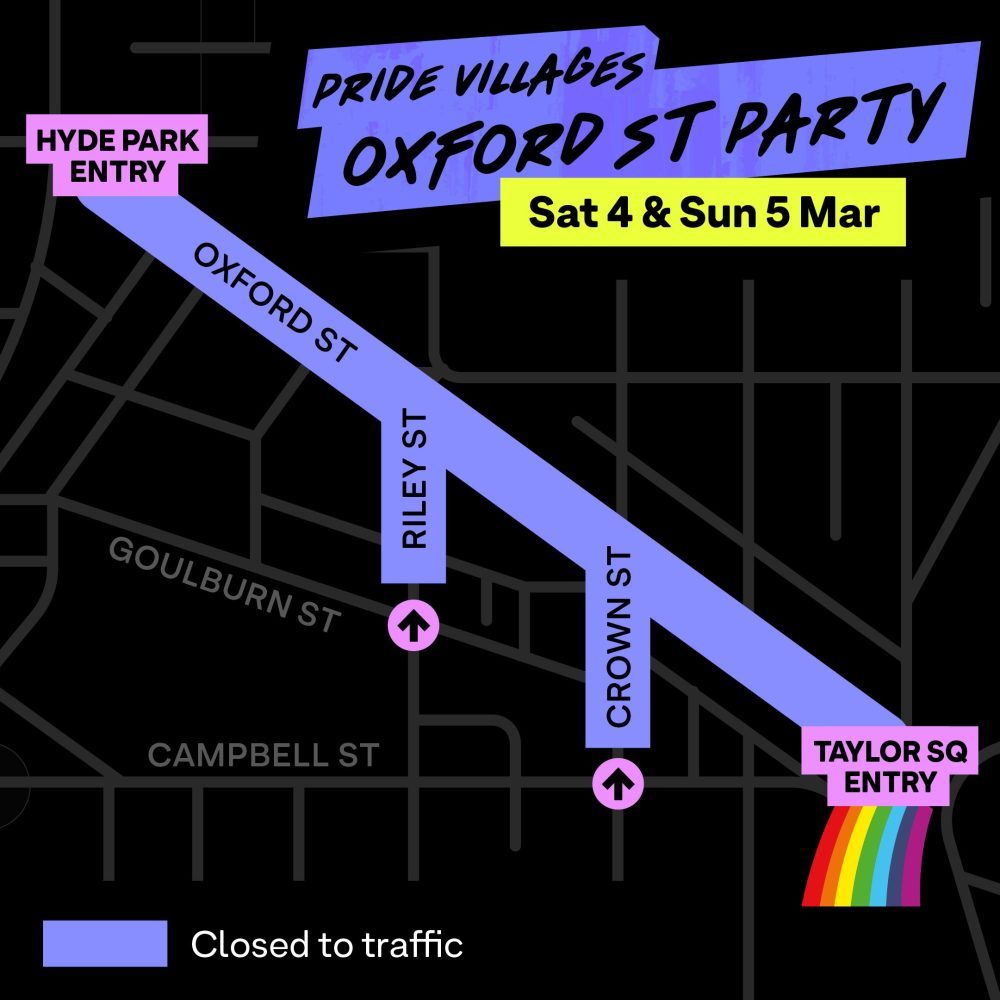 "We look forward to Oxford Street and surrounds buzzing with rainbow activity, especially the closure of Oxford Street for a two-day street party to mark the end of WorldPride."
On the final weekend (4 to 5 March), guests can visit the American Express Shop Small Village within Pride Villages, where 18 small businesses will showcase various products for purchase.
Additionally, Amex House at The Oxford Hotel will be open throughout Sydney WorldPride and the Mardi Gras festival period from Friday, 17 February to Sunday, 5 March 2023. Welcome to everyone; Amex House will have a schedule of events, such as drag performances, DJ sets and dance events.
Be sure to visit Amex House on the 28 February when complimentary MECCA MAX Express Makeovers will be offered. An iconic Australian talent will have a surprise performance in the evening.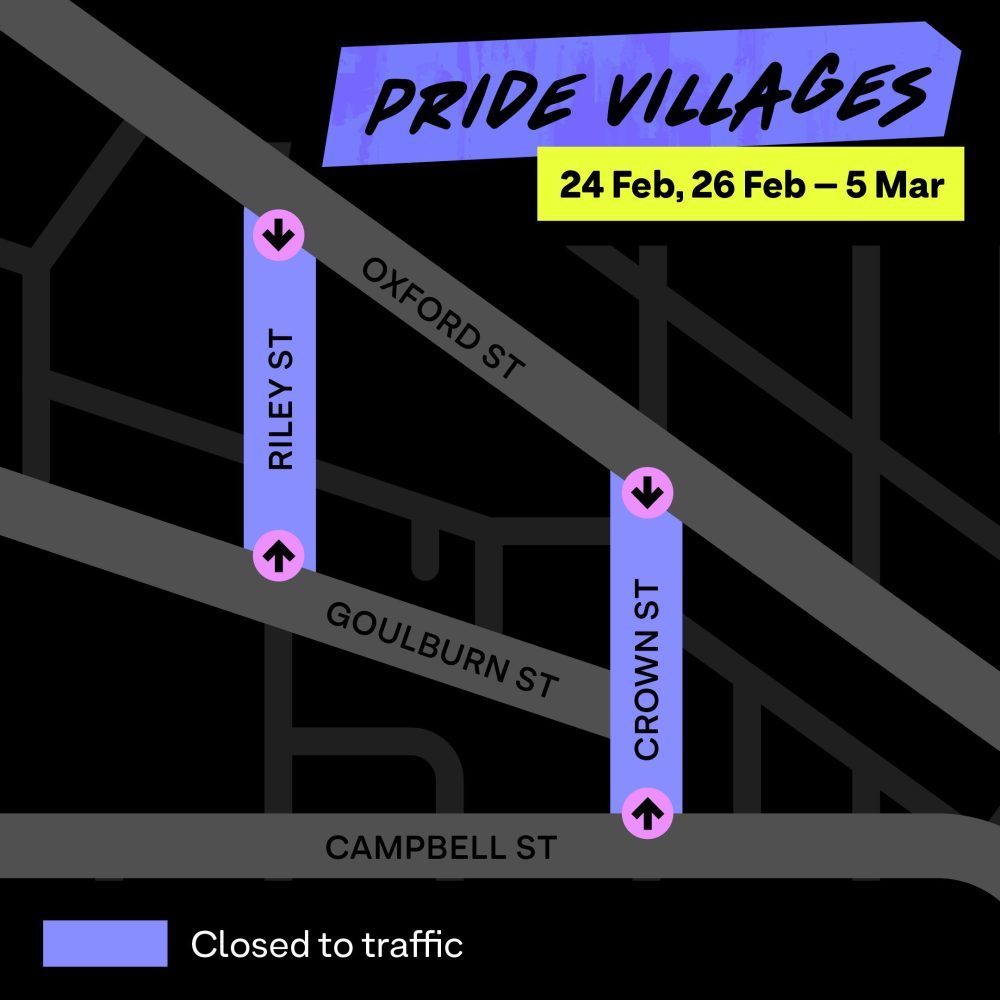 ROAD CLOSURES
During the nine days of Pride Villages, Crown Street (from Oxford Street to Campbell Street) and Riley Street (from Oxford Street to Goulburn Street) will be closed to vehicles, excluding 25 February, which is impacted by Mardi Gras Parade road closures.
In addition to the Crown and Riley Street closures, Oxford Street will be closed on 4 and 5 March for the Oxford Street Party (from College Street to the Taylor Square corner of Flinders Street).
OPERATING HOURS
Pride Villages are free to attend. No ticket is required.
Pride Villages – Crown and Riley Street
Friday 24th Feb – 3 pm-10 pm
Sunday 26th Feb – 10 am-10 pm
Monday 27th Feb-Thursday 2nd March – 2 pm-10 pm
Friday 3rd March – 2 pm-11 pm
Saturday 4th March – 12 pm-1 am
Sunday 5th March – 10 am-10 pm
*NOTE: Pride Villages will not be activated on Sat 25 Feb due to the Sydney Gay and Lesbian Mardi Gras Parade
Pride Villages – Oxford Street Party
Saturday 4th March – 12 pm-1 am
Sunday 5th March – 10 am-10 pm
For more information about the dates and times Pride Villages will operate, visit sydneyworldpride.com/events/pride-villages/.
For information about road closures, public transport services and changes during Pride Villages, visit www.transportnsw.info.
For live information about road closures and clearways information, visit www.livetraffic.com.