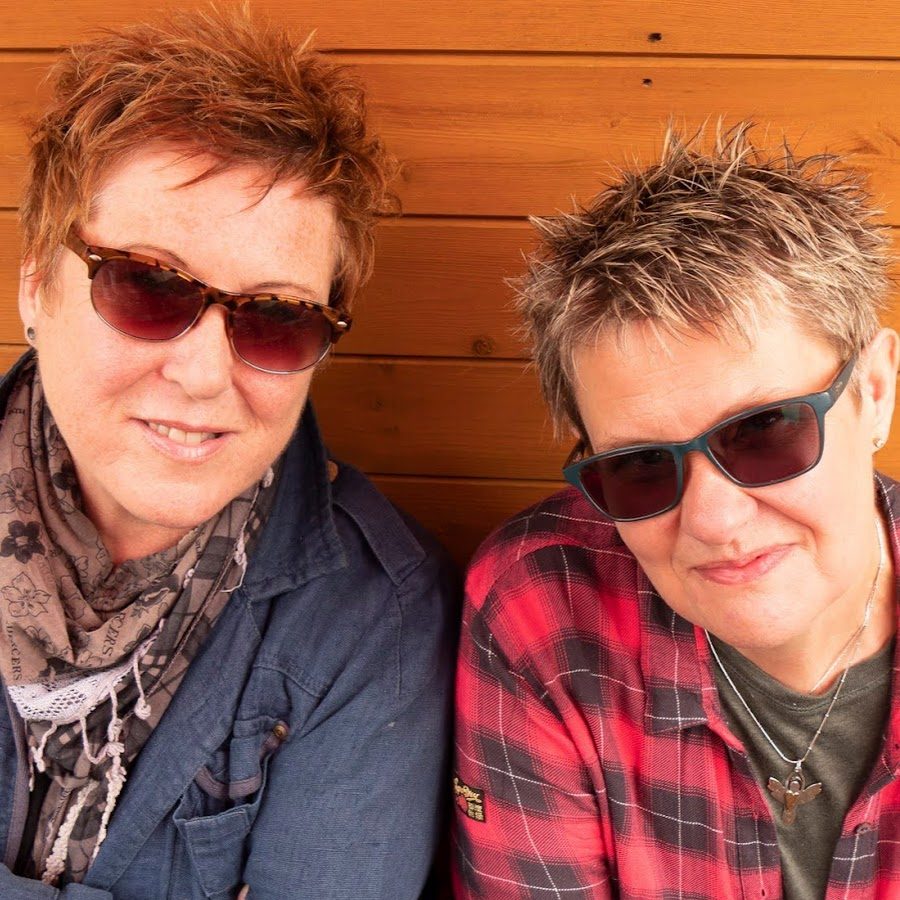 Crowned the 2018 Port Fairy Artist of the Year, "The undisputed queens of British folk duos, While and Matthews, continue to come up with the goods,1st class songs delivered with to die for harmonies, immaculate musicianship & melodies that lodge themselves in your brain.
They light up the room with their incredible energy.
In case Chris While and Julie Matthews have so far passed you by, they are the longest-lasting female duo in Britain. They have played over 2,500 gigs, appeared on over 100 albums, written hundreds of original songs and reached millions worldwide. Twenty-seven years after their debut, they sound as fresh and vital as ever.
Chris & Julie are generally regarded as folk/singer-songwriters, but their outlook is more akin to the DIY philosophy of punk.  Their story is remarkable, one of two empowered women doing it their way without compromise. They run their label and publishing company; record and produce their albums from their studio; perform all their material, and have always valued their complete autonomy and creative freedom. And all from a small village near Sheffield, nearly 200 miles north of the London-centric UK music industry.
Their songs are varied and colourful and draw inspiration from the overtly political to key social issues and real-life human stories.
While and Matthews have never sounded more 'them'. Even the cover of Their 2019 album Revolution Call is 'Chris and Julie' to its core – a thought-provoking piece of self-effacing agitprop.  And they're not kidding anyone that they are 16 years old (if you look closely, you'll spot the slippers!).
But, and this is important: there is nothing bland or saccharine about While & Matthews or their music.  They enjoy a healthy agitation after all these years. They are best friends, but they argue and disagree. Authenticity (individual and together) is a top priority. They have toured Australia and New Zealand bi-annually for over two decades, earning them their rightful place as festival headliners and building a following there as loyal as that in the UK. They are the longest-enduring female duo in Britain.
On the Record: Watch our 3-minute interview
Chris and Julie have a vision. They stick to it, and they do it right. Their story is inspirational to young women and empowering to older women in equal measure. Their 27-year career culminates the work of two women doing what they do best.  And to those ears, While & Matthews may be reaching for the first time – listen without prejudice, and join this celebration of longevity, equality, empowerment and commitment to the muse.
Listen to the full-length Interview
CresFest is choosing to celebrate women in the arts!
Joining First Nations iconic artist KUTCHA EDWARDS, and a stellar lineup of bands featuring strong female leads already announced:
WHILE + MATTHEWS (UK), CHARM OF FINCHES, KAVISHA MAZZELLA, AMI WILLIAMSON, THE WEEPING WILLOWS, BUSH GOTHIC & AUSTRAL.
CresFest, held in the beautiful Victorian town of Creswick, is a three-day multi-generational and inclusive celebration of music, art and culture. The festival sees the whole town throw open its doors and arms with contemporary folk and roots artist performances from some of the best local, national and international artists hosted across various locations – from gold-rush-era buildings and local pubs to cafes and outdoor venues.
Founded to celebrate the town of Creswick, its people, and the joy of music and dance, CresFest showcases artistic talent and the town's natural beauty. With core values of community, creativity and sustainability,
CresFest will be a welcoming hub of music, art and community programmed with our wide variety of audiences in mind.
Earlybird Round 2 tickets are now on sale. Limited availability. *Booking fees apply $160* Earlybird 2 Adult Weekend / $100* Earlybird 2 Youth Weekend / Children under 12 – free entry