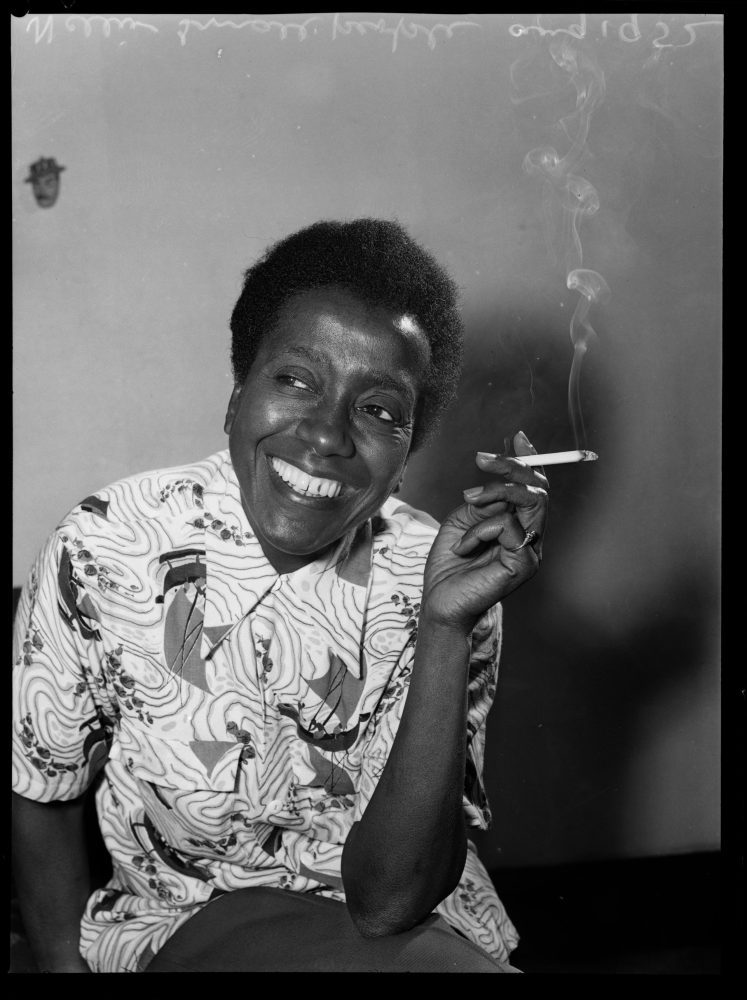 Feel like you've walked through the doors of jazz club Sammy Lee's in 1930s Sydney, where cross-dressing crooner Nellie Small jokes and flirts with the audience from the stage.
Discover the origins of the world's largest lesbian soccer club, The Flying Bats, in a 1980s Camperdown share house. Interact with a digital map of Sydney's lesbian sport and fitness culture and history. The State Library of NSW has an upcoming queer exhibition that's not to be missed.
For only the second time in its history, the State Library of NSW will host an LGBTQI+-specific exhibition, running throughout WorldPride and beyond from 18 February to 9 July. This one will be even bigger and more comprehensive than the last.
Behind those grandiose columns, Pride (R)evolution, a free immersive exhibition, will showcase untold stories that celebrate LGBTQI+ communities, featuring over 40 stories and 250 items from the library's growing collection of LGBTQI+ archives. It'll feature film, sound, news clips, posters, photography, clothing, and scrapbooks put together by queer curators.
Taking over the library's biggest exhibition space and also a section of its Amaze Gallery above the Mitchell Library, it's one of the most ambitious LGBTQI exhibitions ever staged in Australia.
"We set out to present some of the LGBTQI+ treasures from the State Library's extensive collection," co-curator Catherine Freyne says. "Excitingly, we're also to bolster that very collection itself by commissioning work from scholars, writers and artists within the community, so we can represent it as it exists now, in addition to showing its fascinating and under-reported history."
"We wanted this to be a reflection of queer and trans lives in Sydney and NSW today as well as being retrospective," she says.
Historically, visitors can learn about Nellie Small (1900-1968), an Australian vaudeville star and jazz singer who played with identity markers around both gender and race.
Queercrip artist and historian Robin Eames has curated a fascinating display of archival sources relating to gender non-conforming people in Australia between the 1860s and1930s, showcasing these trailblazers' resilience, character and humanity.
Many of the stories in the exhibition draw on the Library's collection of archives relating to the early days of this very magazine, Lesbians on the Loose. As Dawn O'Donnell, the proprietor of Sydney's first lesbian bar, told LOTL, she opened Ruby Reds because bouncers at the newly established Midnight Shift were turning women away at the door. Ruby Red's opened in 1976 on Crown Street and ran for over a decade. As a dedicated brick-and-mortar venue for lesbians, Ruby Reds is a standout in Sydney's queer history.
One part of the exhibition – titled 'Hooking Up' – contains riveting and hidden recent history that'll surprise some visitors about Sydney's under-told lesbian hook-up culture.
"We were determined this didn't just include men hooking up and that we showcased the way sexual behaviour plays out differently for queer women," Freyne says.
"We've got an excerpt from a fabulous radio documentary called Dyke Beat Utopia, where the reporter goes in search of lesbian beats around Sydney and speaks to really interesting women who remember initiatives to create spaces where women can have sexual play." Those spaces included women's nights at Ken's of Kensington – the now defunct sauna more commonly associated with gay men.
Other treasures include Philippa Playford's original artwork for the 1992 Mardi Gras poster. This was the first to incorporate the rainbow flag we now associate with gay pride – and the first Mardi Gras poster in over a decade to be designed by a woman.
In a new digital commission from historian Rosa Campbell, Sporty Lesbians and Fit Feminists, visitors can interact with a digital map to understand how fitness culture in the 1970s and 1980s empowered women to think of themselves and their bodies differently. Sometimes this included becoming strong and fit. LGBTQI+ women began creating sports opportunities on their own terms: marathon running, self-defence, tap dancing, fire breathing and the world's largest-ever soccer team right here in Australia.
"We've worked really hard to ensure there was parity with the men in this exhibition," Freyne says. "Our LGBTQI+ history contains some separatism along gender lines, but I'd say we're in a moment now where coalition is back. I'm so proud that we've uncovered so many lesbian voices to show both that history and that celebration for where we've arrived at today."
Pride (R)evolution: A free exhibition at the State Library of NSW, 18 Feb to 9 July 2023