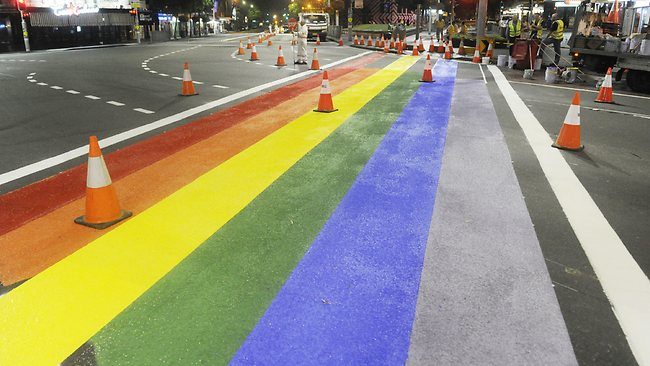 The City of Sydney has increased its commitment to Sydney WorldPride 2023 to $1.7 million, with the global event as a critical pillar in the City's work to breathe new life into Oxford Street.
Last night Council voted unanimously to commit an extra $300,000 in funding for WorldPride and endorse the Oxford Street LGBTIQA+ Place Strategy, which sets out principles and priorities to recognise, preserve, and promote the significant connection the LGBTIQA+ community has with Oxford Street.
The City of Sydney has already supported WorldPride 2023 with $800,000 (plus GST) of sponsorship and $650,000 of value in kind to support the bid and the delivery of what the Lord Mayor says will be an incredible festival.
"WorldPride 2023 will be the biggest event hosted by our city since the Olympics and an extraordinary celebration of our rainbow community. As we ready to invite the world to Oxford Street, we're working hard to ensure the great strip can operate at its maximum potential through this important event," Lord Mayor Clover Moore said.
"The additional funding will support WorldPride's work with local property owners to create pop-up activations during the event for exhibitions and activities consistent with the festival. We are also encouraging retail businesses to activate and dress their shops, and we will fly pride banners and flags across our area."
"Where construction hoardings are necessary, the City will work closely with property owners to ensure the buildings are wrapped creatively and attractively, with artwork that helps Oxford Street sparkle. We have commissioned a local artist to develop artwork to decorate large-scale construction sites, using their canvasses to help bring colour and life to Oxford Street and tell the story of its rich LGBTIQA+ history."
"The City is also working with Sydney WorldPride to beautify Oxford Street through pride-themed living colour floral displays, pride-themed lighting of Taylor Square fountain, a refreshed rainbow crossing and increased street cleaning services."
"The City of Sydney is committed to making next year's WorldPride event a success that leaves a legacy well beyond the 17-day festival."
Some of the other measures the City of Sydney is supporting Sydney WorldPride with ahead of the festival are:
The activation of Pride Villages in and around Oxford Street
Beautification of Oxford Street with living colour floral art displays
Pride-themed lighting of the Taylor Square fountain
Dressing vacant shops with vibrant and colourful displays consistent with WorldPride
Refreshing the rainbow crossing
Flying pride-themed and Mardi Gras banners across the City
Putting up signage and wayfinding to support events
Increased street cleansing services throughout the 17-day festival.
The Oxford Street LGBTIQA+ Place Strategy, also endorsed unanimously at last night's Council meeting, aims to strengthen the identity of Oxford Street by promoting inclusive businesses and funding new public artworks that reflect the community's diversity, including exploring opportunities for a First Nations queer cultural space and supporting the establishment of a pride museum.
It is the first time in Australia the LGBTIQA+ community's history, culture and character will be preserved and protected in planning regulations. It follows a $283,500 City grant for Qtopia to establish an LGBTIQA+ museum that will temporarily use the City-owned bandstand in Green Park.
"We love Oxford Street. It's one of our greatest and most-loved streets, and we're committed to building on its reputation as an iconic gay and lesbian and creative precinct, buzzing with activity day and night," Lord Mayor Clover Moore said.
"Throughout our consultation for new planning controls for the area, we heard loudly that you want the area's LGBTIQA+ character protected and enhanced."
"That's why we have developed this LGBTIQA+ Cultural and Social Place Strategy for Oxford Street. The strategy is one of only a handful in the world to explore ways to protect and preserve LGBTIQA+ culture and communities, and the first in Australia – reflecting the importance of this precinct and local LGBTIQA+ community to Australia's past and future."
"We want to support businesses to keep Oxford Street a global beacon for pride, diversity and inclusion, and we want to see LGBTIQA+ operators leading the charge of new cultural spaces in the precinct."
"This Strategy, in tandem with new planning controls, will help us deliver more cultural spaces in the precinct – galleries, space for artists, theatres, restaurants and nightclubs – a 24-hour precinct that has more inclusive and diverse cultural offerings that include the full spectrum of the LGBTIQA+ communities."
"The stars are aligning to see the famous strip reach its full potential, with greater cultural and creative investment, a new cycleway connection and WorldPride 2023. We're hopeful this alignment will be the kickstart Oxford Street needs to cement it as a cultural precinct and boost the local creative-driven economy while recognising and protecting its unique history."