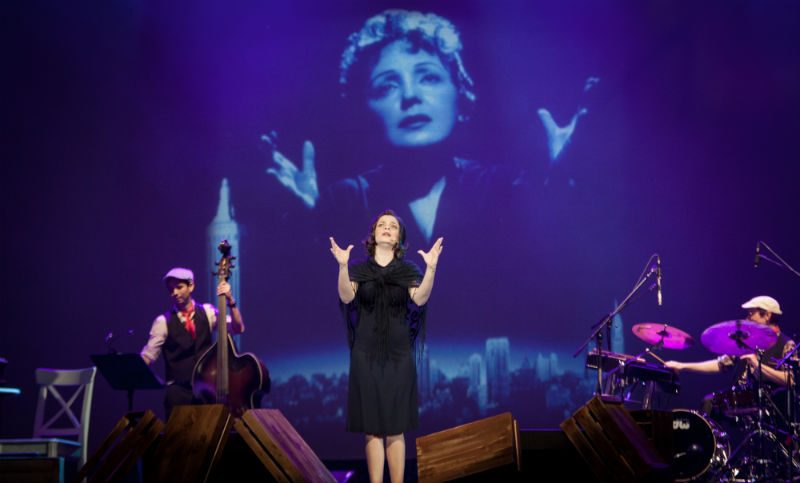 Spectacular celebration of the 60th anniversary of Edith Piaf's legendary performance at Carnegie Hall highlights a 400 performance world tour.
On January 6, 2017, legendary New York City landmark Carnegie Hall was the site of a memorable one night only performance of Piaf! The Show, which stunned and thrilled a packed house eager to see and hear the embodiment of famous French chanteuse, Edith Piaf.
As portrayed by young French singer Anne Carrere, the inimitable Edith Piaf is not a tragic figure or "little sparrow"; she is irrepressible, passionate, feisty, and able to power through 28 songs without hitting a wrong note. Which is to say that the talented Carrere gives us her own version of Piaf: young, vibrant, attractive, in command, flirtatious, sentimental, and most importantly—possessing an impeccable voice which shares the peculiarly penetrating vibrato that countless fans of Piaf adore.
From the get-go the audience knows it's in good hands with Carrere and her 4-piece band of impeccable musicians (piano; accordion, drums, bass); but things really take off early in Act II with Carrere's powerfully earthy, jazzy, and soaring rendition of "Jezebel."
Piaf is an iconic figure for queer women and lesbians, mostly because of her unique talent and strength as a female individual. However, it is thought that Piaf had some bisexual tendencies, including a lesbian romance with Marlene Dietrich (according to Dietrich's grandson David Riva).
But Piaf! The Show doesn't tease out such biographical details (unless you count Carrere's improvised invitation to a female member of the audience to dance with her); this performance is a two-act feast of nearly 30 Piaf songs, linked by a few key gestures and a little banter, like a twin string of pearls—illuminated by some gorgeous archival images and rare antique film sequences.
This is not a musical dramatization of Piaf's life; this is a musical appreciation of her life's work, brought to life by a delightful performer with more than the musical chops to make it a special night out.
Over half a million tickets to Piaf! The Show have sold in more than 30 countries and most international critics agree that this is a fitting tribute to Piaf. Conceived and directed by Nice-based theatre producer Gil Marsalla, the show is really a compilation of her memorable, timeless and rousing songs, such as "Padam…Padam," "Hymne a l'Amour" and "Non, Je ne Regrette Rien," arranged so as to reflect the trajectory of her life, from street performer to international star.
Anne Carrere is a true revelation, and pours her heart into her performance. At Carnegie Hall, which held great symbolic meaning for Piaf, Carrere was on the verge of tears during a couple of songs and had to borrow her pianist's handkerchief to wipe away her emotion. But it was not sadness, rather joy and gratitude at such catharsis, and the warm embrace of it by the New York audience.
If you're a fan of Edith Piaf and Piaf! The Show comes to your town, go see it. Strong women live forever in the cultural consciousness, and it's uplifting to see the proof of that in such a performance.